Obama 1st president in decades to get gifts from Cuba, but gets stiffed by Putin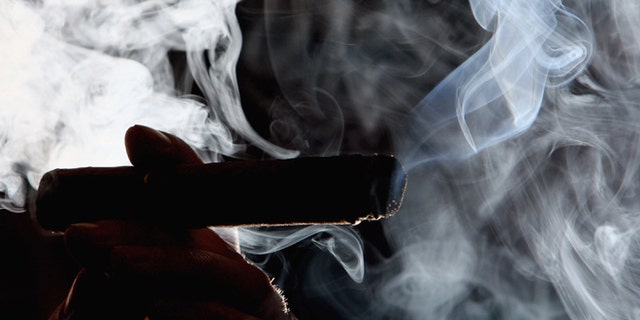 The president of the United States frequently receives gifts from foreign leaders and diplomats, but Barack Obama became the first president in decades to receive a present from the Cuban government.
Thanks to the work done by the State Department under Obama to thaw the decades-long, icy relations with the communist island, the president can light up a Cuban stogie after receiving a total of seven boxes during his historic trip there in March. The Office of the Chief of Protocol appraised the value of the cigars at $4,158.
Obama – a recovering cigarette smoker – apparently decided that a cigar every once in a while can't hurt and kept them – as the record states, they were "handled pursuant to United States Secret Service policy."
The president and First Lady Michelle Obama also received a gift package from Cuban leader Raúl Castro a month later that contained "10 CDs of Cuban music with CD rack. Long-sleeved button-down linen [Guayabera] shirt. Four bottles of spirits. Box of cigars with lighter. Wooden humidor. Four bottles of floral fragrances."
All told, that was valued at $1,193.57.
Obama wasn't the only U.S. government official to receive loot from the Cuban government.
Secretary of State John Kerry was given a box of Montecristo cigars, a humidor and a cigar from Foreign Affairs Minister Bruno Rodríguez Parrilla. The gifts were valued at $450 and retained "for official display."
A number of Latin American nations have doled out the freebies to Obama and his staff.
Mexican President Enrique Peña Nieto gave his U.S. counterpart a "Tree of Life" clay figurine that includes members of the First Family, a magnifying glass, a golf ball and baseball cap signed by Mexican professional golfer Lorena Ochoa as well as a book – all valued at $2,950.
Peña Nieto may choose not to be so generous if Republican presidential nominee Donald Trump wins the White House come November.
One country that did not give the Obama or any other U.S. official any gifts in 2015 was Russia.
In 2013 Russian President Vladimir Putin did give Obama a six-piece porcelain espresso cup set "with gold inside and silver leaf pattern on outside," valued at $540, and a package that included decorated porcelain plates and a tea set, as well as a DVD of a ballet performance, worth a total of $1,084.
But in a sign of cooling relations, the Russian strongman has not been in the giving spirit since.
At the other end of the spectrum was Saudi King Salman bin Abdulaziz Al Saud, whose September 2015 gift bag to Obama was worth an estimated $522,972.
Included in the swag was a "hand-made and specially commissioned bronze sculpture depicting two horses, one rearing and unsaddled and one standing and saddled, made with gold-plated sterling silver, diamonds, tsavorites, yellow sapphires, rubies and obsidian, mounted on a piano black lacquer rotating base." Also included were "a chronometer shaped like a large winch from wooden sail ships with gold-plated casing, brass dial, crystal glass and detail along the sides naming celebrated ships that made significant voyages, as well as a set of ten golf irons with matching leather golf bag with white stitching."
While the gifts may seem like bribes or shady perks of the jobs, Obama – along with every other president – has to pay full market price for them if he wants to hang on to the loot. He can also keep any of them for display at his presidential library once he leaves office.
The reason for Obama and other U.S. government officials to accept these gifts is limited certain circumstances, most frequently if "non-acceptance would cause embarrassment to donor and [the] U.S. government."