Russian military considering Soviet-era bases on Cuba, Defense Ministry says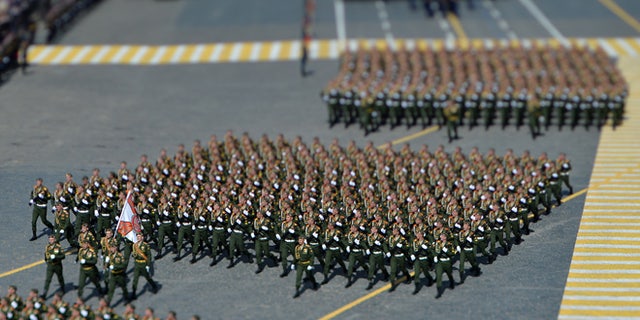 NEWYou can now listen to Fox News articles!
MOSCOW (AP) – The Russian military is considering the possibility of regaining its Soviet-era bases on Cuba and in Vietnam, the Defense Ministry said Friday, a statement that comes amid growing U.S.-Russia tensions over Syria.
Deputy Defense Minister Nikolai Pankov told lawmakers Friday that the ministry is considering the possibility of establishing footholds far away from Russia's borders.
Responding to a lawmaker's question if the military could return to Cuba and Vietnam, Pankov said the military is "reviewing" a decision to withdraw from them, but didn't offer any specifics. "As for our presence on faraway outposts, we are doing this work," he said.
In 2001, Russian President Vladimir Putin ordered the military to pull back from Cuba and Vietnam as he sought to bolster ties with the United States. The U.S.-Russian relations now have plunged to the lowest point since the Cold War times amid strain over Syria and Ukraine.
Moscow has lamented that Washington never appreciated Putin's goodwill gesture.
Asked Friday about the possibility of the Russian military's return to Cuba and Vietnam, Putin's spokesman Dmitry Peskov refrained from specific comment, but added that the global situation requires various players to mull possible responses.
"Naturally, all countries assess those changes from the point of view of their national interests and take steps they consider necessary," he told reporters.
When Putin ordered the military withdrawal from Cuba and Vietnam, Russia was still reeling from its post-Soviet economic meltdown. Putin cited the need to cut costs when he explained reasons behind his move to the military.
Windfall oil revenues in recent years have filled the government's coffers with petrodollars, allowing the Kremlin to fund an ambitions weapons modernization program and turn the military into a more mobile modern force.
Amid the deterioration of ties with the West, the military began pondering plans to re-establish its global presence. A small naval supply facility in the Syrian port of Tartus is now the navy's only outpost outside the former Soviet Union.
Oleg Nilov of A Just Russia, one of the factions in the Kremlin-controlled lower house, pointed at the U.S. and its NATO allies' deployment near Russian borders as he argued that Russia needs to regain its Soviet-era bases
"It's time to reach agreements to return to faraway outposts if they don't understand the language of diplomacy," he said during debates.
Like us on Facebook
Follow us on Twitter & Instagram