NY fracking ban poised to take effect, critics say state giving up thousands of jobs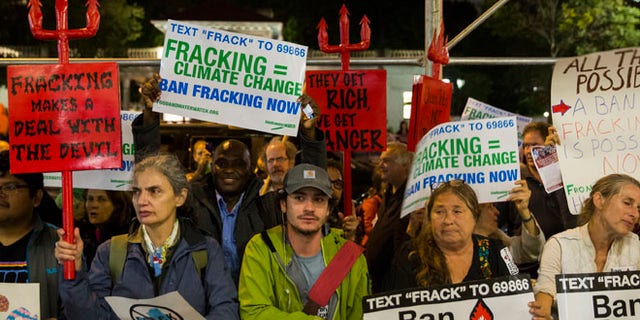 NEWYou can now listen to Fox News articles!
WASHINGTON – New York state's controversial fracking ban is poised to take effect in the coming days, amid criticism from pro-drilling advocates that the state is giving up tens of thousands of jobs.
The push to ban fracking – the process of injecting a combination of water, sand and chemicals into rock deposits underground to release natural gas -- is the culmination of nearly seven years of advocacy spanning two governors and three environmental conservation commissioners. Though New York has had a fracking moratorium for years, current Gov. Andrew Cuomo rejected efforts to lift it and, instead, changed it to an all-out ban in December.
But critics charge Cuomo's decision risks up to 54,000 fracking-related New York jobs -- jobs that don't exist now since fracking is not allowed, but could have been generated with the approval of various projects in the future.
"Right now I'm watching an amazing contradiction between what New York state has done in regards to banning natural gas development in New York state and the state's own admission that it will lose 54,000 jobs in relation to the ban," Rep. Tom Reed, R-N.Y., told The Evening Tribune. "When you have a federal policy that says you can do it safely and responsibly, I think we should be able to do it at the state level at the same time."
He appeared to be referring to a state report released earlier this month citing estimates that drilling in the Marcellus and Utica Shales could generate between roughly 14,000 and 54,000 "direct and indirect jobs."
That report, the final Supplemental Generic Environmental Impact Statement (SGEIS), laid the groundwork for the state's promised ban of large-scale hydraulic fracturing -- or fracking, for short -- taking effect.
The report basically echoed the findings of a state Department of Health analysis that detailed adverse health and environmental effects from exposure to the process of hydraulic fracturing. The thorny topic has drawn in more than 260,000 public comments – an unprecedented amount for a state issue.
Though Vermont was officially the first state to ban fracking, New York is the first state with significant shale gas resources to shut down the practice. But some worry it won't be the last. Taking a cue from the Empire State, California and Colorado are also teeing up campaigns to impose restrictions on oil and gas production.
Dan Fitzsimmons, president of the Joint Landowners Coalition of New York, called the ban an "unconscionable assault."
In a written statement, he called it "devastating to thousands who had hoped for a chance to pull themselves up from economic despair."
Simon Lomax -- western director for Energy In-Depth, a public outreach campaign funded by the pro-fracking Independent Petroleum Association of America (IPAA) – questioned the validity of the science behind the decision and said it should be further examined.
He also said that a complex set of federal, state and local laws are in place but added that states should take the lead role because geological conditions vary from state to state.
As New York's ban on fracking goes into effect, there's a possibility it could be reversed.
"There will be a ton of lawsuits, I am sure," Cuomo told the Albany Times-Union late last year. At the time, Cuomo urged all sides to "bring the emotion down" and focus on the science.
Fracking is legal in Pennsylvania, Ohio and 30 other states.