'Not Welcome': Members at DC country club take swing at Obama over Israel stance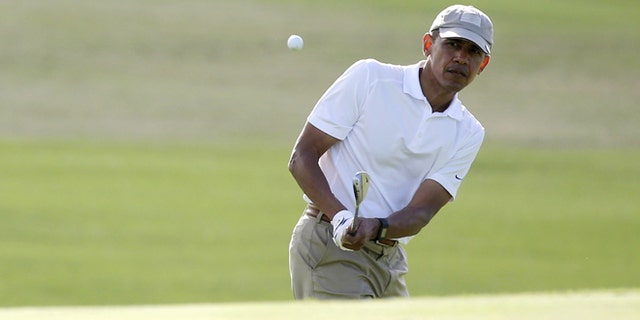 NEWYou can now listen to Fox News articles!
Members at an exclusive Washington-area country club think President Obama is a real duffer when it comes to foreign policy – and the fairway furor could cost him one option for a post-presidency home course.
Though it's unclear whether the outgoing president would even seek membership there, some at the Woodmont Country Club in Rockville, Md., are preemptively trying to keep Obama out of the predominantly Jewish club amid complaints about his stance on Israel, according to reports. The members have sent a barrage of emails to club President Barry Forman and General Manager Brian Pizzimenti saying Obama is "not welcome."
The pushback stems from Obama's decision last month not to have the U.S. veto a U.N. Security Council resolution criticizing Israeli settlements in East Jerusalem and the West Bank and from Secretary of State John Kerry's speech two days later accusing Israeli Prime Minister Benjamin Netanyahu of undermining the possibility of a two-state solution.
"[President Obama] has created a situation in the world where Israel's very existence is weakened and possibly threatened," longtime member Faith Goldstein wrote in a Dec. 26 email obtained by the Washington Post. "He is not welcome at Woodmont. His admittance would create a storm that could destroy our club. "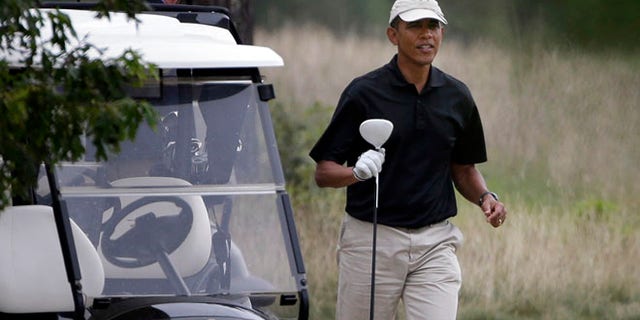 A Dec. 15 email to Forman from Bethesda attorney Marc B. Abrams reportedly said Obama's stance on Israel should make it "inconceivable" that club leaders would even think of granting him membership.
"If you have views on this matter, I would urge you to make them known quickly," Abrams wrote. "Timing is critical."
During his eight years in the White House, the commander-in-chief racked up more than 300 days on the links with most rounds taking place at the course at Andrews Air Force Base or while on vacation in Hawaii.
But with the Obama family staying in D.C. until their daughter Sasha finishes high school, the outgoing president will need to find a new club in the D.C. area.
There has been no official indication Obama plans to apply for membership at Woodmont, but he has played at least four rounds at the course during his presidency and reports from last summer indicate Woodmont would be his club of choice when he leaves the Oval Office.
Representatives from Woodmont did not return FoxNews.com's requests for comment, but the sentiments over the president's policies in the Middle East appear far from unanimous among the club's members and local Jewish activists.
"How cool is it that the first African American president of the United States may well be joining a country club originally established because Jews couldn't get in anywhere else?" Ron Halber, the executive director of the Jewish Community Relations Council of Greater Washington, said in an article published over the summer by the Jewish newspaper The Forward. Halber is not a member at Woodmont.
Jeffrey Slavin, the mayor of the Maryland town of Somerset and a legacy member at Woodmont, sent an email this week to Forman – and copied fellow Woodmont members and local Jewish leaders outside the club – in which he threatened to organize a mass membership cancellation campaign if the president were not welcomed at the club.
"This has gone way beyond the club now and this makes the Jewish community look bad," Slavin told FoxNews.com. "The club needs to reach out to the president and say 'if you want to apply for membership we'll certainly accept you.'"
Woodmont was founded in 1913 at a time when Jews faced widespread discrimination in applying to country clubs in the D.C.-area. Since then, the club has grown to 460 acres and offers its members an opportunity to play golf and tennis as well as socialize just outside the Washington Beltway. The club has an $80,000 membership initiation fee and members pay $9,600 in annual dues.
"Woodmont was a place you could go when you weren't welcome anywhere else," Slavin said. "There are so many ironies here."