Newt Gingrich Launches Ad Courting Arizona Latinos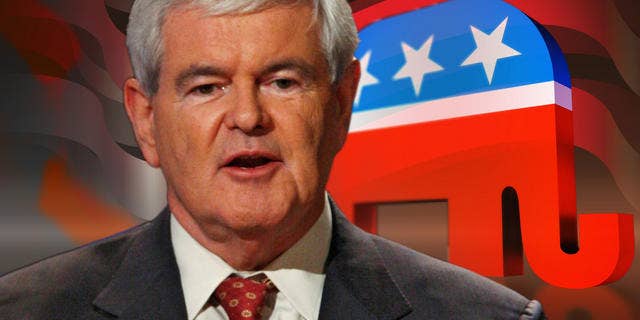 Newt Gingrich is pursuing Arizona's Latino voters with a new Internet ad that takes aim at President Obama.
Gingrich, who has reached out to Latinos in Spanish-language ads during the GOP primary, this time is pitching his candidacy in English.
Arizona will hold its winner-take-all primary on Feb. 28. About 18 percent of Arizona's eligible voters are Latino, though they comprised only 7 percent of Republican voters who participated in the 2008 primary.
The ad, unveiled Friday, features several Latino supporters of the former House of Representatives Speaker saying that a Gingrich presidency would get to work on issues – such as jobs, housing and immigration -- that are important to Latinos.
"We owe Barack Obama nothing," says the first person to appear in the ad. "Many of our people have lost their jobs, others have lost their homes, and [as for] immigration? Hah, it's a bigger mess than ever."
The ad has the Latinos depicting Gingrich as someone who shares the Latino community's "conservative values."
"Newt Gingrich is the leader we need to rebuild the America that has given us so much," they say at the same time.
In a statement announcing the ad launch, the Gingrich campaign said: "Newt 2012 looks to win over the Latino vote in Arizona. This new ad is just one step to gaining their support."
"He understands that just as all Americans, Latinos are greatly suffering from the high unemployment rate and empty promises of this administration," the statement said. "They demand a change and know the only candidate that can rebuild the America they love is Newt Gingrich."
The Rise of the Latino Super PAC
Lionel Sosa, senior advisor for the campaign, said in the statement: "Few people understand the true Hispanic market like Newt does. He gets Latinos and understands the diversity in language, age, and culture. Yet, one thing is very clear to Newt: Latinos are people of values. They are Americans who strongly believe in family, in religion, in hard work, and in right to life."
Romney is considered the likely victor in Arizona's primary, but recent polls show that former Pennsylvania Sen. Rick Santorum is not far behind.
Arizona's native son, Sen. John McCain, the 2008 GOP presidential nominee, has endorsed Romney. McCain's 2008 running-mate, former Alaska Gov. Sarah Palin, has endorsed Gingrich.
Political observers say that what may help a candidate win the GOP primary may also hurt him when the general election rolls around.
The candidates – Romney, Gingrich, Santorum and Texas Sen. Ron Paul – are heading into a competition in a state that has a solid Republican electorate (Bill Clinton was the only Democratic presidential candidate to win Arizona in decades), an ultra-conservative segment that wants to hear about plans to tighten immigration control at the border, and a growing Latino population that includes mostly Democrats, but also Independents and Republicans.
What's more, it is a state that is an epicenter of the debate on immigration.
Arizona focused national attention on the issue of states taking immigration matters into their own hands by passing their own immigration laws. Arguing that the federal government has failed to fix the broken immigration system, the state legislature passed SB 1070, which aims to crack down on undocumented immigrants.
Santorum Can Win Arizona on a Shoestring Budget
Romney and Gingrich both have said that they support Arizona's law, as well as the right of states to address immigration. Romney's adviser on immigration affairs is Kansas Secretary of State Kris Kobach, the architect of Arizona's law.
The law, which inspired similar laws in many other states, required immigrants to carry their documents proving their legal status at all times and which called on police to check for the documents if they suspected that someone they stopped during the course of their work might be in the country illegally.
The U.S. Justice Department, arguing that immigration is a federal matter, filed a suit to block Arizona's law. A federal judge blocked parts of the law, but allowed other parts, such as a ban on obstructing traffic while seeking or offering day-labor services on streets, to take effect. The U.S. Supreme Court is hearing an appeal by Arizona Gov. Jan Brewer seeking restoration of the law.
The Obama campaign, meanwhile, is reaching out to Latinos in Arizona -- and elsewhere -- depicting the Republican Party as being against them and anti-immigrant.
"Mitt Romney and Newt Gingrich may very well have already sealed the political fate of their party with the Hispanic electorate — the fastest growing voting bloc in the country," Obama for America Hispanic pollster Sergio Bendixen and spokeswoman Gabriela Domenzain wrote in a recent memo to reporters.
"Their extreme rhetoric on immigration during the televised debates has rejected our history as a nation of immigrants and alienated millions of Hispanic voters nationally," they said.
Where Gingrich Stands on Latino Issues
Where Romney Stands on Latino Issues
Where Paul Stands on Latino Issues
Where Santorum Stands on Latino Issues