New York offers $500 reward for reporting illegal gun owners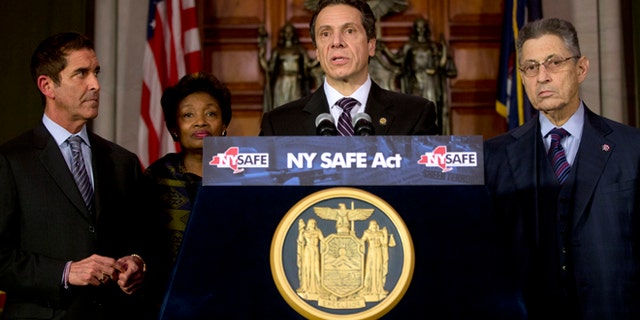 ALBANY, N.Y. – Nearly a year before signing the nation's most stringent gun control measure into law, New York Gov. Andrew Cuomo launched a hotline that allows state residents to report illegal gun owners in exchange for a $500 reward.
The measure is part of a four-pronged approach established by the governor's office to reduce gun violence in urban communities, according to CBS6Albany.com.
New Yorkers can call the "Gun Tip Line" if they believe someone they know has an illegal gun. Hotline calls are answered by state police and tips are referred to local law enforcement, the station reported.
"This initiative seeks to turn neighbor against neighbor and use their own tax dollars to pay for the $500 reward," Republican Assemblyman Steve McLaughlin told the station.
Three police agencies contacted by CBS6Albany.com for comment said they have not received tips from state police. Two of the agencies said they were unaware the program existed before this week.
Cuomo and legislative leaders said after announcing a budget deal Wednesday night that they will continue to discuss changes in January's gun control law before a provision kicks in banning the sale of 10-bullet magazines.
The gun measure outlaws the purchase of any magazines that carry more than seven bullets, the nation's most stringent limit. That would have put a severe limit on the sale of guns with industry-standard 10-bullet magazines when the provision of the law went into effect April 15.
"There is no such thing as a seven-bullet magazine. That doesn't exist, so you really have no practical option," Cuomo said. He told reporters that any suggestion this will be a rollback of the law is "wholly without basis."
Cuomo said the state needs to allow the sale of handguns and rifles with 10-shot magazines, but New Yorkers will still be required to keep no more than seven bullets in them, except at shooting ranges and competitions. Violating the seven-bullet limit is a misdemeanor but a violation if the magazine is in the owner's home.
Cuomo minimized the cleanup now needed in the bill as addressing "ambiguities" and "grammatical errors" and routine for complex measures. They include exempting police and their weapons and allowing Hollywood to continue to film violent movies and TV shows in New York using weapons outlawed under his measure.
Tom King, president of the New York Rifle & Pistol Association, said the move will affect gun sellers but does nothing for gun owners.
He says the group plans to sue this week to overturn the gun law, which also banned sales of some formerly legal semi-automatic firearms and requires federal background checks for private gun sales.
Although Cuomo said Wednesday that the gun bill was developed over months within his administration, it was rushed to a vote in the Legislature after closed-door negotiations Jan. 15. Cuomo issued an order approved by the Legislature that suspends the three days' public review of all bills under the constitution.
The Associated Press contributed to this report.