New York mayor shows up at ceremony for truck-attack victims -- and forgets to honor them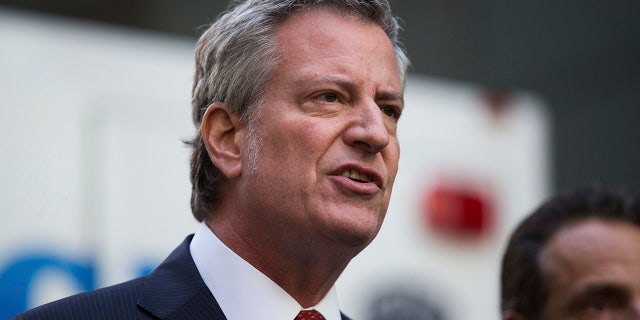 New York City Mayor Bill de Blasio at a ceremony Wednesday meant to honor the victims of last year's deadly truck attack in Lower Manhattan thanked politicians, first responders and those who marched in the city's annual Halloween parade following the violence — but somehow he forgot to pay tribute to those who died.
De Blasio left the podium at the memorial marking the one-year anniversary of the terror attack that killed eight people without reading any of their names. Mourners in attendance were flabbergasted, the New York Post reported.
The oversight was corrected after the wreath-laying ceremony. De Blasio rushed back to the stage to apologize and properly honor the victims: five friends from Argentina, a woman from Belgium, a man from New Jersey and one New Yorker.
"I apologize. This should have been part of the gathering to read the names of the eight that we lost," he said, as reported by the Post. "So I want to right that wrong with apologies and do that now and ask everyone to bow their heads as we remember each of them."
He then read the names of the eight victims: Diego Enrique Angelini, Nicholas Cleves, Ann-Laure Decadt, Darren Drake, Ariel Erlij, Hernan Ferruchi, Hernan Diego Mendoza and Alejandro Damian Pagrucco.
But that wasn't the only oversight.
The mother of Nicholas Cleves, the only New Yorker killed, wasn't told about the service until late Tuesday afternoon and missed it because she was out of town, the Post reported.
"She's very hurt. She was very hurt," family friend Hugh Hales-Tooke told the paper. He was so upset that he refused to shake de Blasio's hand when the mayor offered his condolences.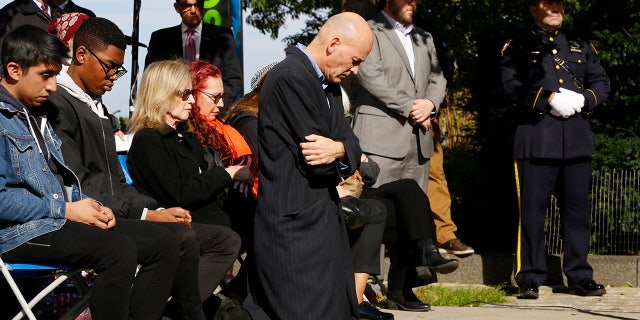 A spokesman with the city told the Post that the program didn't originally include a name reading, but when families raised the issue the mayor agreed to do it. He claimed the event's last-minute planning resulted in the late invitation.
The faux-pas marked the mayor's second at a mass-tragedy service. In 2014, De Blasio blamed a bad night's sleep for showing up 20 minutes late and missing the moment of silence for the anniversary of the 2001 American Airlines Flight 587 crash in Queens, according to the Post.
The mayor's penchant for insensitivity was also recently on display earlier this month when he dismissed a homeless woman who approached him with a question about housing for the homeless because he was "in the middle of doing my workout."
The Associated Press contributed to this report.