NYC terror attack leaves 8 dead, several injured; suspect's notes pledged ISIS loyalty
The man accused of plowing into New York pedestrians Tuesday had a printout of an ISIS flag in his car and left behind handwritten notes pledging his loyalty to the Islamic State, as a clearer picture emerged Wednesday morning of Sayfullo Saipov's alleged links to the terror group.
Saipov, 29, is originally from Uzbekistan and is not a U.S. citizen, federal law enforcement sources have confirmed to Fox News.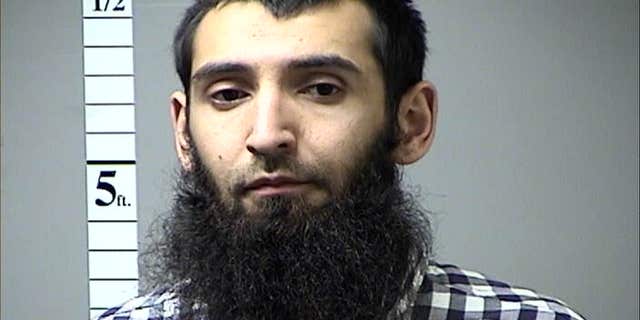 Saipov had handwritten notes pledging his loyalty to the Islamic State terror network and shouted "Allahu akbar" ("God is great") after the crash, law enforcement officials told Fox News.
Saipov's notes, written in Arabic and pledging loyalty to ISIS, turned up in and near the vehicle, Fox News was told. In addition, the New York Post reported that investigators found "an image of the ISIS flag inside his vehicle."
The attack on a bright Halloween afternoon occurred not far from the new World Trade Center building and the site of the attacks of Sept. 11, 2001.
Saipov, who was shot by police, was taken into custody and remained hospitalized. Eight people died in the attack and 11 were injured.
The suspect had a green card, a source told Fox News. Saipov came to the U.S. in 2010, and, according to the Associated Press, has a Florida driver's license but was said to be living in Paterson, N.J.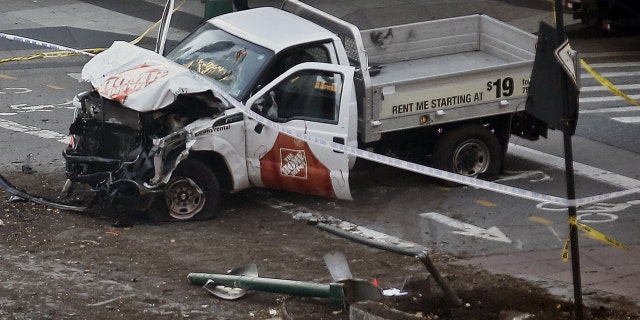 Saipov was an Uber driver who had passed a background check, the company told Fox News. It added that Saipov has now been banned from the app, and Uber has offered assistance to the FBI.
Four of the injured were teachers and students who were riding on a short yellow school bus near Stuyvesant High School when they were hit by the suspect's Home Depot rental truck. One student remained in critical condition.
A victim killed in the attack was a Belgian citizen, Belgian Deputy Prime Minister and Foreign Affairs Minister Didier Reyners tweeted Tuesday. Three Belgians were also injured.
Others killed in the attack were Argentine citizens, according to Argentina's Foreign Ministry. Argentine newspaper La Nacion reported five of the eight people killed were Argentines traveling in the U.S. on a celebratory vacation.
Those killed, according to the country's Ministry of Foreign Affairs, were Hernán Mendoza, Diego Angelini, Alejandro Pagnucco, Ariel Erlij and Hernán Ferruchi.
The attack was being treated as an act of terrorism. At a news conference Tuesday evening, New York City Mayor Bill de Blasio called the attack "an act of terror and a particularly cowardly act of terror aimed at innocent civilians."
New York Gov. Andrew Cuomo described it as a "lone wolf" attack, and added that there was no immediate evidence to suggest that there was a wider plot.
Around the globe, cities have been on high alert regarding vehicle attacks. ISIS has been encouraging its followers to mow down people, and Britain, France and Germany have all seen deadly vehicle attacks in recent months and years.
FBI officials confirmed to Fox News that they have agents responding to the situation with the New York Police Department. A bomb squad examined the truck, but found no explosives.
Acting Secretary of Homeland Security Elaine Duke said in a statement that DHS and its law enforcement partners "remain vigilant and committed to safeguarding the American people."
Following the attack, President Donald Trump tweeted, "looks like another attack by a very sick and deranged person. Law enforcement is following this closely. NOT IN THE U.S.A.!"
Trump later tweeted his "thoughts, condolences and prayers to the victims and families of the New York City terrorist attack. God and your country are with you!"
Police said the truck entered the bike path on West Street a few blocks from the new World Trade Center — the site of the deadliest terror attack in U.S. history — and plowed into several people. The driver jumped out of his rental truck — which police say Saipov rented from a Home Depot in New Jersey around 2 p.m. Tuesday — carrying what turned out to be a paintball gun and a pellet gun.
Video of the attack provided to Fox News by a witness shows the accused suspect running through traffic on the West Side Highway, surrounded by police in the nearby area.
Despite the attack, the city's Halloween Parade went on as planned, with police "dramatically increasing presence," including "personnel, blocker trucks, long guns etc.," according to de Blasio's press secretary. Cuomo and de Blasio both attended the annual event.
Fox News' Jake Gibson, Catherine Herridge, Rick Leventhal and the Associated Press contributed to this report.