New York City Bush-Clinton 'Debate' Canceled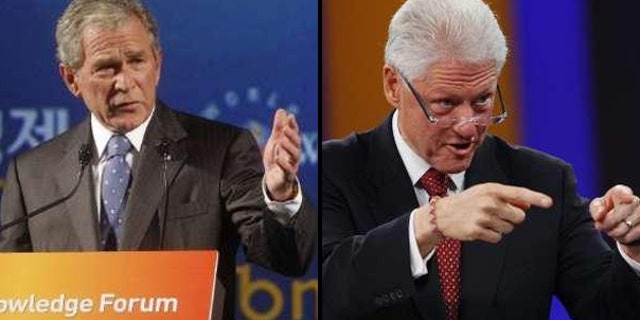 Anyone hoping to see George W. Bush and Bill Clinton face off in a war of words and political vitriol will not get their wish.
An event promoted as a "debate" between the two in New York City this February has been canceled, after both former presidents objected to the way the forum was hyped.
The event, slated for Feb. 25 at Radio City Music Hall, apparently was supposed to be a panel discussion, much like the forum the two presidents participated in this past May in Toronto.
But Bush spokesman David Sherzer told Fox News the promoter broke the terms of the agreement by exaggerating the event without the former presidents' approval.
"We agreed with the decision to cancel due to inaccurate and unauthorized hype by the promoter," he said. "The problem for both sides was with billing this as a 'debate.' They have a strong friendship and enjoy exchanging their views, which obviously differ at times. But neither agreed nor has interest in participating in a debate."
Clinton spokesman Matt McKenna also confirmed the cancellation.
Fox News' Mike Emanuel contributed to this report.