Nevada Democrats Seize on Birther Controversy to Attack Tea Party Darling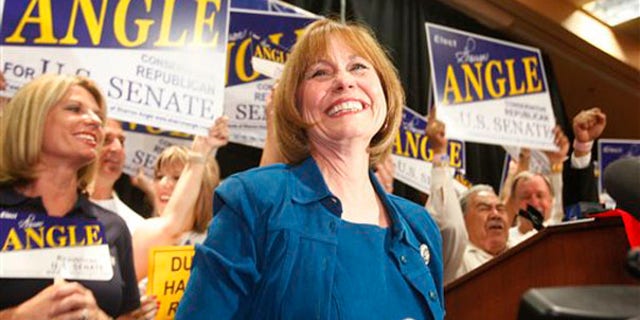 Nevada Democrats have seized on the widely debunked conspiracy theory that President Obama was not born in the U.S. to attack Tea Party darling Sharron Angle, the Republican running against Senate Majority Leader Harry Reid.
The Nevada Democratic Party, seeking to brand Angle's views as too extreme, points to her campaign website touting the endorsement of the Declaration Alliance, a group that believes Obama wasn't born in the U.S. and therefore is constitutionally ineligible to serve as president despite confirmation from the Hawaiian government that he was born there.
On its website, Declaration Alliance declares that it supports Angle and expresses "reasonable doubt" to the "constitutional eligibility" of Obama to be president.
A spokesman for Angle has said she's not a so-called "birther," but that hasn't stopped Democrats from pressing the issue. They note that Angle's campaign has scrubbed its website of her many controversial issues except the group's endorsement.
"It's not enough for a spokesperson to say 'she's not a birther' and leave it at that," Phoebe Sweet, a spokeswoman for the Nevada State Democratic Party said in a written statement. "Given so many other things that have come out of her mouth, stating her belief that the president is legally qualified to serve our country would be the least controversial."
Angle stunned the Republican establishment this month with a come-from-behind primary victory that has emboldened supporters of the vulnerable Reid, a four-term senator. They believe her conservative views will doom her candidacy.
So far, Angle has stumbled out of the gates as she has retreated in the face of attacks on her positions, including support for phasing out Social Security over time. She has proposed privatizing the entitlement program – an initiative that former President George W. Bush failed to achieve. She has said on her website that Social Security and Medicare are "broken and bankrupt."
National Republicans have said Angle needs to reintroduce herself to the public for the November election. But Democrats are determined to define her first.
"It's no surprise that Sharron Angle holds some extreme and dangerous ideas – we already know she wants to kill Social Security and Medicare, thinks families with two working parents are wrong and wants to make Nevada the nation's nuclear waste dump," Sweet said in the statement.
"But to tout the endorsement of a group that – despite incontrovertible evidence to disprove their crackpot conspiracy theory – questions the citizenship of the president of the United States is both embarrassing and deeply troubling. Sharron Angle must come out of the bunker and clarify her true belief."
Angle's campaign did not respond to a request for comment. Her website now prominently features the results of a Rasmussen poll that show her leading Reid 50 to 39 percent.
"Harry Reid is scared and has begun running negative attack ads against Sharron," her site reads. "We need your donation to fight back."