Michael Cohen looking for new lawyers in FBI probe as key court deadline approaches, reports say
President Trump's personal lawyer, Michael Cohen, is looking to find new lawyers as the FBI probe into his business dealings continues, according to multiple reports.
It wasn't immediately clear what prompted the change or who would take over, but a source told The New York Times that Cohen's attorneys are leaving because of an issue with the payment of legal bills.
A source who wasn't authorized to discuss the matter and spoke to the Associated Press on condition of anonymity noted that Cohen has not yet held any discussions with prosecutors about potentially cooperating in the investigation, but confirmed that he is looking for new counsel. Fox News has not confirmed the AP's report.
Cohen's current legal team, led by McDermott Will & Emery partners Stephen Ryan and Todd Harrison, has been working for weeks to identify documents that should be withheld from prosecutors in the probe because of attorney-client privilege.
U.S. District Judge Kimba Wood gave Ryan and Harrison, together with Trump's legal team, a deadline of the end of this week to get much of that work complete.
In tweets Wednesday, porn star Stormy Daniels' lawyer, Michael Avenatti, gloated over the news and inquired how much money Cohen's lawyers had "soaked" him for.
"So after Mr. Ryan makes false accusations against me in fed court, he now abandons Mr. Cohen, withdraws, tucks his tail between his legs, & goes home?" Avenatti wrote. "Not a good look and a disaster for Mr. Cohen and Mr. Trump."
Avenatti is suing Cohen in an attempt to get the actress released from a confidentiality agreement.
The attorneys' reported departure is unlikely to immediately hurt Cohen in proceedings concerning the FBI probe. Pursuant to attorney ethics rules, lawyers generally cannot abandon their ongoing representations of clients without providing adequate notice, outlining a valid reason to the court, and avoiding prejudicing or unduly harming their client's legal case.
The news comes a day after a Vanity Fair report that Cohen has told friends he expects to be arrested soon -- which Cohen has since strongly denied.
STORMY DANIELS' LEGAL FUND COULD BE TARGETED IN CASE AGAINST HER ATTORNEY
Cohen has been represented since 2017 by Ryan, a Washington lawyer initially hired to prepare him for congressional testimony about alleged Russian interference in the presidential election.
After FBI agents raided Cohen's office in April, Ryan and his New York partner, Harrison, went to court to try to keep investigators from seeing some of the confiscated files on the grounds that they were protected by attorney client privilege.
Neither Cohen, Ryan nor Harrison immediately responded to messages Wednesday.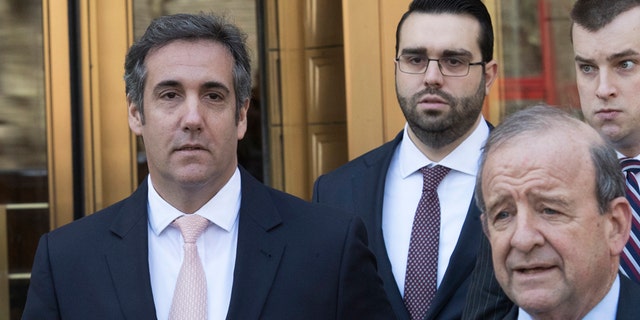 Federal prosecutors in New York have publicly said they are investigating alleged fraud in Cohen's business dealings, but haven't disclosed details.
When agents searched Cohen's home, office and safety deposit box and seized his phones this spring, they sought a wide variety of information, including his involvement in arranging a secret $130,000 payment to Daniels, who said she had a sexual tryst with Trump years ago.
Cohen has maintained that he's innocent of wrongdoing, and Trump has called the raid on his lawyer an assault on attorney client privilege.
The news that Cohen was making a switch in his legal representation was first reported by ABC News.
The Associated Press contributed to this report.