Miami Mayoral Frontrunner Quits Race Amid Campaign Scandals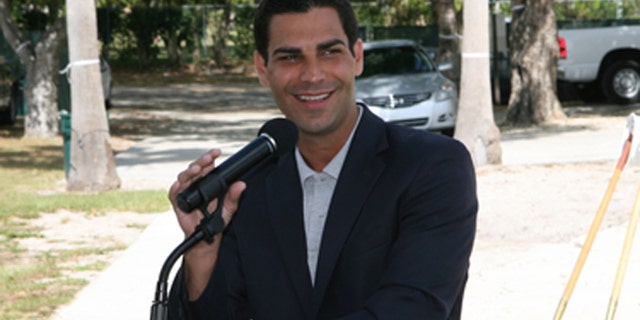 Citing the increasing stress of his campaign and concern about the impact on his pregnant wife, Miami Commissioner Francis Suarez has decided to withdraw from the city's mayoral race.
Suarez, 34, who had been the front-runner in the hunt for the city's next top leader, found himself on the defensive in recent weeks, much of the time because of embarrassing actions by people on his staff.
"This is a very personal decision. My wife and I have been trying to have a baby for the past four years," The Miami Herald quoted him as saying Monday evening. "It was a concern to me that the negativity [in the campaign] would become an issue for my family."
Suarez said he had made the decision after reviewing the options with his wife, Gloria, who is three months pregnant, other relatives and associates, The Herald reported. The commissioner said he had called his opponent in the race, Mayor Tomás Regalado, earlier on Monday to discuss the situation.
Suarez said that he and his wife had struggled to have a child for years, and they did not want to put her through any risks.
Though Suarez gained attention rather quickly in his campaign because of the name recognition in Miami politics – his father is former Miami Mayor Xavier Suarez, who is now a Miami-Dade County commissioner — and a heft war chest, problems that commanded the headlines soon cropped up.
In June, Miami-Dade police who were investigating absentee ballots went to the homes of two campaign aides and took computer equipment.
The aides entered no-contest misdemeanor pleas and must serve a year of probation, according to the newspaper.
Then, Suarez was sent into damage-control mode again after an administrative assistant posted offensive tweets targeting constituents. One tweet said: "PLEASE GET A LIFE, A HOBBY, A LOBOTOMY."
He fired the assistant.
"It's difficult to present the image of new leadership for the new Miami when your campaign is accused of engaging in the same old tactics," political pollster Fernand Amandi said, according to The Herald.
"Mr. Suarez is still young, and he has an opportunity to still address some of these challenges and perhaps correct them, and one day in the future run again. In Miami, there are no second chapters; there are 10th and 11th chapters."
For his part, Suarez said about the scandal-filled campaign: "A lot of it is mistakes we made, and I've learned from it."
Follow us on twitter.com/foxnewslatino
Like us at facebook.com/foxnewslatino