Mexican activist who led search for 43 missing students found shot to death in his car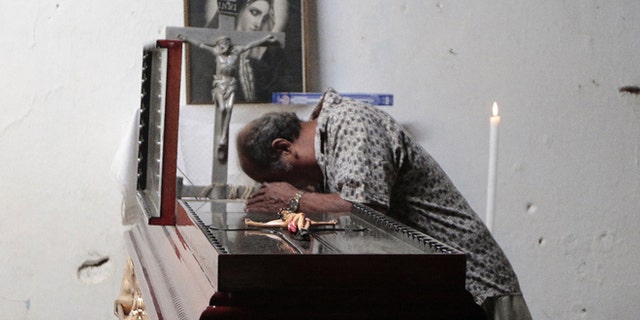 NEWYou can now listen to Fox News articles!
Miguel Angel Jiménez Blanco, a community activist who led the effort to find the remains of the 43 college students who disappeared last year in southwestern Mexico, was found shot to death on Saturday night in the taxi cab he drove.
Police in Xaltianguis, near Acapulco, found Jiménez sitting in the driver's seat of his taxi, shot multiple times in the thorax, according to the Mexican newspaper El Universal. Police aren't sure about the motive of the killing or if it's related to the missing students.
In 2013, Jiménez was one of the founders of the Citizens' Security System (SSC) a citizens' defense group in Xaltianguis that is part of UPOEG, a coalition of defense and civic organizations in the state.
Jiménez also helped start the Other Disappeared of Iguala, a group of people who go out hunting on Sundays for remains of others who have gone missing in the area.
According to the BBC, the group has to date found 129 bodies, which have been turned over to Mexican authorities, and which mostly remain unidentified. Jiménez told the news organization that after the students disappeared, 300 families had come forward and said they had relatives that were missing as well.
"We have been saying from the start that this area is a cemetery," he said back in November.
After November, Jiménez stopped being personally involved in the searches and returned to Xaltianguis, possibly because of death threats, according to the head of UPOEG, Bruno Plácido Valerio. He told the Associated Press that the death threats were related to his search efforts, and that they may have come from Guerreros Unidos.
In an April interview with Kara Andrade, a doctoral student at American University, Jimenez said he had received death threats from "people who are involved in things and whose interests I have impacted."
"They've chased me, in my town (Xaltianguis) they've tailed and followed me from place to place," Jimenez said.
The Other Disappeared of Iguala posted on its Facebook page on Sunday a brief tribute to Jiménez, saying, "Wizard of Oz, who helped families be brave and go out hunting in the mountains, may God keep you in his glory [and] give your family strength."
"He was always looking for somebody to help," Xitlali Miranda, one of the activists in the Iguala searches, told the AP. "He was one of the first people to say, 'If these aren't the students (bodies), then who are they?'"
When the students disappeared in the town of Iguala on Sept. 26, 2014 – they were arrested by corrupt local police and turned over to and presumed killed by a local criminal gang, Guerreros Unidos – Jiménez was an active part of the effort to press the government to find out what happened to them. He helped organize searches for their remains.
At first searchers found a number of mass graves, but none that contained the students.
In November, the country's attorney general announced that what were believed to be their burned remains were discovered near a river in Cocula. Many of the students' families remain skeptical of the government's claim, however, and the DNA of only one student was positively identified.
The secretary general of Guerrero, David Cienfuegos Salgado, explained that the main reason families didn't say anything sooner was mistrust of local authorities.
"Crimes linked to the disappearance of people need a statement to police before they can be taken up. In the last decade in Guerrero there have been few statements taken because the families are afraid. They fear the police themselves are involved in the disappearances."
The Associated Press contributed to this report.