Mark Warner, Senate Intel Committee's top Democrat: What to know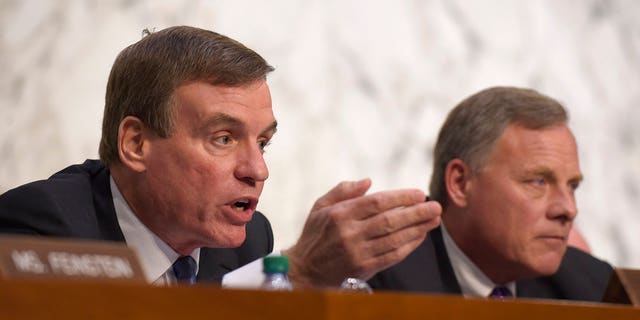 NEWYou can now listen to Fox News articles!
Sen. Mark Warner, D-Va., the top Democrat on the Senate Intelligence Committee, slammed President Donald Trump's "behavior" and his handling of the Russian investigation in his opening statement ahead of Thursday's hearing.
Fired FBI Director James Comey is testifying before the Senate Intelligence Committee Thursday — and his prepared remarks affirm reports that Trump asked his FBI chief to drop the investigation into his former national security adviser. Comey also said Trump wanted him to "lift the cloud" of the FBI's ongoing investigation into Russia's meddling in the 2016 election.
Warner called Comey's submitted remarks detailing his interactions with Trump "disturbing."
"This is not how a President of the United States behaves," Warner said. "Regardless of the outcome of our investigation into those Russia links, Director Comey's firing and his testimony raise separate and troubling questions that we must get to the bottom of."
As the top Democrat on the Senate Intelligence Committee, Warner has been heralded by his colleagues as a bipartisan leader and a partner to Sen. Richard Burr, R-N.C., the committee's chairman.
Read on for a look at who Warner is.
Personal life
Warner, 62, studied political science at George Washington University and graduated in 1977 as the class valedictorian; he was also the first person in his family to graduate from college.
Warner was an early investor in cellphone company Nextel and "made a fortune" when he cashed in his stock in 1996, according to U.S. News.
COMEY HEARING: CURVEBALLS AWAIT AS FIRED FBI DIRECTOR SET TO TESTIFY
Along with his wife Lisa Collis, Warner has three daughters and lives in Alexandria, Virginia.
Political career
Warner was Virginia's governor from 2002 to 2006. When he left, Virginia was ranked the best state for business and to receive a public education, according to Warner's Senate biography. It was also ranked the best managed state.
He was first elected to the Senate in 2008. He succeeded Republican Sen. John Warner who retired in 2009 after spending 30 years in the Senate.
COMEY'S BLOCKBUSTER HEARING COULD BOLSTER TRUMP'S CRITICS — AND ALLIES
Aside from the intelligence committee, Warner also serves on the committees on finance, banking, budget and rules.
Russia investigation
Following the Senate Intelligence Committee's questioning of Comey, Warner said there "clearly still remains a number of questions" that need to be answered by the committee. In particular, Warner said it was important for Americans to understand the full "threat of the Russians."
"It was very important for the American people to hear James Comey's statements about what has transpired," Warner told reporters following the hearing. "One message I hope all Americans take home is recognizing how significant Russia's interference on our process was."
When it comes to how he has handled the committee's probe into Russia's influence on the presidential election, Warner's Democratic lawmaker friends applauded his ability to be bipartisan.
"There will be Democrats who will go out and just on their own blister the hide off the other side. Mark is very mindful of the fact that this investigation, if it's too partisan, it could just blow up," Sen. Tim Kaine, D-Va., told the Washington Post.
Kaine also said Warner is "more seized by responsibility on" this investigation than anything else since he's known him.
"Democrats can raise hell until the cows come home; Mark is going to make sure the facts are there," Sen. Joe Manchin, D-W.Va., told the Washington Post. "This is not a witch hunt. He's not going to let that happen."
TRUMP AND THE RUSSIA INVESTIGATION: WHAT TO KNOW
Burr described Warner as "a valued partner" and someone who is "integral to the committee's efforts" to the Washington Post.
On Sunday, Warner said the committee has not been able to yet find a "smoking gun" in their investigation.
"There is a lot of smoke. We have no smoking gun at this point, but there is a lot of smoke," Warner said in a television interview.
When asked by USA Today whether it would be an impeachable offense if Trump would be found to have attempted to influence intelligence chiefs on the Russian investigation, Warner said, "I don't have the slightest idea."