Marco Rubio's plans 'unchanged' by Jeb Bush's likely 2016 run for president, aides say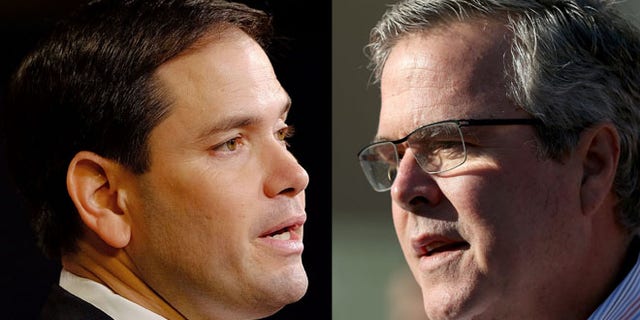 NEWYou can now listen to Fox News articles!
Sen. Marco Rubio's potential plans to run for the White House were unchanged by former Florida Gov. Jeb Bush's announcement that he would "actively explore" a run in 2016.
A senior advisor for the Florida senator told The Hill that Rubio was undeterred by his former mentor's move toward running for president.
"I know for a fact that the news (on Dec. 16) didn't change any of our team's plans. Sen. Rubio will have a very aggressive travel schedule next month," the advisor said.
Part of the reason for that aggressive schedule is because Rubio's book, "American Dreams: Restoring Economic Opportunity for Everyone," hits book stores in January.
Publishing a book prior to mounting a national campaign has almost become de rigeur in recent elections, with Hillary Clinton, Barack Obama, Mitt Romney and Rand Paul, among others, issuing tomes during election campaigns.
Republican strategists have predicted that Rubio, 43, would not run for the White House if Bush made an attempt to the top spot, assuming his base in Florida would follow to Bush.
But the rising GOP star has stated several times that the plans of his former mentor would not push him out of the race and that he would make any decision irrespective of any other candidate.
"When you reach a point where you are thinking about running for president, as I am, what you have to make you decision is on is not on who is running. It's on whether you think that's the right place to achieve your agenda and serve your country," Rubio said on NBC's "Meet the Press" recently.
He said that he has "tremendous respect" for Bush, who is a "very credible" and "strong" contender.
According to The Hill, some of Rubio's top financial supporters believe that Bush's potential 2016 run won't hurt the Florida senator as much as it could other rumored candidates like New Jersey Gov. Chris Christie, Wisconsin Gov. Scott Walker and former GOP presidential nominee Mitt Romney.
"I think Christie and Walker are more impacted by Jeb," said Matt Keelen, a top Republican strategist and fundraiser, told The Hill. "I think a lot of people that were coalescing around Christie were Bush people and had ties to the Bush infrastructure. That's probably not going to be there for him."
Strategists conceded though, that it will be harder for Rubio to raise as much money as he would have without Bush on the ballot.
"Is it possible to raise an adequate amount of money with Jeb Bush in the race? I think most people say yes. Does it make it more difficult?... The answer to that is yes," said a GOP fundraiser, who noted Bush's donor base in Florida is different from Rubio's.