Lawmakers clash over water damage, amid fresh threat of gov't shutdown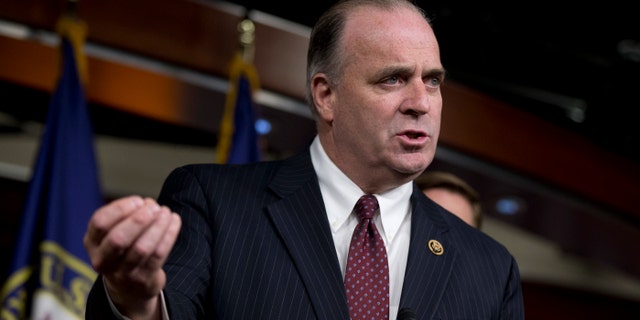 A battle over water damage could well determine whether Congress avoids a government shutdown Friday night.
Lawmakers now toil on a stopgap spending bill (known as a Continuing Resolution or "CR") to keep the lights on in Washington. But Congress is struggling to provide aid to victims of the catastrophic flooding that drowned Louisiana last month. Lawmakers simultaneously wrestle with emergency assistance for the toxic drinking water crisis in Flint, Mich.
The water issues of both Louisiana and Flint, far from a drip, are so pronounced that they crashed their way into the debate over avoiding a partial government shutdown this week.
A coalition of Democrats and Republicans filibustered a government spending measure Tuesday crafted by Senate Majority Leader Mitch McConnell, R-Ky. But Flint's water disaster helped sink McConnell's blueprint three days before government funding is set to expire.
With control of the Senate in play this fall, McConnell wants to cut vulnerable GOP senators loose from Washington as soon as possible to campaign. But Democrats hold particular sway in both bodies on this vote.
Conservatives pushed for a significant cut in spending in the bill, for provisions to block refugees from Syria, and for preventing Planned Parenthood-affiliated clinics from receiving Zika assistance. They didn't get any of it. Congressional GOP leaders axed such measures in order to have a chance of slipping the bill past a Democratic filibuster. That's to say nothing of securing President Obama's signature.
Republicans could certainly approve a partisan bill. But that would likely trigger a shutdown Friday night.
One evident path for both bodies of Congress to approve a package that would avoid a government shutdown would be to dump Flint aid onto the CR. The Senate already okayed a separate water policy bill that included Flint relief, 95-3. So, the Senate could likely reprise that vote if McConnell hooked Flint to the CR.
But that poses a political problem. House conservatives showed former House Speaker John Boehner the door this time last year, criticizing the Ohio Republican for advancing "must-pass" measures with minimal GOP support – alongside major Democratic backing. Those gambits finally cost Boehner. House Speaker Paul Ryan, R-Wis., knows he must tread carefully around pushing a spending bill tilted in favor of Democrats.
Meantime, Louisiana lawmakers insisted congressional leaders attach flood relief to the CR. Some conservatives found lines of demarcation between the Bayou's floodwaters and Flint's malignant H20.
"Flint's not a natural disaster. It's a mismanagement problem," protested Rep. Bill Flores, R-Texas, chairman of the largest bloc of House conservatives, known as the Republican Study Committee (RSC). "Why do the people of Waco, Texas, have to pay for the people of Flint, Michigan?"
"Let's not pick and choose who we take action for," said Sen. Gary Peters, D-Mich., on the Louisiana versus Flint debate.
Republicans floated the idea of resolving the Flint issue in a lame-duck session later this year. But Flint advocates say promises guarantee little.
"If the people of Flint have to wait until the end of the year, then the people of Louisiana can join them," said Sen. Debbie Stabenow, D-Mich.
There was speculation Tuesday that McConnell could jam the House with a bare-bones stopgap bill with Flint aid tacked on. That maneuver would avoid a government shutdown and expeditiously get everyone out of Washington. But under that scenario, Ryan could face the same political landmines Boehner encountered when forced to rely on Democrats to advance "must-pass" bills.
"I don't think McConnell cares one iota about Paul Ryan," said one House conservative. "That would just be collateral damage."
Late Tuesday, bipartisan House leaders worked to allow Rep. Dan Kildee, D-Mich., to offer an amendment to provide Flint with $170 million in emergency relief.
An aide to House Minority Leader Nancy Pelosi, D-Calif., says "the amendment represents a bipartisan agreement between Speaker Ryan and Leader Pelosi" on Flint. This potential breakthrough may keep that thorny issue away from the CR.
Congress could still face a "clock" issue on the CR in the Senate. Unique Senate rules allow senators to require the body to burn chunks of time stretched across multiple days before finishing a given bill. Senators who oppose the CR could protract the debate now, pushing Congress right up to the 11:59:59 p.m. ET Friday deadline.
But a rationale prevails among some lawmakers and aides that the government really doesn't shutter Friday night. That's because many federal workers are off Saturday and Sunday. So, as long as Congress doesn't notify the Office of Personnel Management (OPM) that funding lapsed, lawmakers could have some weekend time to finish a spending bill if things slip beyond Friday.
Still, another deadline looms over the weekend: Rosh Hashanah begins at sundown Sunday. Jewish lawmakers won't be available for votes until sundown next Tuesday. The deadline to fund the government could be 6:48 p.m. ET Sunday, the time the sun sets in Washington, D.C.
So Congress is watching the clock – and perhaps the sun – to finish. But the negative impacts of water in Louisiana and Flint are leading indicators of how Congress wraps things up.