Latest exchange between Trump, Biden part of long pattern of schoolboy-style threats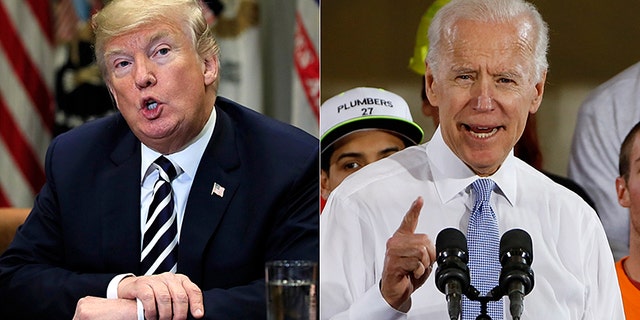 President Trump and Joe Biden sound like they want to square off in the boxing ring even more than in the 2020 election.
The two, who have long engaged in schoolboy-style taunts, have taken it to a new level recently, with Biden boasting about how he would "beat the hell" out of Trump "behind the gym," and Trump responding Thursday that if the two fought, Biden "would go down fast and hard, crying all the way."
"Crazy Joe Biden is trying to act like a tough guy," the president tweeted Thursday. "Actually, he is weak, both mentally and physically, and yet he threatens me, for the second time, with physical assault. He doesn't know me, but he would go down fast and hard, crying all the way. Don't threaten people Joe!"
Earlier this week, former Vice President Biden – who has not ruled out a 2020 run for president – taunted Trump by telling University of Miami College Democrats that he could have taken the president in a high school fight.
"They asked me if I'd like to debate this gentleman, and I said, 'No.' I said, 'If we were in high school, I'd take him behind the gym and beat the hell out of him,'" Biden said.
Trump is 71. Biden is 75.
It may be conduct unbecoming of two of America's leaders, much less a pair of septuagenarians. But both have always made tough talk part of their brand and, while an actual fight will never happen, chances are it would do well on pay-per-view.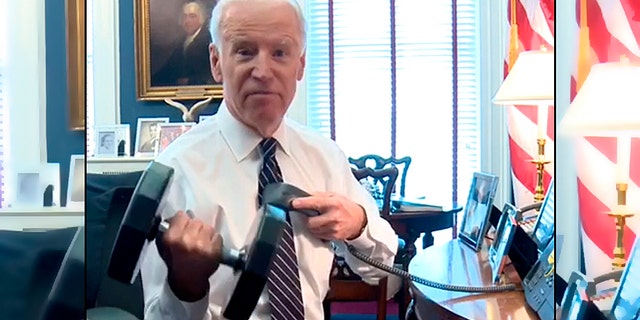 Boxing promoter Lou DiBella told Fox News that he would happily promote a Trump/Biden matchup, saying it would be the "biggest pay-per-view event in history."
"I would promote it for free and we could raise a lot of money for a lot of good causes that this administration has stopped funding," he said.
Here's a history of the taunts and threats Biden and Trump have leveled at one another over the last few years: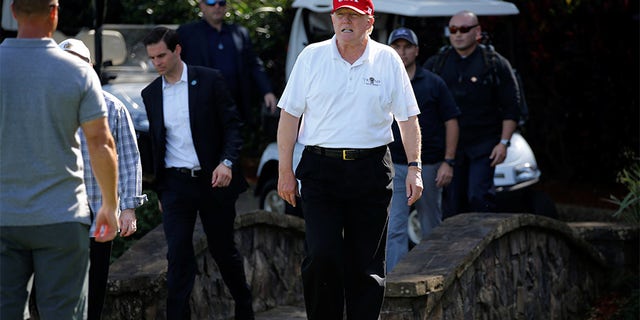 It all began before the 2016 election, in the wake of the "Access Hollywood" tape that showed Trump talking crudely about women in the past.
"The press always ask me don't I wish I were debating him?" Biden said while campaigning in Pennsylvania for Hillary Clinton in October 2016. "No, I wish we were in high school I could take him behind the gym — that's what I wish."
Several days later, Trump responded that he'd "love" to fight Biden, mocking the vice president as "Mr. Tough Guy."
"Did you see where Biden wants to take me to the back of the barn? I'd love that," Trump said. "I'd love that. I'd love that. Mr. Tough Guy. You know, he's Mr. Tough Guy. You know when he's Mr. Tough Guy? When he's standing behind a microphone by himself," Trump said.
Then a few days later, Trump suggested it wouldn't be hard to take Biden down.
"You know what you do with Biden? You go like this and he'd fall over," Trump said at a Geneva, Ohio, rally, blowing a puff of wind into the air. "Just a little bit of a puff and he's gone."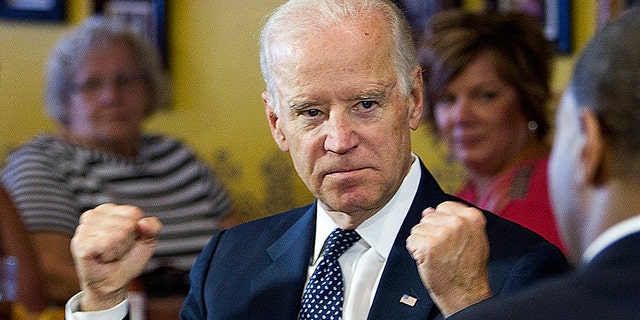 The back and forth, though, seemed to die down until earlier this month, when Trump told the crowd, during the traditional comedy dinner at the Gridiron Club, that he'd easily "kick" Biden's a--."
"Trust me, I would kick his a--," Trump said. "Boy, would he be easy. Oh, would he be easy."
Still, it's unknown if either could actually land blows. Neither drink. But both boast of being in excellent health and good shape.
Asked to predict who would win, DiBella said that while Trump has the height advantage, he would give the edge to Biden.
"The president is a bit of a builly, he just likes to take people on, and bullies tend to go down hard so I'd favor the vice president," he said. "Additionally Twitter warriors don't make great fighters."
Biden – who once posted a video of him doing arm curls at his White House desk -- told the college Democrats in Florida this week he's "been in a lot of locker rooms" and is "a pretty damn good athlete."
Trump – who prefers golf and giving speeches for exercise but has a weakness for McDonald's hamburgers – once had a doctor release a statement claiming that if elected, "Mr. Trump, I can state unequivocally, will be the healthiest individual ever elected to the presidency."
"A diet of McDonald's cheeseburgers is not optimum for an athelete so I'd be a little concerned by his proclivity toward processed foods," DiBella said.
But he was confident that, should the two decide to step into the ring, it would be a bigger fight than 2015's fight between Floyd Mayweather Jr. and Manny Pacquiao.
"I'd love to see it," he said.