Kennedy as Japan ambassador raises concerns amid N. Korea tensions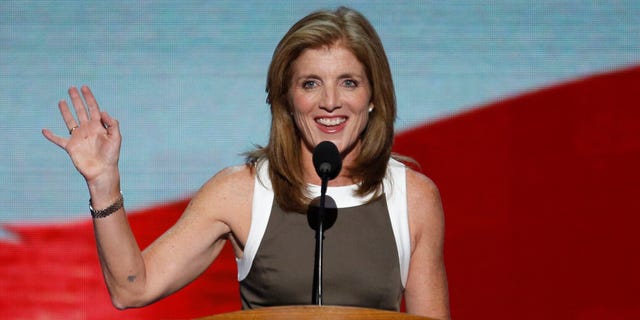 The possibility of Caroline Kennedy becoming a U.S. ambassador to Japan has sparked debate about whether the political scion -- who made a shaky and short-lived run for Senate in 2009 -- has the expertise to handle the increased turmoil in the region, where North Korea is antagonizing U.S. allies.
Kennedy indeed has the political pedigree to make foreign leaders feel important to the United States.
The 55-year-old New Yorker is the daughter of President Kennedy, niece of former Attorney General Bobby Kennedy and Sen. Ted Kennedy, and granddaughter of Joseph P. Kennedy -- U.S. ambassador to the U.K. from 1938 to 1940.
However, she has no experience in public office and has largely been portrayed as yet another political fundraiser being rewarded with an ambassadorship.
"It thought it was an April Fool's joke when I first heard about it," California Rep. Dana Rohrabacher, a Republican member of the House Foreign Affairs Committee, told FoxNews.com.
"Our economic and national security are based on good will toward Japan. I have nothing against Caroline Kennedy becoming ambassador to, say, Barbados. But Japan is too important for somebody with no experience."
Kennedy was an early and ardent supporter of President Obama's successful 2008 campaign and remained a prominent fundraiser and cheerleader through his re-election effort last year. But her subsequent stab at entering politics did not end well.
With Obama and the rest of the Democratic establishment seemingly behind her, Kennedy made a bid in 2009 to take New York Sen. Hillary Clinton's seat after she became secretary of State. But Kennedy abruptly withdrew her candidacy, following an inexperienced campaign dinged by public and private attacks by veteran politicians also eyeing the appointment.
She returned to private life. But her possible return to the spotlight comes at a sensitive time. North Korea's Kim Jong Un has been hurling an escalating series of threats toward South Korea and the U.S. on an almost-daily basis. Japan is a key U.S. ally, and would be an essential partner in the event of any military escalation in the region. Further, diplomacy in the region could be key to heading off such a conflict.
Earlier this week, White House Press Secretary Jay Carney declined to answer questions about a possible Kennedy pick or whether she is qualified to deal with some of the tough issues in the region.
Michael Mazza, a foreign policy analyst at the conservative think tank American Enterprise Institute, said political appointments are now a way of life yet the region is indeed becoming less stable by the day.
He said the escalating ownership dispute between China and Japan over the uninhabited Senkaku Islands in the East China Sea is perhaps a bigger concern than getting Japan to help ease the situation with North Korea.
"The U.S. is struggling in how to handle this," he said. "It would make sense to have someone with intimate knowledge of the situation and who knows the countries well."
Still, Mazza agrees Kennedy would carry weight in diplomatic circles.
"Foreign leaders could be quite confident she'll speak for the president," he said.
Democrats on the House Foreign Relations Committee and several liberal-leaning think tanks did not return calls for this report.
But Mireya Solis, a senior fellow at the Brookings Institution, told The Wall Street Journal, "It seems to me that when you want an ambassador, two very important assets are proximity to the president—which she clearly has—and visibility."
The American Foreign Service Association, while not directly criticizing Kennedy or Obama, does not support such appointments.
The union points out that roughly one-third of the president's first-term appointments have come from such non-diplomatic ranks as politics, fundraising and academia – a rate slightly higher than the historical average for presidents. And the rate is as high as 85 percent for major European countries and Japan, which are seen as plum diplomatic assignments.
"The sale of ambassadorships and rewards for political support basically suggests we really don't value diplomacy," union President Susan Johnson told FoxNews.com.
Johnson and Rohrabacher, among others, also point out a decline in the long tradition of appointing elder statesmen to the Japan post, citing Japanese-speaking Harvard scholar Edwin Reischauer, who was appointed by Kennedy and was followed by such people as Senate Majority Leader Mike Mansfield, Vice President Walter Mondale, House Speaker Tom Foley and Under Secretary of State Mike Armacost.
"But this appointment is an ornamental one," Clyde Prestowitz, a former Reagan staffer, wrote in Foreign Policy magazine. "It tries to evoke the good feeling of the Kennedy years but without the substance of those years. Do you think Caroline might have the good sense to turn it down and urge Obama to imitate her dad with a Reischauer-like appointment?"
Caroline Kennedy, if appointed and confirmed, would succeed John Roos, who was also an Obama campaign fundraiser.