Kansas Immigration Hardliner Fights Plan to Allow Undocumented Workers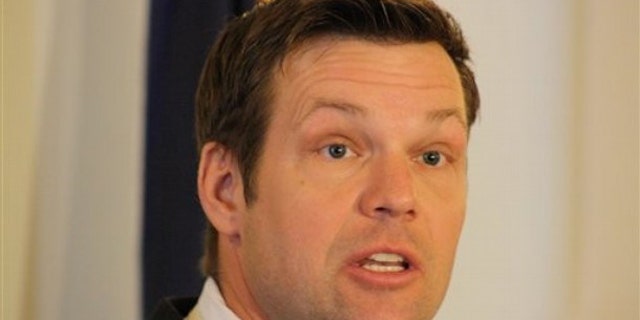 Kansas Secretary of State Kris Kobach, architect of some of the most controversial anti-illegal immigrant state laws, now is fighting a proposal in his own state that would allow undocumented immigrants to work in hard-to-fill jobs.
The proposal, by business groups, calls for undocumented immigrants to be able to remain in Kansas if they work in jobs in agriculture and other industries that are struggling through labor shortages.
Kobach, a former law professor who helped draft tough laws against illegal immigration in Alabama and Arizona, is denouncing the new Kansas proposal as "amnesty" for people who've come to the U.S. illegally. A spokeswoman said Gov. Sam Brownback, a fellow Republican, isn't supporting the measure.
But Brownback's agriculture secretary has acknowledged having several conversations with federal homeland security officials about potential labor shortages. The coalition pushing the new program includes agriculture groups with memberships that traditionally lean toward the GOP, as well as the Kansas Chamber of Commerce, another stalwart supporter of conservative Republicans.
Celebrities Who Were Once Undocumented
Utah has a guest worker program, but it isn't set to start until January 2013, and its enactment was part of a legislative package that included initiatives in line with Kobach's thinking on immigration. States with large populations of undocumented immigrants -- including California, Florida and Texas -- don't have their own programs.
The Kansas proposal was described as "unprecedented" by Wendy Sefsaf, director of communications at the American Immigration Council.
State officials and supporters of the business groups' plan don't yet have hard numbers on how many jobs are in danger of going unfilled, but unemployment rates in the western half of the state were mostly less than 4 percent in December, well below the statewide figure of 5.9 percent.
Backers of the proposal believe their new program would be helpful to commercial dairies and feedlots in western Kansas, as well as landscaping, roofing and some construction businesses.
"The key is, these are people that are in Kansas," said Allie Devine, a Topeka attorney and former state agriculture secretary who lobbies for business owners on immigration policy. "We're asking to keep those people here, let them remain and let them work."
Utah legislators created their state's guest-worker program last year, and Georgia legislators directed their state to study the idea. There were two unsuccessful proposals last year in Texas, and lawmakers are pursuing the idea in California, New Mexico and Oklahoma.
Sefsaf predicted the federal government will block such efforts, just as it has tried to block laws like Alabama's and Arizona's, as encroaching on its power to set national immigration policy. Kobach agreed.
Latina Candidate Barred over English Proficiency
Meanwhile, some signals from Brownback's administration on immigration issues have been mixed -- perhaps reflecting the split among key groups of supporters.
A new policy imposed Oct. 1 by the state Department of Social and Rehabilitation Services reduced or denied food stamps benefits to hundreds of U.S.-born children of undocumented immigrants.
But last week, state Agriculture Secretary Dton-based Immigration Policy Council. She said she is skeptical that the federal government would allow such a program, though she's sympathetic toward its goals.
"Maybe it's a good thing to have a counterbalance to Kris Kobach," she said.
The new proposal complicates the debate over immigration in Kansas where, ironically, Kobach and his allies in the GOP-controlled Legislature haven't been able to pass the same tough measures enacted in other states. It also could split Republican majorities enough that nothing of either stripe passes in an election year.
Kobach said he doesn't see the business groups' proposals as a poke at him but rather as confirmation that some employers want to keep hiring undocumented immigrants to suppress wages. He also said they're out of touch with legislators and Kansas voters.
"Their bill is a legal impossibility and a political fantasy," he said. "I don't take it personally at all."
The new program proposed by the groups would create a pool of immigrant workers that businesses could tap after the state certifies a labor shortage in their industries. The state would support requests from individual workers for the federal government to authorize them to continue working in the United States, despite not being able to document that they are in the country legally.
When English and Spanish Collide, the Results Can Be Hilarious
Representatives of the groups pushing the plan provided a draft of legislation to The Associated Press ahead of its formal introduction in the House and Senate. The program would apply to undocumented immigrants in the United States at least five years, if they've committed no felonies and not more than one misdemeanor, and if they agree to work at becoming proficient in English. Businesses hiring the immigrants would have to follow federal labor laws.
The Washington-based Pew Hispanic Center estimates that Kansas had 45,000 undocumented workers in 2010.
Department of Agriculture spokeswoman Chelsea Good said Tuesday that while Rodman has spoken several times with federal officials about labor problems in agriculture, the agency hasn't submitted a formal waiver request. The coalition's representatives said their proposal would make a waiver unnecessary.
Brownback spokeswoman Sherriene Jones-Sontag said the business groups' plan is not on the governor's legislative agenda, but it's still expected to get a hearing from legislators -- alongside proposals pursued by Kobach's allies.
This is based on a story by The Associated Press.
Follow us on twitter.com/foxnewslatino
Like us at facebook.com/foxnewslatino