Kansas GOP at Odds Over Immigration Bills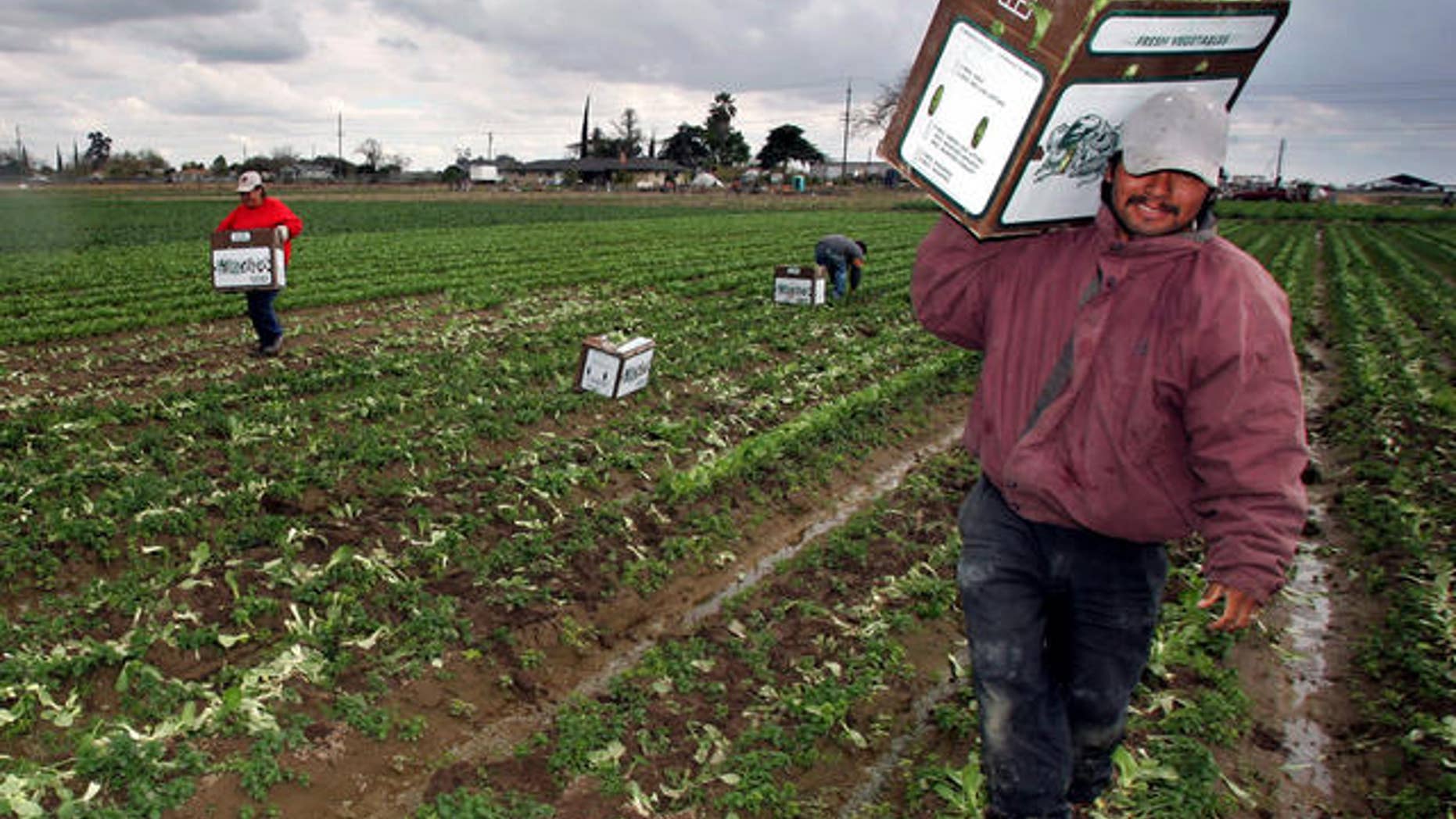 Kansas lawmakers are debating several bills that address what to do about the state's undocumented immigrants, an issue that is dividing Republicans in the state.
Kansas business groups want a program that would allow undocumented immigrants to work in hard-to-fill jobs in agriculture and other industries.
The Federal and State Affairs Committee scheduled two days of testimony on a bill drafted by a coalition that includes agriculture groups and the Kansas Chamber of Commerce, and their measure also drew support from immigrant rights advocates. They said the proposal represents a realistic approach to dealing with an estimated 45,000 undocumented workers in Kansas.
But the committee also planned to begin hearings Wednesday on four bills backed by Secretary of State Kris Kobach and his allies, designed to discourage undocumented immigrants from staying in Kansas.
Kobach, a Republican, is a former law professor who helped draft tough laws in Alabama and Arizona.
Kobach criticized the bill backed by the business coalition as an amnesty measure for illegal immigrants and predicted it can't pass the House, where his fellow GOP conservatives are in the majority.
Celebrities Who Were Once Undocumented
But the state chamber is a major player in Republican politics, and the agriculture groups joining it not only lean toward the GOP but have strong influence among rural lawmakers.
Chairman Steve Brunk, a Bel Aire Republican, said he's not yet sure which approach the committee will embrace. Republicans could become so split that none of the immigration bills ultimately will pass -- a dynamic that's already prevented Kobach from seeing legislative successes in his home state even as he helps lawmakers in others.
"It's an issue that kind of crosses unusual political lines," Brunk said.
The new program proposed by the business groups would create a pool of immigrant workers that businesses could tap after the state certifies a labor shortage in their industries.
The state would support individual workers' requests from the federal government for authorization to continue working in the U.S., despite not being able to document that they are in the country legally.
The measure is designed to help commercial dairies and feedlots in western Kansas, as well as landscaping, roofing and some construction businesses.
Kansas Immigration Hardliner Vows to Fight Plan on Undocumented Workers
Eric Stafford, a state chamber lobbyist, described the proposal as an alternative to "harmful" legislation that would hurt the economy -- a reference to the laws in Alabama and Arizona. Religious leaders called the business coalition's bill compassionate.
"This could be a model bill for other states to follow," Rep. Reynaldo Mesa, a Garden City Republican, said as he testified in favor of the measure. "This is not about amnesty. This is not about citizenship. This is about dealing with reality."
But Kobach said during an interview that the bill is an amnesty proposal because it would allow undocumented immigrants to stay in Kansas. He said it makes little sense to direct them into hard-to-fill jobs when U.S. citizens who are out of work collect unemployment and benefits from the state.
"It seems to me we'd all be better off if these jobs went to U.S. citizens," Kobach said.
And some legislators want to pursue Alabama- or Arizona-style measures, arguing that their constituents are frustrated with the federal government's failure to check illegal immigration.
Starting Wednesday, the committee will consider two bills that would require state and local government agencies and government contractors to use the federal e-Verify program to check the status of new workers.
What is the LEAST Latino State of the Union?
A third measure would make it a crime to knowingly harbor an undocumented immigrant and require applicants for government assistance to provide proof that they're in the U.S. legally. A fourth bill would direct law enforcement officers to check the status of people they stop for other reasons if there is a "reasonable suspicion" that the people stopped may be in the U.S. illegally.
Kobach said such measures represent attempts by the state to ensure that existing laws on immigration are enforced. But Lalo Munoz, director of the Latino Information Network of Kansas, said the goal is to make life in Kansas "unbearable" so that undocumented immigrants leave.
This is based on a story by The Associated Press.
Follow us on twitter.com/foxnewslatino
Like us at facebook.com/foxnewslatino