Kansas and Arizona file suit to change voting laws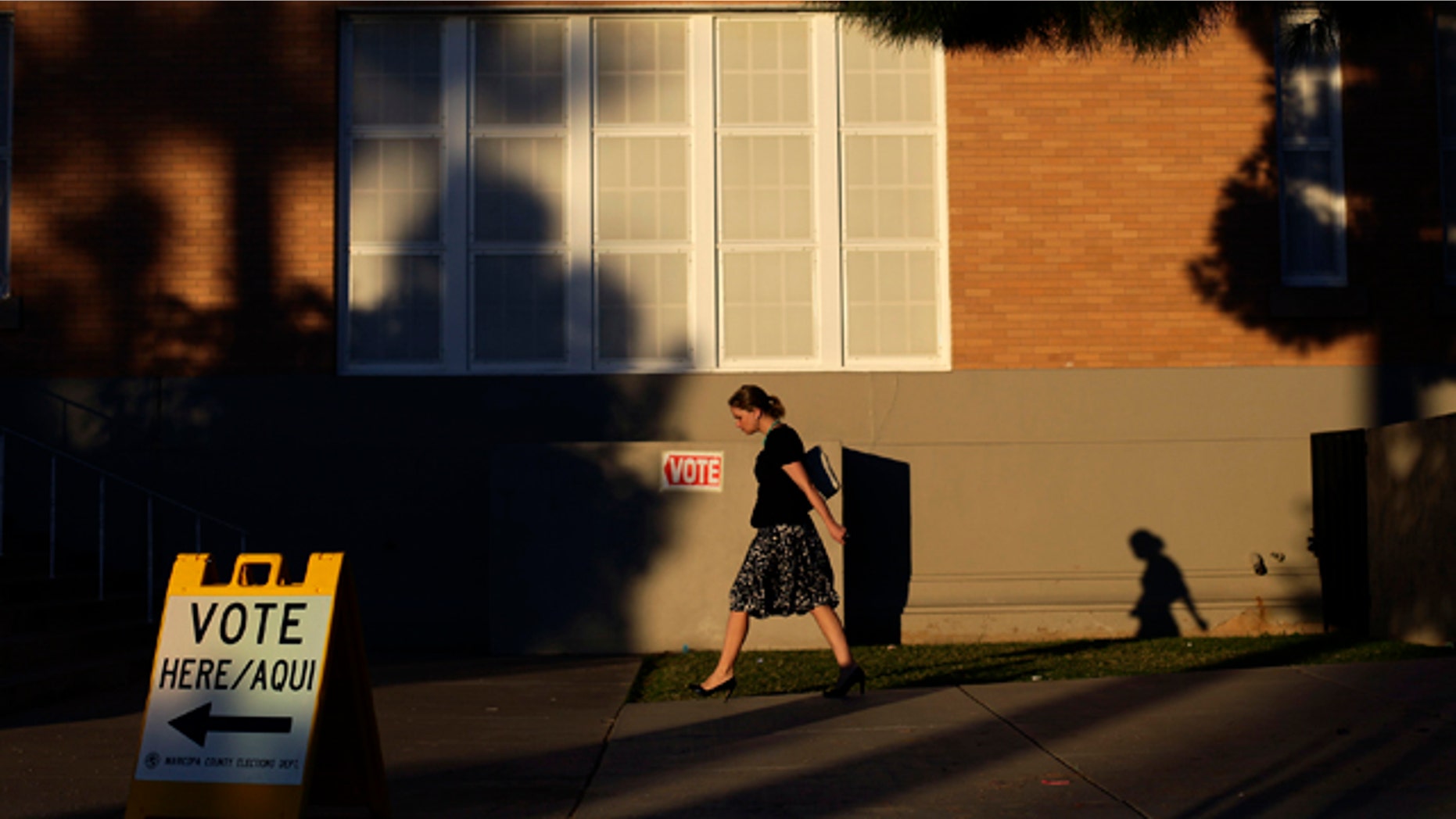 Kansas and Arizona filed a joint lawsuit against the federal government Wednesday over requirements needed to register to vote.
The lawsuit demands that the U.S. Elections Assistance Commission modify the federal voter registration form in both states so it would allow for proof of citizenship when people sign up to vote.
The federal form doesn't require proof of citizenship. It only requires prospective voters to declare that they are citizens.
"A mere oath without concrete evidence of citizenship, as allowed for by the current version of the Federal Form, does not suffice to effectuate the State laws of Plaintiffs or enable Plaintiffs to obtain information Plaintiffs deem necessary to assess the eligibility of voter registration applicants and to enforce their voter qualifications," the lawsuit reads.
It is the latest legal effort in a nationwide battle by states to crack down on voter fraud by making it harder for non-U.S. citizens to gain access to the ballot box.
The lawsuit was filed in federal court in Topeka.
Kansas Secretary of State Kris Kobach and his Arizona counterparts have been active in seeking to tighten voter registration laws, including passage of laws that require applicants to show proof of citizenship when registering to vote.
"Voting is the most cherished right of a U.S. citizenship," Kobach said. "We take seriously our obligation to protect that right and to secure that right and to guard it close so that only citizens may exercise the right to vote."
The high court ruled 7-2 that the Arizona law is pre-empted by the federal voter registration law, and the majority noted that the U.S. Constitution allows Congress to "make or alter" state rules on the times, places and manner of elections for federal offices.
Kobach maintains the ruling has no effect on the Kansas law, though the two are similar.
The Kansas proof-of-citizenship law applies when people register to vote in the state for the first time, requiring them to provide a birth certificate, passport or other documents. Elections officials must accept the registration application but residents wouldn't be eligible to vote until they provide proof of citizenship.
The Arizona statute said that election officials must reject any voter registration application that is not accompanied by proof of citizenship. The Supreme Court said that rule added a requirement for using a federal registration form not imposed by Congress.
Arizona Attorney General Tom Horne said the Supreme Court told states they could file an action with the courts if the EAC lacked enough members to act on its own, or if executive director Alice Miller didn't approve a state's request for changes.
"She's denied our request and that's exactly what we're doing," Horne said. "I fully expect us to be successful based on the Supreme Court decision. The reason it's important is because we want citizens to vote and we don't want illegal aliens to vote."
Dale Ho, director of the American Civil Liberties Union's Voting Rights Project, said he wasn't surprised the lawsuit was filed, noting that the case would do nothing for the some 15,000 residents who have applied to register to vote in Kansas whose applications are in "suspense."
"This is ridiculous. Instead of fixing the problem he's suing the federal government," Ho said.
The ACLU has informed Kobach in a letter that it considers Kansas in violation of a federal election law requiring states to allow people to register to vote at their driver's license offices.
The residents are in "suspense" because they filled out registration forms but election officials haven't yet received a birth certificate, passport or other acceptable document.
The lawsuit was assigned to U.S. District Judge Eric Melgren,  a former U.S. Attorney for Kansas  who was appointed to the bench by President George W. Bush.
Kobach said the lawsuit was filed in Kansas for financial reasons since his office will do most of the work on the case. Other options would have been to file it in Arizona or the federal court in the District of Columbia.
Pail Bender, a constitutional law professor at Arizona State University, told The Associated Press that both states will likely have an uphill battle convincing a court to order the commission to grant what the states are seeking.
He said the issue is whether the states need the requirement to show proof of citizenship for voter registrations in order to administer its voter qualification standards.
"I think the state has a very weak position there, because I am not aware of any proof they have that the failure to require proof a citizenship when you register to vote has resulted in any non-citizen voting." Bender said.
Kobach said there had been a handful of instances where non-citizens tried to vote, including one case where an individual voted illegally five times during one election in southwest Kansas.
The Associated Press contributed to this report.