Julian Castro stumps for Clinton in New Hampshire as VP rumors heat up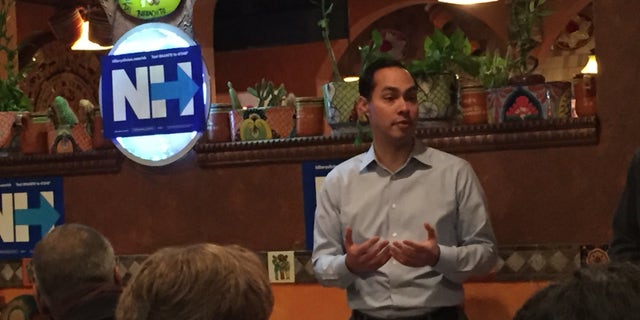 MANCHESTER, N.H. – With less than two weeks before voters in New Hampshire head to the polls for the first primary contest of the presidential campaign season, Secretary of Housing and Urban Development Julian Castro made a whirlwind tour through the Granite state on Monday in an effort to rally support for Hillary Clinton.
The rising star in the Democratic Party made a number of stops throughout New Hampshire alongside his brother, Congressman Joaquin Castro, before ending the day stumping for Clinton at a Mexican restaurant in Manchester.
"We need a president who will invest in this nation and that president will be Hillary Clinton," Castro told a crowd gathered inside the Puerto Vallarta restaurant. "Hillary Clinton believes in a United States that includes all of us."
While national polls still have Clinton holding a double-digit lead over Vermont Sen. Bernie Sanders, she is lagging far behind her opponent in New Hampshire. A Fox News poll released on Monday has Sanders up 22 points on Clinton in the countdown to primary day.
The swing through New Hampshire by the Castro brothers comes as Clinton attempts to hold on to her narrow lead in the first presidential contest state, Iowa, and also rally her base support – a sizeable portion of which comes from the Latino community – to head to polls on February 9.
Speaking to a mainly Latino crowd inside the restaurant, Castro highlighted his family's immigrants roots and the struggles they had growing up in San Antonio, Texas, while touching on Clinton talking points, such as affordable colleges and healthcare.
"Our nation has been the greatest when we invest in our people," Castro said.
Speaking to Fox News Latino after the event, Castro addressed the failure to pass comprehensive immigration reform under the presidency of Barack Obama, saying "after the last presidential election 2012 there was strong bipartisan support in the Senate for comprehensive immigration, but the Republican-led House wouldn't let it go to a vote on the floor."
But, he said, those who are strongly against immigration will have to reconsider their position after the November election. Latinos, he said, will rally against those with harsh views on to immigration and they're going to have no choice but to reconsider their reluctance to pass comprehensive immigration reform."
Castro also bashed the presidential contenders like Donald Trump and Ted Cruz, whose tough stances on immigration, saying that most American voters – immigrant or not – would not want to elect a president with the hardline views.
"There is no way that with a President Trump or a President Cruz or a President [Marco] Rubio that this is going to be a welcoming America," he told FNL.
Castro's appearance on the stump for Clinton comes only two days after the HUD secretary received the endorsement for vice president from the U.S. Hispanic Chamber of Commerce.
Castro has so far played down the speculation – saying he is focused on getting Clinton elected and that he does not believe he would be selected.
"I'm focused completely on being supportive of Hillary. There's a Democratic primary," Castro said during an event in Iowa on Sunday, according to the Texas Tribune. "I don't believe that that's going to happen, and I've said that."
He added: "I fully expect to be back in Texas a year from now."
The HUD secretary made national headlines in 2012 when it was announced that the then mayor of San Antonio would be the keynote speaker at the Democratic National Convention in Charlotte, N.C. It was a move that made history; Castro was the first Hispanic ever to deliver the keynote speech at a Democratic convention.