John Kelly says anti-military teacher should 'go to hell,' vows swift memo release in interview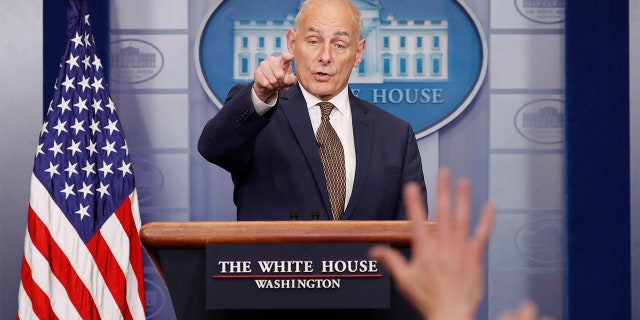 White House chief of staff John Kelly, in a wide-ranging interview with Fox News Radio, said the California teacher who has made headlines for bashing the military in a profane classroom rant should "go to hell" – while also vowing that the classified memo that Republicans say reveals shocking government surveillance abuses will soon be made public.
"Well, I think the guy ought to go to hell," Kelly, a retired Marine general, told host Brian Kilmeade on Wednesday in a post-State of the Union interview. "I just hope he enjoys the liberties and the lifestyle that we have fought for."
Gregory Salcido, the El Rancho High School teacher, was recorded asking students in his government class why they would want to serve in the military overseas, calling them "the lowest of our low." He has since been put on administrative leave.
MILITARY-BASHING CALIFORNIA TEACHER PULLED FROM CLASSROOM, CITY COUNCIL DUTIES PENDING INVESTIGATION
Kelly also said the classified memo circulating in Congress that purportedly reveals government surveillance abuses will be made public soon.
"It'll be released here pretty quick I think and the whole world can see it," he said.
His comments followed President Donald Trump being overheard telling a GOP lawmaker Tuesday night at the State of the Union that he's "100 percent" behind releasing the memo.
TRUMP OVERHEARD SAYING HE IS '100 PERCENT' BEHIND RELEASING SURVEILLANCE MEMO
The House Intelligence Committee on Monday evening voted to release it, but Trump is able to object to the release. Kelly said White House national security aides have been reviewing the memo.
In the interview, Kelly celebrated gains made against ISIS over the last year.
"As he pointed out last night, I think 99 percent of the Caliphate is dead," Kelly said. "Is gone. And the ISIS survivors, if you will, they're still out there. They'll still cause us problems. But you know, a year ago, we had cities that were held by ISIS in Iraq and Syria and today they're gone. And that's a coalition effort led by the United States and led by the U.S. military."
Fox News' Robert Gearty and Lukas Mikelionis contributed to this report.