John Kasich: GOP won't win White House by 'scaring every Hispanic to death'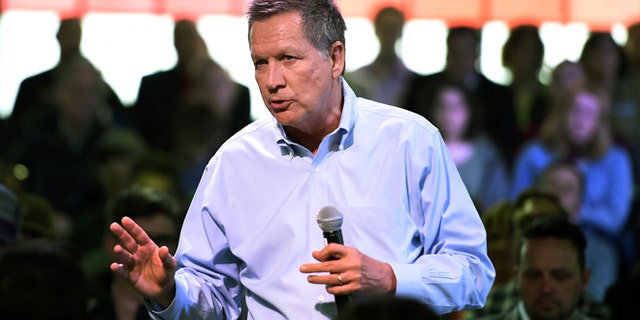 John Kasich, the Ohio governor and hopeful for Republican presidential nomination, told reporters that the party has no hope of winning the White House in November if candidates continue to alienate Latino voters.
"Do the Republicans actually think that they can win an election by scaring every Hispanic in this country to death?" Kasich told reporters, referring to GOP front-runner Donald Trump's oft-repeated pledge to deport immediately the 11 million people in the U.S. illegally.
Kasich added, "Scaring them to the point that they are afraid that their families are going to be torn apart and disrupted? Do you have any idea what those folks are going to do in a general election?"
The governor is one of the last three GOP candidates standing – although he is far behind both Trump and Sen. Ted Cruz of Texas in the delegate count.
In fact, having won only Ohio, Kasich is still trailing Sen. Marco Rubio, the Florida lawmaker who suspended his campaign in March.
At this point, all Kasich, with 153 delegates, can hope for is that Trump fails to gain enough delegates to win the nomination – forcing a brokered convention. Rubio has 171 delegates, Cruz has 565 and Trump 996 – 241 short of locking up the nomination.
Kasich made the comments at the California GOP convention in San Francisco. The state, which has more Latinos than whites, holds its primary on June 7 with 172 Republican delegates at stake.
The governor also noted the large number of angry protesters who had gathered outside of the California convention to protest Trump.
"When you live on the negative side, when you feed people's anger, you see what happened here today?" Kasich said before addressing attendees, according to ABC News. "Well, I may not be winning those votes right now, but over time I believe the people will like to live where they can be hopeful."
Like us on Facebook
Follow us on Twitter & Instagram