Joe Biden Urges Latin American Countries To Take In Guantánamo Prisoners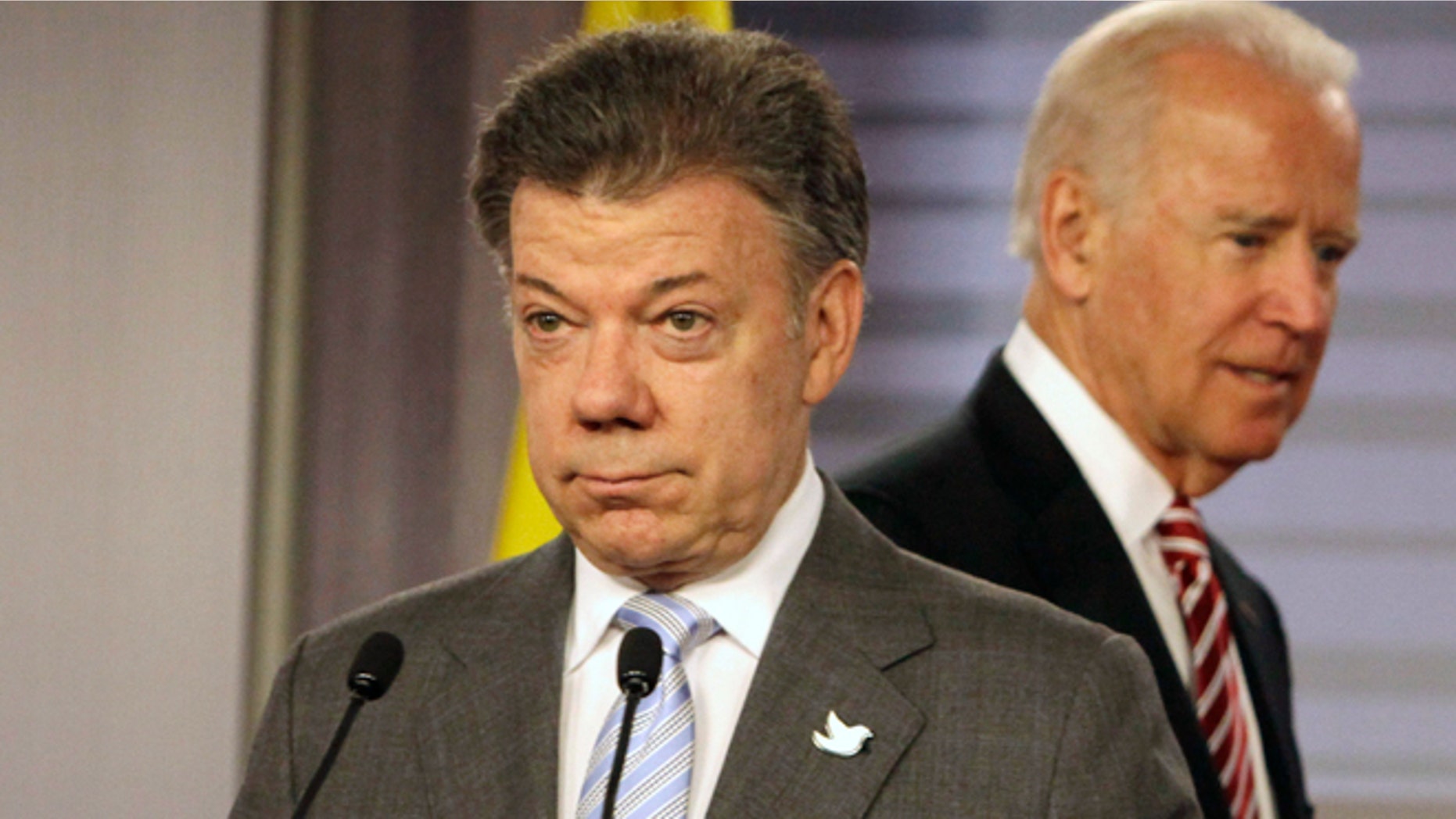 United States Vice President Joe Biden was in Bogotá, Colombia, on Wednesday to meet with the newly re-elected president, Juan Manuel Santos, and to pledge the U.S.'s firm support for the peace process on which Santos has staked his presidency.
While in the country, Biden, in an interview with a local newspaper El Espectador, urged Latin American nations to take in the detainees currently held at a prison at the U.S. military facility in Guantánamo Bay, Cuba, that was created after the September 11, 2001, attacks.
"One of the fastest ways to accelerate the closure of Guantánamo is for other countries to agree, in a responsible manner, to receive detainees," Biden told the paper.
U.S. President Barack Obama has promised to close the facililty, but 149 prisoners remain, according to AFP.
The U.S. would prefer not to repatriate the prisoners for security reasons and, in some instances, for fear that the detainees would face retribution in their home countries, so the administration has been working to find other countries to house them.
Earlier this year, the government of Uruguay agreed to take in five detainees, and Colombia has indicated that it would consider accepting prisoners.
After meeting for more than two hours with President Santos, Biden visited a center dedicated to chronicling Colombia's half-century-old civil conflict by focusing on its victims, where he said that true peace can only be secured through a full accounting.
"In war and in peace, Mr. President, we stand with Colombia," Biden told Santos at the presidential palace in brief remarks in front of reporters. His visit's timing conveyed that "unmistakable message," Biden said.
Santos said he felt "very honored to be a strategic partner of the United States." Washington has no stronger ally in the region, and Santos called the meeting "very fruitful."
The two discussed building on a two-year-old free trade agreement, including expanding energy cooperation. Biden offered full U.S. support once a peace accord is signed but no specifics on Washington's envisioned post-conflict role.
"I know there's a lot left to do, and I have absolute confidence in your determination," he told Santos of the 18-month-old negotiations in Cuba with the leftist Revolutionary Armed Forces of Colombia (FARC).
The talks have been slow-going but have covered more than half the agenda, reaching a still-secret framework of agreements on agrarian reform, ending the illegal drug trade and how rebel political participation will unfold.
Colombian officials say implementing a peace deal will be far more complicated than reaching one. Peace commissioner Sergio Jaramillo said it will depend heavily on international donors and the outside verification of an eventual accord.
Before Wednesday's meeting, Santos said a peace deal would seal with "a golden brushstroke" the counter-narcotics and anti-insurgency initiative known as Plan Colombia through which Washington has delivered more than $9 billion in mostly military aid since 2000.
Biden, as a senator, was an architect of the program and it helped Colombia badly weaken the rebels.
Publicly acknowledged U.S. police and military assistance to Colombia has dropped considerably since Santos, who was defense minister from 2006-2009, first won election in 2010. At less than $300 million this year, it is the lowest since 1998.
Biden, who arrived from Brazil on Tuesday night and headed later Wednesday for the Dominican Republic, was in Colombia for the second time in 13 months after not visiting it for 13 years.
At the National Center for Memory, Peace and Reconciliation — created through a 2011 Santos-backed law on restitution of victims and restoration of land — he wrote a note to add to an iron-limbed "Tree of Peace" where Colombian schoolchildren have attached tens of thousands of mediations on peace.
Biden said he quoted the 20th-century Irish poet William Butler Yeats: "Too long a suffering makes a stone of the heart."
He added, "There has never been a country that has overcome the past without coming to grips with exactly what happened."
Colombia's bitter, mostly rural conflict has claimed an estimated 220,000 lives, four in five of them civilians, and uprooted an estimated 5 million people.
Biden toured the memorial, which includes more than 2,000 small glass tubes of soil from different conflict zones, with his granddaughter Maisy and nephew Nick, and met briefly with indigenous, LGBT rights and union leaders.
The candidate who Santos defeated on Sunday, Oscar Iván Zuluaga, was hand-picked by his immediate predecessor in office, Alvaro Uribe, who many considered the true challenger.
Uribe has been a fierce foe of Santos' peace process, claiming his successor is selling out the country to the rebels, offering them too many concessions.
Uribe's foes say he and his hard-line political allies prefer to evade truth and reconciliation as it could incriminate many of them.
Based on reporting by the Associated Press.
Follow us on twitter.com/foxnewslatino
Like us at facebook.com/foxnewslatino