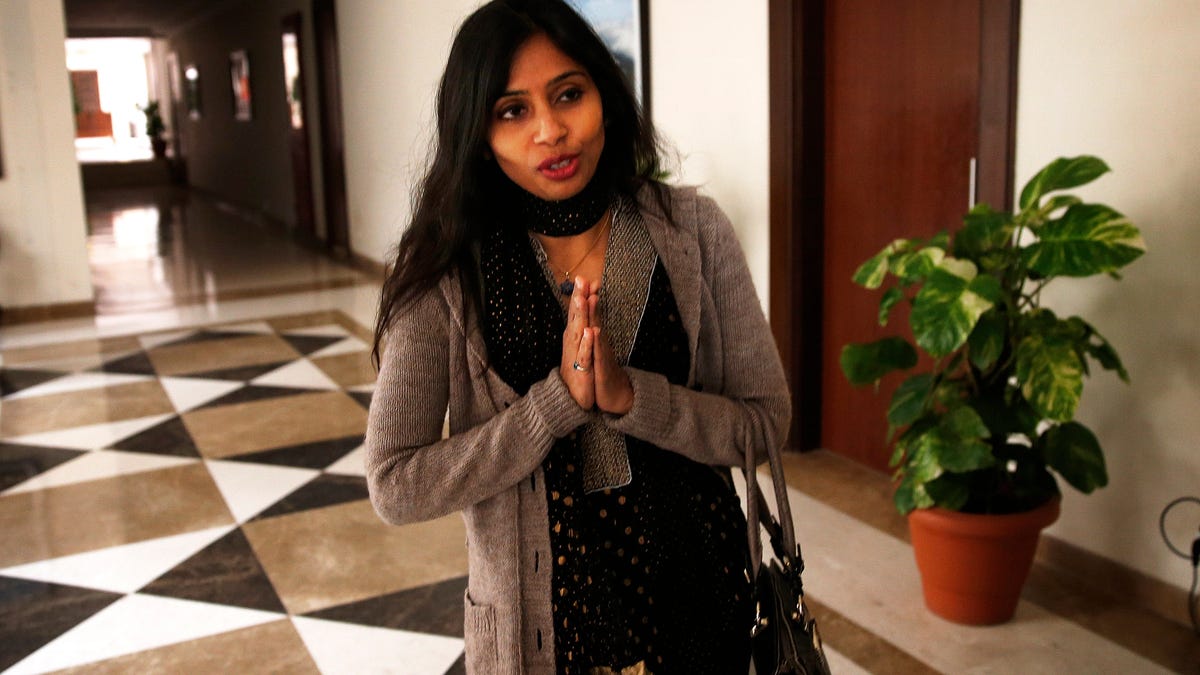 NEW DELHI – India's government said Saturday that there was no standoff with the United States over the arrest and strip search of an Indian diplomat in New York, as both countries appear eager to defuse the monthlong dispute.
After meeting with the diplomat, Devyani Khobragade, following her return to New Delhi, External Affairs Minister Salman Khurshid downplayed tensions with the U.S., saying the two countries would sort out their issues.
Khobragade, India's deputy consul general in New York, was indicted by a U.S. federal grand jury on accusations that she exploited her Indian-born housekeeper and nanny, allegedly having her work more than 100 hours a week for low pay and lying about it on a visa form. She denies the charge.
She was allowed to return home in an apparent compromise with India, and arrived in New Delhi on Friday night.
"There is no reason now to feel any immediate concern about any outcome that might be adverse or particularly disturbing in nature," Khurshid told reporters Saturday. "In due course, we will take up all issues one by one and sort them out."
After the United States requested that Khobragade leave the country, India asked Washington on Friday to withdraw a diplomat from the U.S. Embassy in New Delhi. The State Department said it would comply, although with "deep regret."
"We expect and hope that this will now come to closure, and the Indians will now take significant steps with us to improve our relationship and return it to a more constructive place," spokeswoman Jen Psaki told reporters in Washington.
Much of India's outrage stems from the circumstances of Khobragade's arrest, which were seen as unnecessarily humiliating. Khobragade was picked up Dec. 13 and then strip-searched while in custody, which the U.S. Marshals say is common practice.
India also unleashed a steady stream of retaliatory measures against U.S. diplomats. Some of the measures, such as preventing the American Center in New Delhi from screening movies, were seen by some observers as petty. But others raised alarm, including removing concrete traffic barriers around the U.S. Embassy and revoking diplomats' ID cards.
Asked about restoring the privileges of U.S. diplomats in New Delhi, Khurshid said they would be treated the same as diplomats from other countries.
"I don't think we should be seen as showing more favor to one and less favor to others," he said Saturday in an interview with CNN-IBN, an Indian television news channel, refuting criticism that U.S. diplomats enjoyed greater privileges in New Delhi than their counterparts from other countries.
He also said a visit to India by U.S. Energy Secretary Ernest Moniz would be rescheduled soon. The visit was canceled by Washington as the controversy over Khobragade's treatment raged in New Delhi.
Ties with the United States have chilled in recent years over several serious policy issues, including India's delays in enacting more business-friendly reforms and the U.S. National Security Agency's alleged spying on New Delhi and other foreign governments.
The U.S. charges against Khobragade will remain pending until she can be brought to court, either through a waiver of immunity or her return to the U.S. without immunity status, according to the office of U.S. Attorney Preet Bharara.
U.S. prosecutors say Khobragade claimed to pay Richard $4,500 per month in order to obtain a visa for her. But they say Khobragade actually paid Richard $573 per month and often forced her to work more than 100 hours a week without a single full day off. The long hours meant Richard was earning $1.42 or less per hour, the indictment says.
After about six months of working for Khobragade, Richard fled and sought help from a nonprofit group that works with human trafficking victims because Khobragade refused to hand over her passport and allow her to return home, according to the indictment.
It also alleges that after the housekeeper fled, Khobragade and a relative tried to intimidate Richard's family in India by demanding they reveal Richard's whereabouts. Khobragade also launched a legal complaint against Richard in India.
The issue of immunity has been a key aspect of the case. Federal officials initially argued that Khobragade's immunity was limited to acts performed in the exercise of consular functions. But on Thursday, the U.S. accepted India's request to accredit her to the United Nations, which confers broader immunity. It would have been almost unprecedented for the U.S. to deny such a request unless she posed a national security risk.
The United States then asked India to waive the newly granted immunity so it could prosecute Khobragade, but the Indians refused. As a result, the U.S. asked her to leave the country.