The close Virginia governor's race coming up Tuesday has attracted national attention and endorsements from top Democrats and Republicans, with one notable exception -- Virginia elder statesman Doug Wilder.
Wilder, who won the 1990 Virginia gubernatorial race to become the first African-American elected U.S. governor, has a long history of backing fellow Democrats for governor.
He backed Mark Warner in 2001 and Terry McAuliffe in 2013, though he didn't support fellow Democrat Creigh Deeds' failed 2009 bid.
And throughout his roughly 40 years in elected office, Wilder, considered a moderate Democrat, has been noted for his fiscal and law-and-order conservatism.
In this year's Virginia governor's race, Wilder has endorsed neither Republican nominee Ed Gillespie nor Democrat Ralph Northam, instead backing Northam running mate Justin Fairfax.
"We do not have the best candidates. I will start off with that," Wilder, who several years ago declared himself an independent, said in a recent "1947: The Meet the Press Podcast."
Though Wilder has endorsed neither gubernatorial candidate, the race has attracted some big-name support and endorsements.
President Trump has backed Gillespie via Twitter, saying he'd be a "great" governor and suggesting Northam would be "VERY weak on crime!"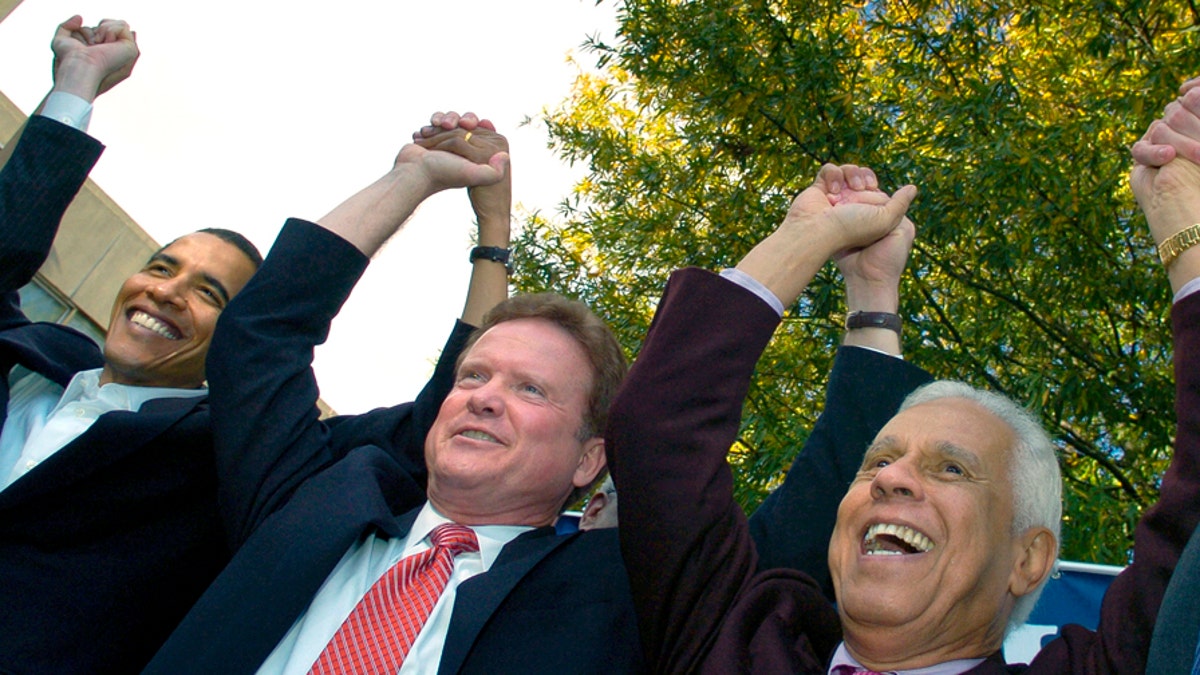 Former President Barack Obama last month stumped in Virginia for Northam, in a race that in the closing weeks has largely become a referendum on which candidate would keep Virginians safer from criminals, including illegal immigrants.
And Hollywood has even gotten into the act.
"I'm writing from the set of my new movie to ask for your help in this critical governor's race in Virginia," actor Mark Ruffalo wrote in a recent fundraising/get-out-the-vote letter for MoveOn.org. "The stakes in this year's elections couldn't be higher. I'm asking that you help by taking a few minutes to call progressive Virginia voters … and ask them to vote for Ralph Northam."
Northam leads Gillespie by 5 percentage points, according to a Fox News poll released Monday.
Virginia was the only southern state that Democrat Hillary Clinton won in last year's White House race.
Wilder argued in the podcast that Fairfax, who also is African-American, has been marginalized in the race, which will hurt the Democratic ticket.
"No Democrat is going to get elected in Virginia without strong African-American support," he said. "Now that you understand that, what do you do to get that vote? You don't do it by dissing Justin."
A grandson of slaves, Wilder grew up in poverty and worked his way to becoming one of Richmond's most successful trial lawyers. Before becoming governor, Wilder served in the state Senate. He was also the mayor of Richmond.
During his term as governor, Wilder was revered by Republicans for being fiscally responsible. Without raising taxes, he set up a "rainy day" account of $200 million -- a revenue fund that since its inception has stabilized the state through many volatile budgets.
Unlike the last gubernatorial election that largely focused on Virginia's economy, social issues have emerged this year as deciding factors.
One key issue is whether to remove Confederate statues in Virginia.
During the gubernatorial debates in September, Gillespie said that he would preserve the Confederate statues, while Northam called for the statues to be removed. He said that he would prefer to see the statues in museums.
Wilder suggested in the podcast that Northam should focus on educating the public about the Civil War, especially in schools.
"To the extent of saying we are going to spend money to take our monuments and put them in museums, where is that money going to come from when schools are not getting the teachers that we need?" he asked.
Wilder's advice to both candidates regarding the statues: Let the people of Virginia decide what they want to do.
"If the people want to take it down, take it down, but have consensus to the degree of participation," he said. "It shouldn't be done just by saying 'I want this done.' You can't deal with it by knee-jerk actions."