Immigration action to spare millions from deportation, will take a hard line on illegal border crossers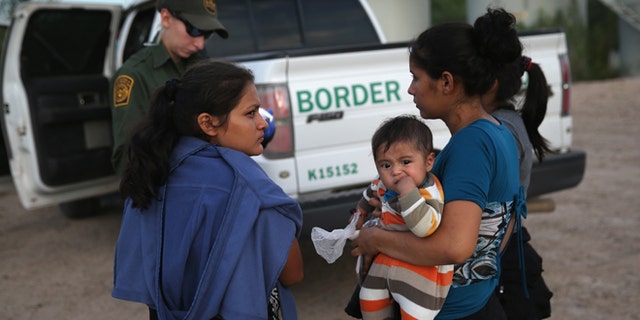 NEWYou can now listen to Fox News articles!
Undocumented immigrants who were brought to the United States as children before the age of 16 and the year 2010 would be spared deportation no matter how old they are under President Barack Obama's executive order on immigration, according to senior White House officials.
The elimination of a maximum age is a dramatic change to a 2012 initiative known as Deferred Action for Childhood Arrivals, or DACA, that offered a two-year reprieve from deportation for undocumented immigrants who came to the United States before they were 16 and before the year 2007, but required that applicants be no older than 31 as of June 15, 2012.
The change could mean that an additional 270,000 people will qualify for DACA who previously were not eligible.
"We're going to offer the following deal: If you've been in America for more than five years; if you have children who are American citizens or legal residents; if you register, pass a criminal background check, and you're willing to pay your fair share of taxes - you'll be able to apply to stay in this country temporarily, without fear of deportation," Obama said at the White House Thursday night. "You can come out of the shadows and get right with the law."
Obama's executive order also extends so-called deferred action – or a temporary suspension of deportation – to undocumented immigrants who are parents of U.S. citizens or lawful permanent residents (regardless of their age) and have been in the United States since 2010.
This could benefit "somewhere north of 4 million people," said the administration officials, who spoke on condition that they not be named.
People who receive deferred action also will be able to have work permits and driver's licenses – two factors that will change their lives dramatically.
Those who qualify for the new expanded DACA program could apply relatively soon, but the 4 million others expected to be eligible for relief will have to wait for the spring of 2015, the officials said.
"It will take some time to set up an application program," they said, adding that in 2012, when Obama announced the DACA initiative, it took about two months to get the application process up and running.
That was a program "we thought about 1 million people might be eligible for," they said, "this is obviously a much bigger program."
The deferred action application process is likely to carry a fee of similar to the old DACA cost – $465.
Foreign-born entrepreneurs who prove they have investors for their business idea and also prove that they can provide Americans jobs would qualify for a special "parole program," they said. Also, international students who receive U.S. advanced degrees in science, engineering, technology and math would have expanded opportunities to obtain permanent employment, they added.
But if the administration is expanding relief to some 5 million people who are here illegally, the executive order also will aggressively pursue people who have broken immigration laws this year, the officials said.
White House officials said in the days leading up to the president's announcement that the Obama administration – criticized by many advocates who want more lenient immigration policies because of the record number of deportations that have occurred under his watch – will now make a greater effort to focus enforcement on criminals.
Criminals, the officials said, will include everyone from immigrants who have felony convictions to those who have multiple misdemeanors as well as those who have crossed into the United States illegally this year.
And that, they said in answer to a question by Fox News Latino, includes unaccompanied minors who crossed the U.S.-Mexico border from Central America this year, many of them fleeing violence in their homelands.
The strict treatment of people crossing illegally, even if they are minors, is "important in order to prevent a future influx of unaccompanied children to make it clear that once you get her you are a removal priority," they said.
The stepped up approach to enforcement also classifies as high priority cases for arrest and deportation "people who failed to abide by a removal order issued in 2014," the officials said.
A White House fact sheet released two hours before the president's speech said that "the president's actions increase the chances that anyone attempting to cross the border illegally will be caught and sent back."
"Continuing the surge of resources that effectively reduced the number of unaccompanied children crossing the border illegally this summer, the president's actions will also centralize border security command-and-control to continue to crack down on illegal immigration."

"He has directed immigration enforcement to place anyone suspected of terrorism, violent criminals, gang members, and recent border crossers at the top of the deportation priority list," the sheet said.
In a press conference call earlier in the day, senior White House officials said that many details are still being fine-tuned, and there are many flawed aspects of the current U.S. immigration system that the president is not legally allowed to address on his own.
"There is a lot of unfinished business here," they said, "that is beyond the president's authority. These are the first steps…the next step has to be congressional action."
In the press call, administration officials stressed that the executive order provides relief to people who have been in the United States for several years, and not those who recently entered the country, or who are planning to travel here illegally or to overstay their visa.
They said they will make sure that word reaches other nations that Obama's executive order is not an invitation to come to the United States illegally and, say, have a child who is a U.S. citizen.
The officials said that court dockets of people facing deportation will be reviewed to move to the front those cases now classified as high priority.
Many advocates of leniency for undocumented immigrants had hoped that parents of DACA recipients also would be granted deferred action, but they were not.
Administration officials said that after looking at whether Obama could legally defend such a move, advisers concluded he could not.
They say it's because extending suspension of deportation to so-called DACA parents would, essentially, be putting one executive action upon another.
"Here's the problem we have," said Sen. Dick Durbin, an Illinois Democrat, to Politico, "I would like to see all of the families of Dreamers be protected."
"But because DACA was executive action, it's the understanding of at least the White House counsel that you cannot build executive action on top of executive action. So they had to be careful in the way that this is written to comply with all the precedents in law."