How Will Eric Cantor's Potential Successor, Kevin McCarthy, Handle Immigration Reform?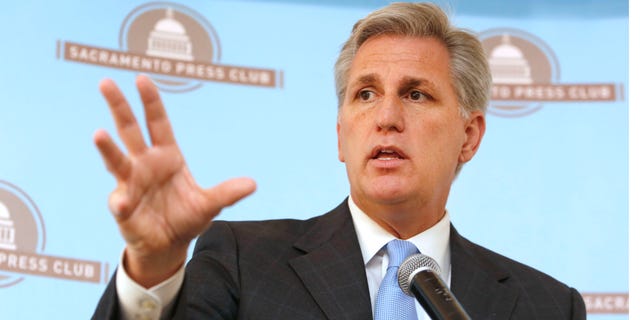 NEWYou can now listen to Fox News articles!
With the upset on Tuesday in the Virginia GOP primary, where Rep. Eric Cantor lost to a Tea Party candidate, activists on both sides of the immigration debate are scrutinizing his potential successors as House Majority Leader and how they might handle the emotionally-charged issue.
Rep. Kevin McCarthy, who is from California and whom Cantor is backing to succeed him, is widely expected to take the helm during the election, which is scheduled for June 19. McCarthy became the clear frontrunner after his strongest challenger, Rep. Pete Sessions of Texas, bowed out of the race late Thursday.
McCarthy has in the past expressed support for giving undocumented immigrants a path to legal status, although not full-blown citizenship.
McCarthy stressed earlier this year that his support for an opportunity to allow some undocumented immigrants to legalize their status was not tantamount to being in favor of amnesty, or rewarding people who break the law.
He said to KBFX Eyewitnesses News that he backed giving those who qualify "legal status that will allow you to work and pay your taxes."
"If you want to become a citizen, you'll have to go through the path," he said. "There won't be amnesty inside it."
He added that the path to legal status was "a decision that every Republican will have to make."
McCarthy's district is 35 percent Latino, starkly different than that of Cantor, whose district is only 2 percent Latino.
Last June, the U.S. Senate, where Democrats have a majority, passed a sweeping bipartisan comprehensive immigration reform bill that, among other things, bolstered border security, expanded foreign worker visa programs, and provided a path to legal status for undocumented immigrants who meet a strict set of criteria.
But the effort stalled in the House, where Republicans have the majority, and where some of the most conservative members fought against taking up any immigration measure that provided a path to legal status to people who are here illegally.
Some House Republicans who favor a strict approach to immigration are resisting McCarthy's candidacy for Majority Leader, and want the June 19 leadership election pushed back in the hope that a candidate with a harder line on the issue can be put in the running for the position.
Two of those conservatives are Reps. Steve King, of Iowa, and Michele Bachmann, of Minnesota, who said they want a candidate who does not support "amnesty," according to The Hill.
"We don't have the lineup of conservative rule of law candidates in place," said King, who is one of the staunchest opponents in the House of any proposal that would give a break to undocumented immigrants. "So we're asking for a delay in this vote so there's time for the conference to come to its senses and evaluate all of the opportunities that we have going forward."
Activists who favor strict immigration enforcement aren't satisfied with McCarthy.
"Pro-enforcement Americans should be extremely cautious about McCarthy and his admitted willingness to repeat the failed legalization of 1986," said Georgia-based conservative leader D.A. King, who is of no relation to Steve King. "He is an unrepentant legalization advocate. Kevin McCarthy is another illustration of the depth of establishment Republican's 'amnesty or bust' team."
"McCarthy hopes that America can be convinced that legalization and a work permit for people who escaped capture at our borders or laughed at the fact that we don't control visa departures like Mexico does isn't 'amnesty,'" King told Fox News Latino.
Ira Mehlman, a spokesman for the Federation for American Immigration Reform, or FAIR, a national group that favors strict immigration enforcement, said that the successor to Cantor will not have much of an impact on what Congress does or doesn't do about immigration.
"What happened to Cantor is going to put a lot of Republican House members on notice," Mehlman said to Fox News Latino. "It's going to show them that this not something they want to deal with before the election."
The child migrant influx on the U.S.-Mexico border, he said, is shifting the national focus back on the need for more border control.
"Dealing with an amnesty bill is not something their constituents will want to see them dealing with right now."
Before dealing with a bill, he said, Congress will have to hold the president accountable for what he said has been lax enforcement.