How Trump's Afghanistan strategy was received by Afghan president and Pakistan
NEWYou can now listen to Fox News articles!
ISLAMABAD – President Trump's comprehensive new strategy to achieve a "lasting peace" in Afghanistan was enthusiastically received Tuesday by the government of Afghan President Ashraf Ghani, which praised the increasing number of U.S. troops in the country as another way to strengthen weakened Afghan forces.
Trump's speech also created pressure on the Pakistani government, which the U.S. has long suspected of sponsoring terrorism in Afghanistan.
Pakistan security officials have accused Trump of shifting the blame for failures in the war against the Taliban and other militant groups fighting in war-torn Afghanistan.
Addressing a new plan for the 16-year conflict in Afghanistan Monday night, Trump asked India -- Pakistan's archrival -- to help the U.S. economically in Afghanistan, especially in the area of economic assistance and development.
"We have been paying Pakistan billions and billions of dollars at the same time they are housing the very terrorists that we are fighting," Trump also said.
"The strategy is made in accordance with realities on the ground," said Najibullah Azad, a spokesman for the Afghan president. "This is the first time the U.S. government is coming with a very clear-cut message to Pakistan to either stop what you're doing or face the negative consequences."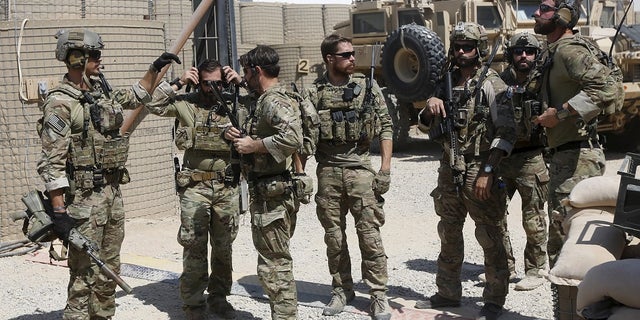 However, while acknowledging Washington's relationship with Pakistan as an ally, Trump said, "We can no longer be silent about Pakistan's safe havens for terrorist organizations, the Taliban and other groups that pose a threat to the region and beyond."
"This is going to be a tough one for Pakistan -- the war has finally come to Pakistan in Afghanistan. My concern is for adventurism on both sides, but particularly how the deep state will now go after further silencing voices in the country that criticize the policy of supporting selected militant groups," said Pakistan's Dr. Ayesha Siddiqa, a well-known defense analyst.
"What Trump said about Pakistan may have been tough, but it was certainly not new. We've heard U.S. leaders many times pledge to get Pakistan to change its ways. And to this point, they haven't succeeded," said Michael Kugelman of the Woodrow Wilson Center.
"Such are the immutability of Pakistan's strategic interests -- which entail maintaining ties to groups like the Taliban because they keep India at bay in Afghanistan -- that I don't expect Trump's strategy, regardless of what it comes up with, to get Pakistan to alter its policies," he said.
The Afghan ambassador to the U.S., Hamdullah Mohib, called the speech a "shift away from talking about timetables and numbers to letting conditions on the ground determine military strategy."
Mohib said the new strategy was a break with "micromanagement from Washington."
U.S. Ambassador to Pakistan David Hale paid a courtesy call on Pakistan's Foreign Minister Khawaja Muhammad Asif Tuesday afternoon. Hale briefed the foreign minister about Trump's latest policy review on South Asia and Afghanistan. Hale also reportedly said U.S. Secretary of State Rex Tillerson looked forward to meeting Asif in the next few days to have an in-depth discussion about the two countries' relationship as well as the new U.S. policy.
Asad Umar, a senior political leader from opposition party Pakistan Tehreek-i-Insaf, said, "It's a failure of 16 long years, and the U.S. is moving in the circle without any achievements, the same old pressure narrative on Pakistan but it's not new indeed."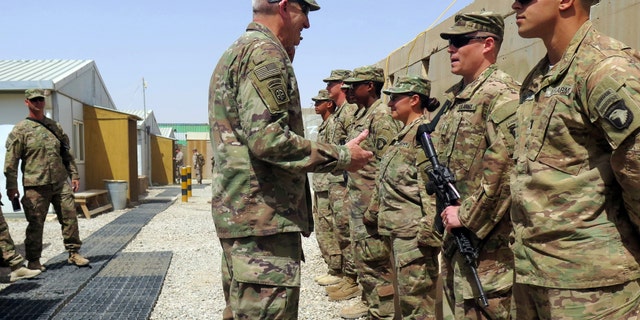 Umar, who is also an economic expert, said he believes, "Possible economic sanctions will hold no global support as the U.S. is affecting the world negatively and the outcome of its policies, primarily in war-torn Afghanistan, is virtually close to zero."
One senior intelligence official in Islamabad told Fox News, on the condition of anonymity, that, "U.S. failure in Afghanistan is evident as casualties of civilians and troops are at record-high level, they are finding a way to get out from Afghanistan, the U.S. can't run away the failures of their own policies of the Ghani-led government and are blaming Pakistan."
"The U.S. wants a face-saving exit from Afghanistan, and sooner or later they will completely withdraw from Afghanistan, leaving the war-torn country mercilessly on its own fate," said Shahzad Chaudhary, a Pakistani defense analyst.
"America wants us to fight their war, i.e. with the Haqqani network, which is purely an Afghan militant group. Regional powers should create a force for Afghanistan, which should play a role within itself for viable Afghan solution" Chaudhary added.