House Votes to Pass Health Care Bill, Send 'Fixes' Back to Senate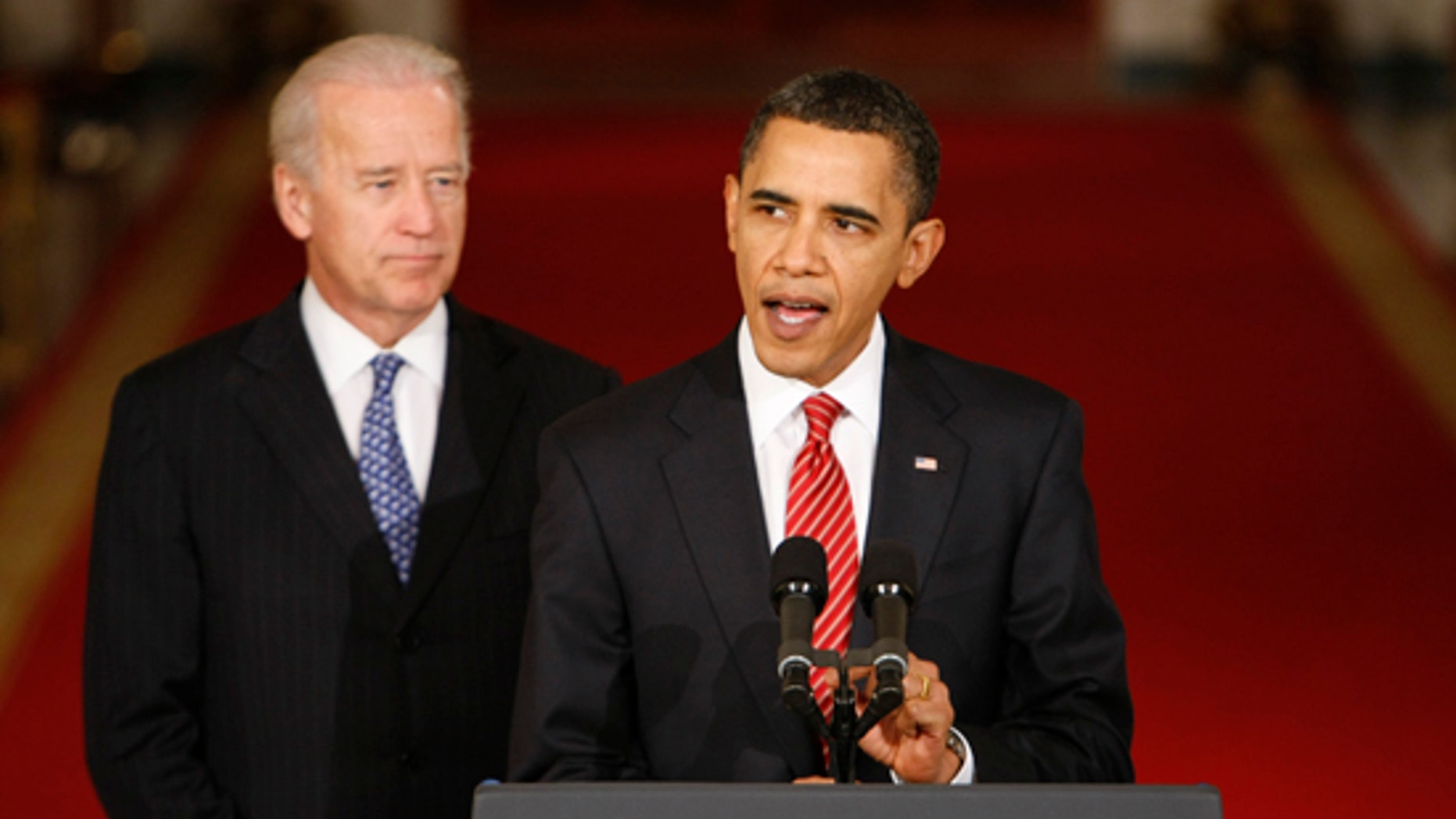 Health care reform legislation a year in the making heads to President Obama's desk after Democrats cemented a narrow victory Sunday night on the heels of an intense week of arm-twisting and deal-making.
A bloc of pro-life Democrats turned out to be the linchpin to passage of the Senate's massive health insurance overhaul, as Obama sealed a 219-212 victory with a pledge to issue an executive order "clarifying" abortion language in the Senate bill.
The House also voted 220-211 to support a "reconciliation" bill aimed to "fix" provisions in the Senate bill that many House Democrats opposed but viewed as better than nothing.
The Senate was scheduled to begin debate on those "fixes" on Tuesday, the earliest day that Obama would sign the original legislation.
The president delivered a statement after the vote, calling the "reform" the "right thing to do" for families, seniors, businesses, workers and the future and "another stone firmly laid in the foundation of the American dream."
"The United States Congress finally declared that America's workers and America's families and small businesses deserve the security of knowing that here in this country neither illness nor accident should endanger the dreams they worked a lifetime to achieve," Obama said in the East Room of the White House as Vice President Joe Biden stood beside him.
"We proved that this government, a government of the people and by the people, still works for the people," he said. "I know this wasn't an easy vote for a lot of people but it was the right vote.
"This isn't radical reform, but it is major reform. This is what change looks like," Obama added.
Thirty-four Democrats voted against the Senate bill, whose passage turned out to be incumbent upon the president satisfying pro-life Democrats like Rep. Bart Stupak, D-Mich., who insisted on stronger restrictions on abortion than the Senate's bill.
The Senate bill allows insurance companies who participate in a planned government-run exchange to provide abortions but attempts to create separate accounts for those using federal subsidies who might seek abortion services.
Stupak had claimed he had at least seven votes with him against the Senate bill. They turned out to be more than enough to make or break the bill. On Sunday afternoon, he said the president's promise of an executive order was enough to win over the group, even though pro-choice groups slammed Obama as a sell-out to their cause and pro-life groups said the order would change nothing in the Senate bill.
Republicans too called the executive order a toothless regulation that does not have the force of law and can easily be overturned with a strike of the pen.
After the vote for passage, GOP lawmakers sought to send the Senate bill back to the House committee with language asking for additional protections against tax-funded abortions like those successfully proposed by Stupak in the House legislation that passed in November.
The president's executive order does "absolutely nothing to mitigate or change" in any way the Senate's provisions on abortion accounts, said Rep. Chris Smith, R-N.J.
But Stupak, who was greeted with shouts of "baby killer," responded that Republicans were merely trying to kill the bill, not save lives.
"The motion is really a last-ditch effort of 98 years of denying Americans health care," Stupak said. "It is the Democrats who have stood up for the principal of no public funding of abortions. It is Democrats through the president's executive order that ensure the sanctity of life is protected."
House leaders on both sides of the aisle gave impassioned pleas before the final vote Sunday night, with House Speaker Nancy Pelosi praising Obama's leadership and House Minority Leader John Boehner warning congressional members against defying the will of the American people.
Clearly angered by the impending vote, Boehner shouted at lawmakers that they can not go back to their constituents and claim to have read the bill, saved money, created jobs or acted openly in their pursuit of the legislation.
Saying the actions taken by the House to get the bill passed discredits the Congress, Boehner, R-Ohio, slowly raised his voice as he demanded lawmakers answer simple questions.
"Can you go home and tell your senior citizens that these cuts in Medicare will not limit their access to doctors or further weaken the program instead of strengthening it? No, you can not," Boehner said to shouts of support from his GOP caucus. "And look at how this bill was written. Can you say it was done openly, with transparency and accountability without backroom deals struck behind closed doors, hidden from the people? Hell, no you can't."
Boehner warned lawmakers that they will have to face the music if they vote for the legislation.
"In a democracy you can only defy the will of the people for so long and get away with it," he said.
Despite his dire warnings, Boehner was followed by Pelosi, who earned an equally passionate response from her Democratic colleagues.
"We all know, and it's been said over and over again, that our economy needs something, a jolt and I believe that this legislation will unleash tremendous entrepreneurial power to our economy,"Pelosi said. "Imagine a society and an economy where a person could change jobs without losing health insurance, where they could be self-employed or start a small business. Imagine an economy where people could follow their passions or their talent and without having to worry that their children would not have health insurance."
Pelosi pledged the new legislation would create hundreds of thousands of jobs and save $1.2 trillion in its second 10 years, numbers predicated on unlikely scenarios, including Congress' withholding its authority to make discretionary spending changes to the bill and future Medicare savings.
But Pelosi said when it comes to health care, all politics is personal for Americans, including those who are denied coverage for illnesses they already have when they try to sign up for insurance.
"It's personal for millions of families that have gone into bankruptcy under the weight of rising health care costs. Many, many, many, a high number percentage of the bankruptcies in our country are caused by medical bills that people can not pay," Pelosi said.
"Being a woman will no longer be a pre-existing medical condition," she added.
After the vote, Democratic leaders spoke to the press. Rep. James Clyburn, D-S.C., the majority whip, called Pelosi the most "tenacious" person he'd ever met. He added that the bill is "a giant step toward the establishment of a more perfect union."
"I consider this to be the civil rights act of the 21st century because I do believe this is the one fundamental right that this country has been wrestling with now for almost 100 years," Clyburn said.
Earlier, the House voted 224-206 to approve the rules for debating the Senate bill. House Republicans did all they could to slow the increasingly inevitable march toward the overhaul and were joined by 28 Democrats who voted with Republicans against the rule for debate.
Once the fixes bill goes back to the Senate, lawmakers were expected to approve a series of "fixes" aimed at getting rid of special deals for some districts and states, including the "cornhusker kickback" for Nebraska and others made to win Senate support.
Obama will have to sign the Senate bill into law before any fixes bill goes to the Senate under rules designed to enable Democrats to pass the bill with 51 votes, thus avoiding a Republican filibuster. Democrats control 59 of the Senate's 100 seats, one vote shy of the number needed to overcome bill-killing filibusters from a united GOP.
But senators have given no guarantees they will pass the fixes, which are strictly the wishes of House Democrats.
Any reconciliation package that does get sent to the Senate is facing a block -- or at least a delay -- from Senate Republicans who will try to use "hundreds" of amendments to stop the fixes.
"We're not going to try to drag this out forever with amendments, but I do think it's important to try to amend some portions of the bill and at least use the amendment process to demonstrate to the American people some of the things that are still wrong with this bill," said Sen. Jon Kyl, R-Ariz.
Much may hinge on the judgments of an unelected figure, Senate Parliamentarian Allan Frumin, who will enforce the so-called "Byrd rule," named after the Democratic senator from West Virginia. The rule holds that any provisions in a reconciliation bill that do not firstly and chiefly affect the budget must be stricken from the measures.

"There are some provisions that have -- clearly, (the Congressional Budget Office) has scored as having zero or no budgetary consequence," said Bill Hoagland, a one-time aide to former Senate Majority Leader Bill Frist, R-Tenn. "They're not important, they're not significant in the grand scheme of things. But just to have one would be enough to create the point of order and, if sustained by the chair, would create this situation where it would have to go back to the House again."
Of course, the parliamentarian's rulings are not the final word in the Senate. That authority belongs to the president of the Senate, currently Vice President Joe Biden.
Leading Democrats hinted on Sunday that they may invoke Biden's authority to shut down the GOP.
"We're going to deal with honest amendments on substance that meet the test of the Senate rules," Sen. Richard Durbin, D-Ill., said on CBS' "Face the Nation." "But there is going to come a point when the American people and the people in the Senate are going to say this really isn't about substance, it's all about politics. Now let's make a final decision, up or down vote."
Republicans may also argue that select provisions of the bill impact Social Security, and if that argument carries the day, it would, under Senate rules, effectively kill the bill.
Fox News' James Rosen contributed to this report.