House GOP 'Immigration Principles' Allow Many Undocumented Immigrants To Stay In The U.S.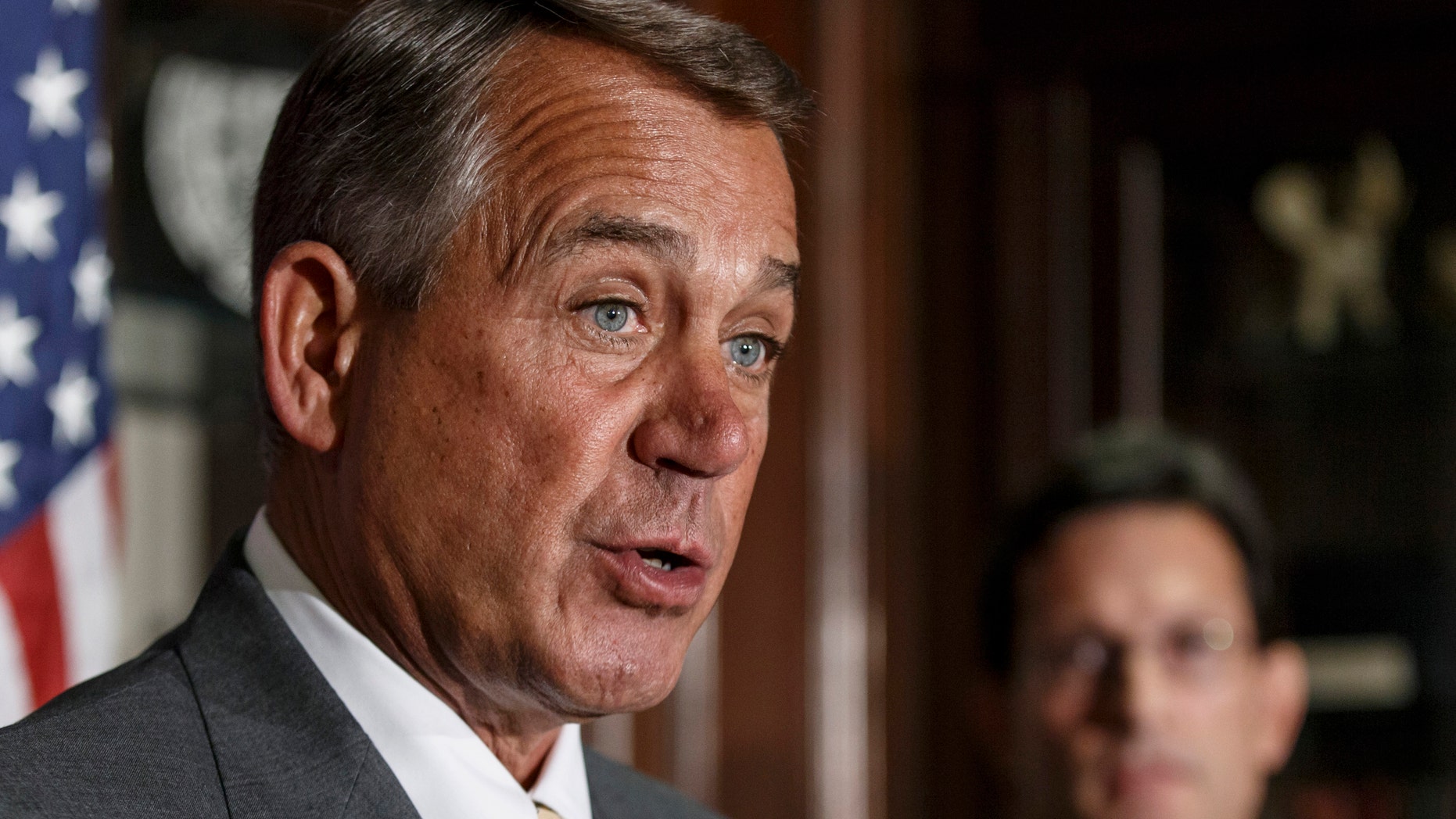 Leaders of House Republicans – who hold the majority in that congressional chamber and include conservatives who have fought proposals to provide any break to undocumented immigrants – released Thursday afternoon a non-binding set of principles that calls for allowing people who are in the United States unlawfully to legalize their status.
In the boldest show of support yet for granting a path to legal status for undocumented immigrants, the GOP document, titled "Standards for Immigration Reform," says that any immigration overhaul should call for providing a chance for citizenship to children brought to the country illegally. It says children should not be punished for the transgressions of their parents — an argument long made by proponents of more lenient immigration laws.
The principles, which were finalized at a GOP retreat in Maryland, also say the country's national and economic security depends on requiring people who are living and working here illegally to come forward and get right with the law.
It rules out a special path to citizenship. However, it does, essentially, allow those immigrants to remain and live legally if they pass background checks, pay fines and back taxes, learn to speak English and understand U.S. civics, and can support themselves without access to welfare.
The document does not spell out what form this legal status would take. But the conditions set for allowing undocumented immigrants to remain in the country legally actually echo conditions established in a bipartisan Senate immigration reform bill passed in June, and which many GOP leaders in the House said they would not rubber-stamp.
Efforts to overhaul the immigration system to address its current flaws and the estimated 11 million undocumented immigrants seemed to gain momentum last year, after Republicans called the emotional issue one of the reasons they believed that GOP presidential candidate Mitt Romney lost in 2012.
Some 70 percent of Latinos, and 71 percent of Asian-Americans, voted to re-elect President Obama, with many of them citing the hard-line stance on immigration by both Romney and the GOP as a key factor that alienated them from Republicans.
Four Republicans and four Democrats in the Senate drafted a bipartisan immigration reform measure that, among other things, tightened border security, expanded foreign worker visa programs, called for stricter enforcement of immigration laws inside the United States, but also pave the way for undocumented immigrants who meet a strict set of criteria to legalize their status and, after about 13 years, be able to become naturalized U.S. citizens.
Many conservative proponents of strict immigration laws said they opposed anything resembling an amnesty, deeming it a reward to lawbreakers.
Sen. Jeff Sessions, a Republican from Alabama, in recent days has assailed the parts in the GOP principles that allow undocumented immigrants to legalize their status. He and other opponents of that provision have vowed to fight against any House GOP measures that include it.
Immediately after the release of the principles, advocates of more flexible immigration laws expressed a mix of praise but also skepticism.
Rep. Luis Gutiérrez, an Illinois Democrat, and chair of the Immigration Task Force of the Congressional Hispanic Caucus, described the principles as a start, but not enough.
"We have gone from the Republicans saying 'self-deportation' and 'veto the DREAM Act,' to saying we need bipartisan solutions in just about a year. And we have gone from some Democrats saying immigration is too difficult an issue to handle to saying we need bipartisan solutions in just a few years."
"We are now talking about how people stay and how they come legally, not how we kick out 11 million people and build a big moat around the country."
He urged the House to follow in the steps of the Senate and pass immigration legislation.
AFL-CIO President Richard Trumka was less diplomatic, terming the principles "a flimsy document that only serves to underscore the callous attitude Republicans have toward our nation's immigrants."
"Americans made clear they support a path to citizenship for the 11 million aspiring Americans. So should House Republicans. Half-measures that would create a permanent class of non-citizens without access to green cards should be condemned, not applauded."
House Republican leaders presented their "Standards for Immigration Reform" to rank-and-file members at the annual retreat in Cambridge, Md.
During the retreat, a source told Fox News that House Speaker John Boehner, Iowa Republican, said to his colleagues there: "I have been clear that I oppose the massive, flawed immigration reform bill passed by the Democratic-controlled Senate. I've been clear that the House will not take it up or engage in negotiations with the Senate on it… We will address this issue in a step-by-step, common sense fashion that starts with securing our nation's borders and enforcing our nation's laws."
"These standards are as far as we are willing to go," Boehner said, according to the sources. "(House Minority Leader and California Democrat) Nancy Pelosi said yesterday that for her caucus, it is a special path to citizenship or nothing. If Democrats insist on that, then we are not going to get anywhere this year."
Here is a look at the principles:
Border Security and Interior Enforcement Must Come First
It is the fundamental duty of any government to secure its borders, and the United States is failing in this mission. We must secure our borders now and verify that they are secure. In addition, we must ensure now that when immigration reform is enacted, there will be a zero tolerance policy for those who cross the border illegally or overstay their visas in the future. Faced with a consistent pattern of administrations of both parties only selectively enforcing our nation's immigration laws, we must enact reform that ensures that a president cannot unilaterally stop immigration enforcement.
Implement Entry-Exit Visa Tracking System
A fully functioning Entry-Exit system has been mandated by eight separate statutes over the last 17 years. At least three of these laws call for this system to be biometric, using technology to verify identity and prevent fraud. We must implement this system so we can identify and track down visitors who abuse our laws.
Employment Verification and Workplace Enforcement
In the 21st century it is unacceptable that the majority of employees have their work eligibility verified through a paper based system wrought with fraud. It is past time for this country to fully implement a workable electronic employment verification system.
Reforms to the Legal Immigration System
For far too long, the United States has emphasized extended family members and pure luck over employment-based immigration. This is inconsistent with nearly every other developed country. Every year thousands of foreign nationals pursue degrees at America's colleges and universities, particularly in high skilled fields. Many of them want to use their expertise in U.S. industries that will spur economic growth and create jobs for Americans. When visas aren't available, we end up exporting this labor and ingenuity to other countries. Visa and green card allocations need to reflect the needs of employers and the desire for these exceptional individuals to help grow our economy.
The goal of any temporary worker program should be to address the economic needs of the country and to strengthen our national security by allowing for realistic, enforceable, usable, legal paths for entry into the United States. Of particular concern are the needs of the agricultural industry, among others. It is imperative that these temporary workers are able to meet the economic needs of the country and do not displace or disadvantage American workers.
Youth
One of the great founding principles of our country was that children would not be punished for the mistakes of their parents. It is time to provide an opportunity for legal residence and citizenship for those who were brought to this country as children through no fault of their own, those who know no other place as home. For those who meet certain eligibility standards, and serve honorably in our military or attain a college degree, we will do just that.
Individuals Living Outside the Rule of Law
Our national and economic security depend on requiring people who are living and working here illegally to come forward and get right with the law. There will be no special path to citizenship for individuals who broke our nation's immigration laws — that would be unfair to those immigrants who have played by the rules and harmful to promoting the rule of law.
Rather, these persons could live legally and without fear in the U.S., but only if they were willing to admit their culpability, pass rigorous background checks, pay significant fines and back taxes, develop proficiency in English and American civics, and be able to support themselves and their families (without access to public benefits).
Criminal aliens, gang members, and sex offenders and those who do not meet the above requirements will not be eligible for this program. Finally, none of this can happen before specific enforcement triggers have been implemented to fulfill our promise to the American people that from here on, our immigration laws  will indeed be enforced.
The Associated Press contributed to this story.