Hilda Solis Resigns as Labor Secretary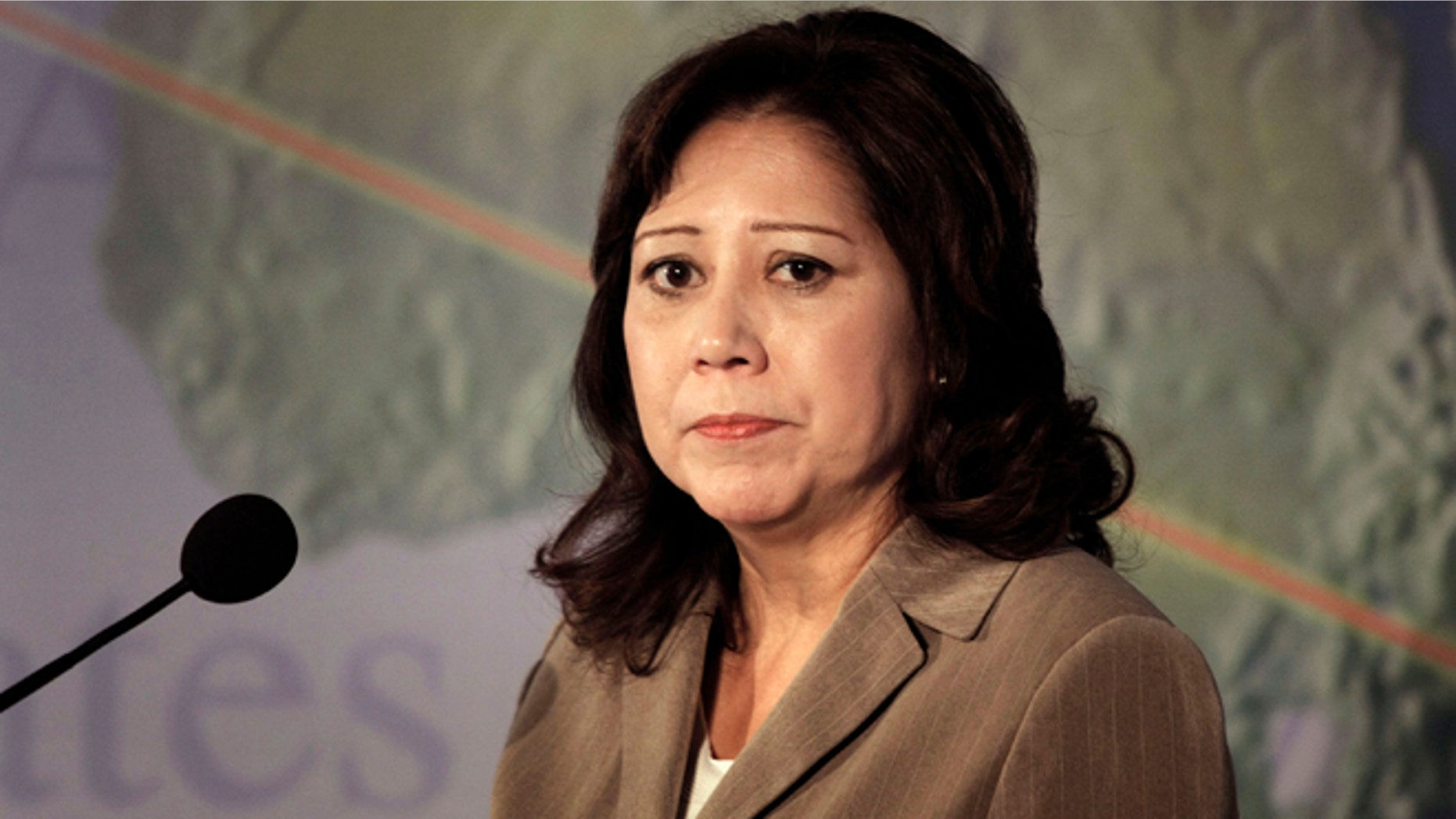 Labor Secretary Hilda Solis is leaving the Obama administration.
Solis, the nation's first Hispanic labor secretary, submitted her resignation letter to President Barack Obama on Wednesday afternoon. She made the decision to leave after discussing it with her family and close friends.
She says she plans to return to her native California, where she is expected to run for a seat on the Los Angeles County Board of Supervisors.
Solis, 55, has won praise from labor unions for aggressive enforcement of wage and hour laws and job safety regulations. But business groups have criticized her as not taking a more cooperative approach.
Her resignation comes as criticism has been brewing over the few number of women and minorities among senior officials in the Obama administration.
In a statement released by the White House, the president called Solis "a tireless champion for working families."
"Over the last four years, Secretary Solis has been a critical member of my economic team as we have worked to recover from the worst economic downturn since the Great Depression and strengthen the economy for the middle class," the president said. "Her efforts have helped train workers for the jobs of the future, protect workers' health and safety and put millions of Americans back to work...I wish her all the best in her future endeavors."
In a letter – obtained by Fox – to her staff at the Department of Labor, Solis said she made the decision to leave her post "after much discussion with family and close friends. . .to begin a new future, and return to the people and places I love and that have inspired and shaped my life."
"Leaving the department is one of the most difficult decisions I have ever made, because I have taken our mission to heart," Solis wrote.
She reflected on her good fortune.
"As the daughter of parents who worked in factories, paid their union dues and achieved their goal of a middle class life. . .it has been an incredible honor to serve."
"Growing up in a large Mexican-American family in La Puente, California," she wrote to her staff, "I never imagined that I would have the opportunity to serve in a president's Cabinet, let alone in the service of such an incredible leader."
Linda Chavez, who was head of the Civil Rights Commission under the Reagan Administration, nearly became the first Hispanic labor secretary when President George W. Bush nominated her for the post in 2001. But Chavez was forced to withdraw as the nominee after it was revealed that she had provided  haven to an undocumented immigrant from Guatemala in the early 1990s.
Chavez appeared with other immigrants who said she had helped them as she did the Guatemalan, Marta Mercado, in 1991 and 1992, taking her into her home and giving her money but never, she said, as an employer.
Rep. Rubén Hinojosa, Texas Democrat, and chair of the Congressional Hispanic Caucus, praised Solis for having been "a strong advocate for the Hispanic community and for all American workers."
"I'm proud to have had the opportunity to serve alongside Sec. Solis for many years in the House and witness her tireless commitment and vision firsthand. In her role overseeing the Department of Labor, Sec. Solis has continued to serve her country dutifully and protect American families."
As a nominee facing the confirmation process in 2009, Solis, then a California congresswoman, told the Senate Health, Education, Labor and Pensions Committee that she felt the government needed "to restore the respect and integrity of those individuals in the workplace."
Organized labor viewed Solis as a determined advocate for measures making it easier to boost union membership by giving employees the right to sign union cards to form unions instead of holding secret ballot elections.
Business groups, however, were concerned about Solis' support for unions.
In 2000, Solis received the John F. Kennedy Profile in Courage Award for her pioneering work on environmental justice issues in California.
The late Sen. Ted Kennedy, D-Mass., called her "a voice for the voiceless with a true passion for fairness and justice."
Solis was the first Latina elected to the California Senate, where she led the battle to increase the state's minimum hourly wage from $4.25 to $5.75 in 1996.
She won her congressional seat in 2000 after taking on a Democratic incumbent who had lost the support of organized labor. During eight years in Congress, Solis made protecting the environment and helping immigrants two of her top priorities.
This story includes material from The Associated Press.