Health Care Debate Looms Large in Senate Leader's Re-Election Strategy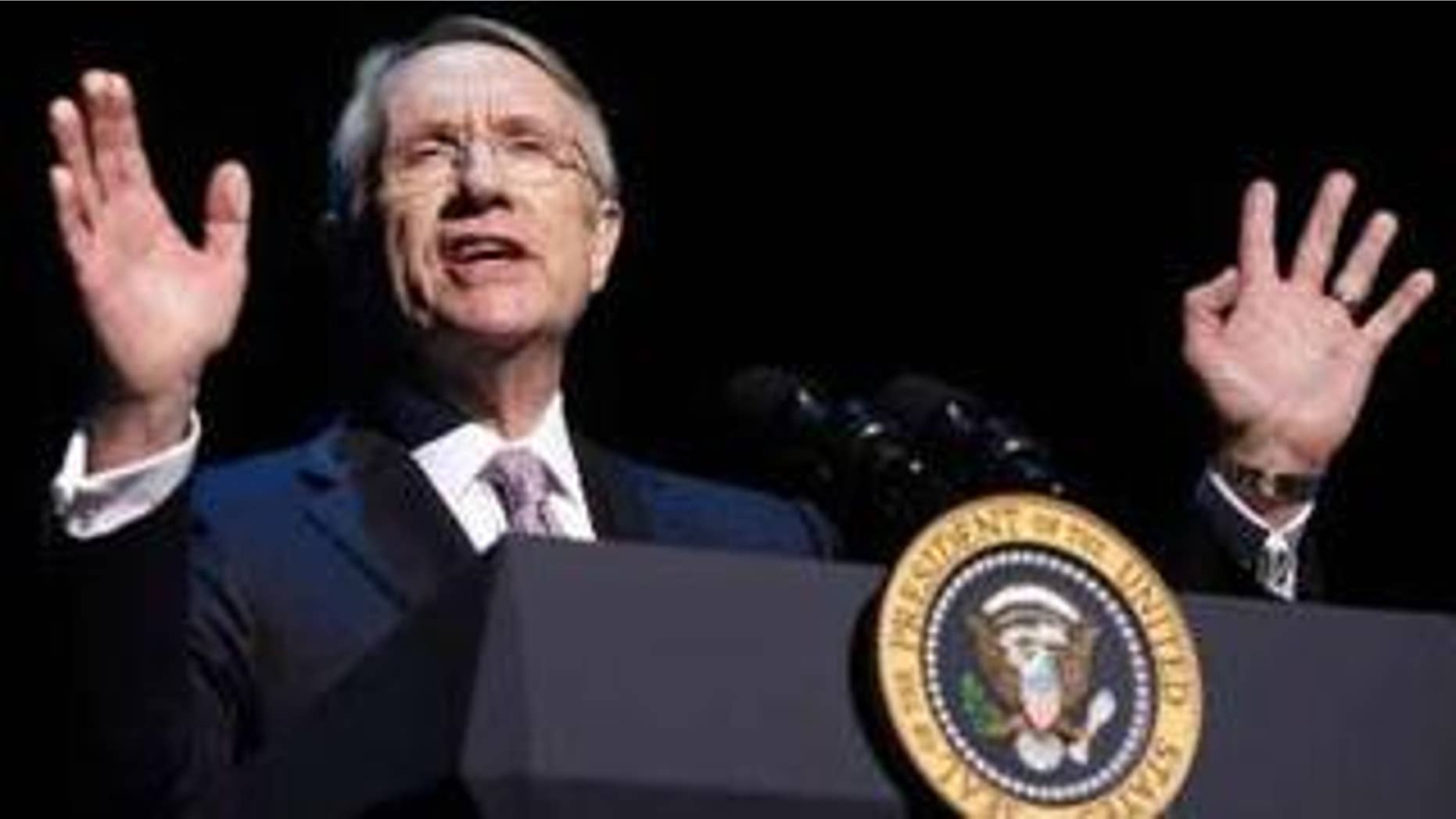 While the health care reform legislation making its way through Congress aims to protect millions of uninsured or underinsured Americans, Senate Majority Leader Harry Reid, who is pushing to begin debate in the full Senate at mid-month, may need it to protect his political career.
Reid is trailing two GOP candidates in next year's Senate race and the Democratic-sponsored health care bill could determine whether he stays in power or suffers the same stunning fate as his predecessor, Tom Daschle, who failed to win re-election in South Dakota in 2004 despite being the Senate's top Democrat.
GOP candidate Danny Tarkanian, a former University of Nevada-Las Vegas basketball player and son of the legendary basketball coach, leads Reid 50 to 43 percent. GOP candidate Sue Lowden, former chairwoman of the Nevada Republican Party who officially launched her campaign Thursday, is beating Reid 50 to 40 percent, according to a recent poll by Rasmussen Reports.
"Any incumbent who polls below the 50% level is considered potentially vulnerable and Reid is clearly in that category," the report read.
But the same report casts doubt on whether health care legislation can save Reid's sagging political fortunes.
A majority of Nevada voters, 52 percent, oppose President Obama's health care plan while 45 percent favor it. Reid is also facing a political environment considered unfavorable to Democrats and a sagging Nevada economy.
Despite the numbers, Reid continues to push for the most controversial element of health care legislation: a government-run insurance plan, known as the "public option," that Republicans fiercely oppose and a key Senate committee voted to reject this week.
"I think Sen. Reid is very vulnerable in pushing an unpopular government takeover of our health care system and clearly people in Nevada aren't happy about it," Lowden campaign spokesman Robert Uithoven told FOXNews.com, adding that Reid "had to cancel town hall meetings and hide from the people who elected him" during the August recess.  Reid's re-election campaign did not respond to a request for comment.
Yet Reid may not need health care to maintain power.
Political analysts, backed by the report, say Reid might benefit from the problems the state GOP and Nevada's other senator, John Ensign who was forced to disclose an extramarital affair, are experiencing along with a highly unpopular governor.
"I'm one of the people who thinks he will win," said David Damore, a political scientist at the University of Nevada Las Vegas
Damore said Reid is not the type of politician that will draw 65 or 70 percent of the vote but he has a track record that may give him the edge over his opponents.
Reid has successfully lobbied Democrats to add the Nevada caucus to the first round of presidential voting, shifting candidates' attention and time usually reserved for Iowa and New Hampshire to a state known for its glitzy casinos and hotels. He's also made inroads with the state's growing Hispanic population.
"It's more of a national clamor, "Damore said of the speculation that Reid will get knocked off next year. He added that Reid might be in trouble in the polls but "at the end of the day, it's going to be tough for Republicans in the state."
But Republicans see the poll numbers differently.
"There are a number of issues that have driven up his unpopularity in the state," Uithoven said. "I don't think there's been hardly a dollar spent by his Republican opponents. These are numbers he's earned himself because of his stubborn opposition in pushing legislation that is not popular."
But the health care debate has helped Reid, Damore said.
"This has provided him an opportunity to flex his muscles," he said, noting that Reid has gotten Nevada exempt from Medicaid increases and has targeted money for the state's cancer institute.
Yet Republicans believe Reid will use the reportedly more than $7 million he's already raised for his campaign to attack the GOP instead of tooting his own horn.
"The only way he can hold onto the power he has is by making his opponents more unelectable that he is," Uithoven said.