GOP lawmaker says hundreds of server drives could still contain missing IRS emails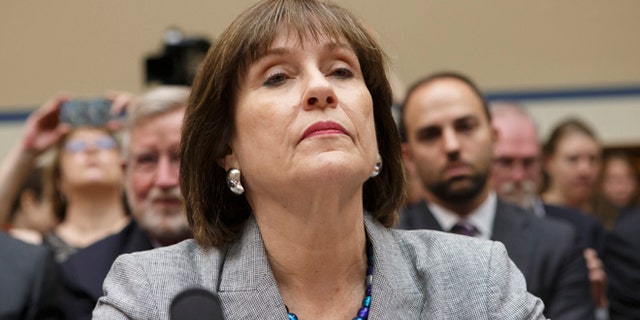 NEWYou can now listen to Fox News articles!
A Republican congressman said Friday that, despite IRS claims that lost emails from embattled ex-official Lois Lerner could not be recovered, hundreds of server drives "exist and could contain" the missing messages.
Lawmakers want to round up all of Lerner's emails during the time period when she ran a unit accused of singling out conservative groups for special scrutiny as they applied for tax-exempt status. They have sharply questioned the agency after it claimed over the summer to have lost a chunk of those emails due to a computer crash.
Rep. Jim Jordan, R-Ohio, said Friday in a letter to IRS Commissioner John Koskinen that he's learned the IRS has yet to search a trove of server drives – and claimed they "could be a potential source for the destroyed e-mails sent or received by Ms. Lerner."
The letter said staff on the House oversight committee learned the information on a conference call a day earlier with the office of the Treasury Inspector General for Tax Administration (TIGTA). Jordan said the office has "identified 760 IRS exchange server drives" from the relevant time period that could still contain the missing documents.
"According to TIGTA, the IRS did not search these sources for Ms. Lerner's e-mails during its process of producing documents to Congress because the IRS was not aware that the exchange servers even existed," Jordan wrote. "According to TIGTA, the IRS was under the mistaken belief that the exchange servers had been destroyed in 2012 until TIGTA's review of IRS records indicated that the servers had not been destroyed due to budgetary constraints."
In the letter, Jordan also confirmed that Koskinen has agreed to testify at a House hearing set for Sept. 17.
He suggested the commissioner would be pressed on the latest revelations, claiming the new information "conflicts with" prior IRS claims that Lerner's email cannot be retrieved. He noted the commissioner testified in June that "backup tapes" from 2011 no longer exist because they were "recycled."
The IRS for weeks has been battling Republican criticism over the missing emails, but insists that they were not recoverable and the agency is doing what it can to provide email messages that are. The agency has provided Congress with tens of thousands of emails to date, to and from Lerner.
Meanwhile, new congressional reports were released on the IRS controversy.
A Democratic report, released by Sen. Carl Levin of Michigan, said both liberal and conservative groups were mistreated as the IRS screened applications from political groups during the 2010 and 2012 elections, revealing no political bias by the IRS.
"The investigation found that the IRS used inappropriate selection criteria, burdensome questions and lengthy delays in processing applications for 501(c)(4) tax exempt status from both conservative and liberal groups," Levin said in a statement.
But a Republican report, issued by Sen. John McCain of Arizona, said conservative groups were clearly treated worse.
"The majority's interpretation of the evidence fails to capture the extent of the IRS's bias against conservative groups and flagrant abuse of power," McCain said in a statement. "Our tax system should not and cannot be used as a weapon to target political opponents, as the IRS has clearly done."
The IRS inspector general set off a firestorm last year with an audit that said IRS agents singled out Tea Party and other conservative groups for inappropriate scrutiny when they applied for tax-exempt status.
IRS agents were reviewing applications for tax-exempt status to determine how much political activity each group was engaged in. Under IRS regulations, tax-exempt social welfare groups can engage in politics, but it cannot be their primary mission.
The Associated Press contributed to this report.