GOP governor braces for two big fights in Illinois primaries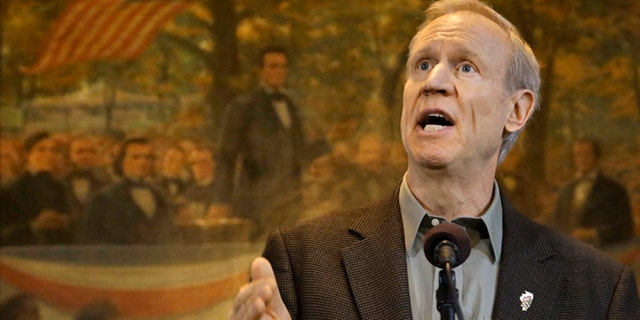 One of the most vulnerable Republican governors up for re-election in 2018 is heading into Tuesday's primary in Illinois with a strong challenge from his own party as well as six Democrats gunning for his job.
Republican Gov. Bruce Rauner will need to beat out former Army veteran Jeanne Ives, who has forced the multimillionaire into a contested primary and called him out for his left-leaning stance on abortion and immigration. If he is able to secure a win, he will face a Democratic rival in November.
The Illinois primary, like the one held in Texas last week, are being seen as a bellwether for the rest of the nation and could shed light on what Democrats need to do to cut into GOP holds on governors' seats.
This year, 36 governorships are up for grabs, with 26 of them currently held by Republicans. FiveThirtyEight has identified 18 Republican governorships that could be flipped.
In Illinois, Rauner's Republican challenger has built a strong grassroots campaign to unseat him by attacking his position on abortion. In September, Rauner signed a bill that expanded public funding of abortion in the state – effectively cutting ties to the very conservatives who helped elect him.
"It was the ultimate betrayal," Ives told the Chicago Sun Times. "It was the moment when my colleagues started calling and saying someone needs to get in this race. There will be a reckoning."
Rauner deepened the divide after a very public split from the conservative Illinois Policy Institute and was unceremoniously awarded the title "The Worst Republican Governor in America" by the National Review Magazine, which formally endorsed Ives on Friday.
The National Review called Rauner a "thoroughly disappointing incumbent governor" and said he's "forfeited any claim on his party's nod."
Rauner also has infuriated far-right members of his party with his stance on immigration and has been criticized for signing off on measures that limit local cooperation with federal immigration authorities.
Ives has also accused Rauner of championing "the social and economic agenda of the Chicago Democrat bosses."
The field of Democratic candidates looking to take on the Republican winner include a former math teacher, a doctor, a state senator, the son from an iconic political family, an anti-violence activist and a billionaire hotel heir.
The challengers facing off in Tuesday's primary are jockeying to be part of an anti-Trump Democratic wave they hope will sweep the country. The candidates have used Trump as a political piñata during the campaign season and often boast about which candidate is the least like him.
Hotel heir J.B. Pritzker often calls the president a "racist," "xenophobe," "misogynist" and "homophobe" during stump speeches. The longtime Hillary Clinton donor also claims "there's no candidate running for governor that's done more to fight against Donald Trump"
Another Democratic challenger, Chris Kennedy, chairman of an investment firm and son of the late Robert F. Kennedy and Ethel Kennedy, has pitched himself as an outsider despite coming from an iconic American family. He, too, has taken on Trump.
"It is possible to be the president and un-American at the same time," Kennedy told supporters in an email. "Trump's presidency has made this very clear. Since the beginning of his campaign, and throughout his presidency, Trump's rhetoric and policies continue to disavow everything we stand for as Americans."
This past frenzied final weekend of campaigning saw Democratic gubernatorial candidates Pritzker, Kennedy and state Sen. Daniel Biss pitching to African-American communities in churches.
Rauner and the Democratic roster also marched in Saturday's St. Patrick's Day parade in downtown Chicago, an annual tradition that draws thousands of spectators as well as candidates and politicians.
Ives opted for a parade in Palatine, a more GOP-friendly suburb.
Rauner maintains he's best positioned to defeat Pritzker, the heir to the Hyatt hotel fortune who has led in polling throughout the race and has backing from many in the Democratic establishment.
Rauner spent just over $65 million on his 2014 election, when he was one of several Republicans who won governors' races in Democratic-leaning states and set the previous record for spending by an Illinois gubernatorial candidate. He has put more than $50 million into his campaign fund since then, some of which has paid for ads blasting Pritzker.
"I'm the one person who can win," Rauner told a southern Illinois radio station last week, saying he's "excited" to take on Pritzker. "We are going to blow him up and take him down."
The Democratic Governors Association also has gotten involved in the GOP primary, launching two ads in the run-up to the primaries. One rips Rauner over a more than two-year state budget stalemate — the result of disagreements between the governor and the Democratic-controlled Legislature — that led to billions in unpaid bills and the lowest credit rating of any U.S. state.
Another ad calls Ives one of the most conservative lawmakers in the state, saying she wants to ban abortion and has an "A" rating from the National Rifle Association. While the ad has the ominous music and narrator voice usually associated with a negative ad, its contents could actually help Ives in a GOP primary.
Rauner's campaign said the DGA should be required to file a campaign finance report disclosing the ad as a type of donation to Ives.
"Washington Democrats know that Governor Rauner will be tough to beat in November," communications director Will Allison said. "That's why they've decided to overtly attempt to influence the outcome of the Republican primary in favor of a candidate who is simply unelectable in Illinois."
Ives said she's honored by attacks from the left, whether from the DGA or "the Leftist, fake Republican Bruce Rauner."
Three other Democrats are seeking the nomination: educator Bob Daiber, activist Tio Hardiman and physician Robert Marshall.
The Associated Press contributed to this report.