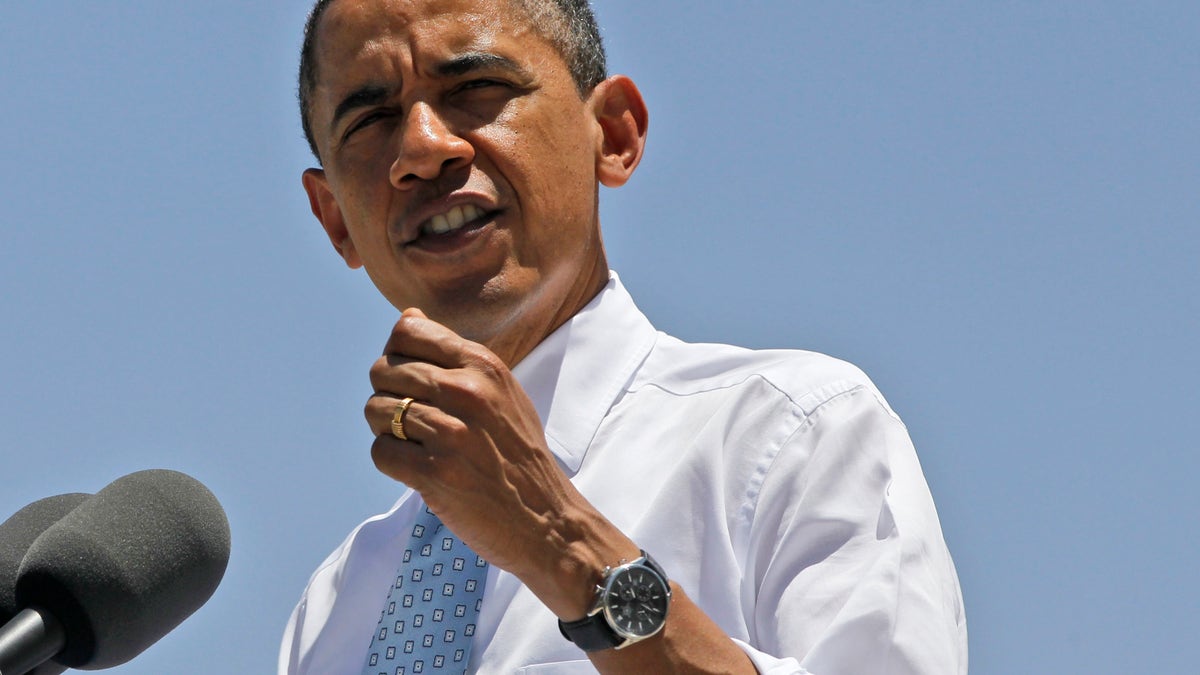 Republicans immediately fired back against President Obama after he claimed Tuesday that the U.S. border with Mexico has improved since he took office.
Obama made the comment during his first trip to the U.S.-Mexico border as commander-in-chief, where he called on Congress to pass sweeping legislation that would remake the nation's immigration system.
Countering Republican calls to focus on border security before moving to a comprehensive overhaul, Obama said in his speech to an enthusiastic crowd in the politically unfriendly territory of El Paso, Texas, that their demands have been more than met by his administration but "they'll never be satisfied."
He boasted of increasing border patrol agents, nearing completion of a border fence, and screening more cargo.
"We have gone above and beyond what was requested by the very Republicans who said they supported broader reform as long as we got serious about enforcement," Obama said. "But even though we've answered these concerns, I gotta say I suspect there are still going to be some who are trying to move the goal posts on us one more time."
"Maybe they'll need a moat," Obama said mockingly to laughter from the crowd. "Maybe they'll want alligators in the moat."
But Republicans said Obama wasn't telling the whole story about border security. Rep. Michael McCaul, R-Texas, said Mexican cartels have increased their presence inside the U.S., the data on spillover crime and violence is "underreported" and that between 70 and 90 percent of Texas' 1,200-mile border with Mexico is still not under operational control.
"Before we start talking about reforming our immigration policy we need to prioritize our national security and gain operational control of the border," he said in a statement. "Despite the president's rhetoric that he has gone 'above and beyond' to secure the border, this mission is not accomplished."
Rep. Lamar Smith, R-Texas, chairman of the Judiciary Committee, said, "It is ironic that President Obama would travel so close to the border and still be so far from reality. It is clear President Obama is in full campaign mode, but his words do not match his record. He continues to ignore the facts."
In his speech, the president sought to cast immigration overhaul as a pocketbook concern rather than a security or moral issue.
Obama noted that Intel, Google, Yahoo and eBay were all founded by an immigrant.
"We don't want the next Intel or Google to be created in China or India," he said. "We want those companies and jobs to take root in America."
Obama said a bipartisan consensus has formed around "fixing what's broken."
"Now we need Congress to catch up," he said. "Now we need to come together around reform that reflects our values as a nation of laws and a nation of immigrants. Reform that demands everyone take responsibility."
Brendan Buck, spokesman for House Speaker John Boehner, R-Ohio, said that House Republicans had no plans to take up immigration legislation and argued that if Obama were serious about immigration reform he would have reached out to Boehner on the issue, which Buck said he hasn't.
Democratic National Committee Chairwoman Debbie Wasserman Schultz urged Republicans to join Democrats in passing immigration reform "as soon as possible."
"Like the president, I believe that immigration reform must be a priority in Washington. But President Obama and Democrats can't bring about immigration reform on our own," she said. "To succeed, we'll need Republicans to join us in this venture as equal partners. Immigration reform simply is not possible as long as Republicans in Congress refuse to engage on this issue."
Obama called on Congress to pass the so-called DREAM Act, which would prove a pathway to legal status for college students and others who were brought to the country as children. Last year, the House, then controlled by Democrats, passed the measure, but Senate Republicans blocked it.
"So we're going to keep fighting for the DREAM Act," he said. "We're going to up the fight for reform."
Illinois Sen. Dick Durbin, the No. 2 Democrat in the Senate, will introduce a new DREAM Act bill on Wednesday and Rep. Howard Berman of California will file a companion measure.
But that bill and any overhaul legislation won't go anywhere without cooperation from Republicans.
The Associated Press contributed to this report.