GOP Candidate Confident as Nevada Special Election Focuses on Jobs, Economy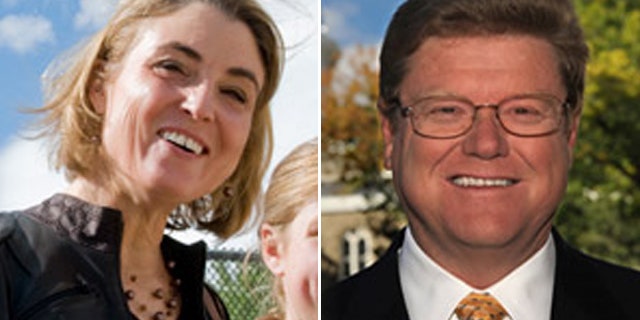 NEWYou can now listen to Fox News articles!
Voters in Nevada will go to the polls Tuesday in the state's first special election in decades, and the issues of job creation and the economy have played out on the campaign trail just as they have on the national stage.
Republican candidate Mark Amodei appears in good position to keep the Nevada's 2nd Congressional District for the GOP. Early voting closed Friday and Amodei is in an excellent position to take the seat vacated Dean Heller, who was appointed to the U.S. Senate.
Registered Republicans have cast considerably more ballots than registered Democrats. The latest tally shows 40,173 votes from registered Republicans versus 25,619 from Democrats.
A Public Policy Polling survey released Monday gives Amodei a 13-point advantage over Democratic state Treasurer Kate Marshall.
"I'm not trying to screw anything up at this point...(with) all the hard work we've done the past few months," Amodei told Fox News in a phone interview Monday. The former state lawmaker and chair of the state Republican Party says he's pleased with the early vote numbers and has enlisted former New York City Mayor Rudy Giuliani to make phone calls on his behalf in the final hours of the race.
House Speaker John Boehner has campaigned for Amodei while House Minority Whip Steny Hoyer travelled to Nevada on Marshall's behalf.
Presidential candidate Mitt Romney, undoubtedly influenced by the state's caucus next February, endorsed Amodei.
Nevada's 12.9 percent unemployment rate is the highest in the country and is the central issue in the race.
"I've campaigned on the idea that jobs are things the private sector creates -- not government," Amodei said, adding that the key ingredient missing from President Obama's jobs plan is a meaningful cut in the government spending that's ballooned over the past five years.
A spokesman for the Marshall campaign says internal polling shows victory can be had if the campaign can turn out their base on Tuesday for an unusual September election.
"I don't think you can read much into (the early returns)," James Hallinan told Fox News, adding that the numbers so far match up with voter registration numbers. He said he is counting on a strong turnout from senior citizens to push Marshall over the top.
Nevada voters "know Marshall as the job creator in the race," Hallinan added. The campaign touts legislation Marshall supported to create a special panel endowed with $50 million to lure businesses into Nevada.
The seat was created following the 1980 census and has never left Republican hands.
"If Democrats come within 5 percentage points, that's considered a good race," said University of Nevada, Reno political science professor Eric Herzik.
Hallinan points to Marshall's name recognition among voters -- always key in a special election. She has already twice won statewide election for treasurer.
But that familiarity apparently also works against Marshall as the PPP poll shows her with a 50 percent negative opinion among 2nd district voters. It's a stunningly high number that Herzik attributes to what he calls a stern and strident campaign style that's turning off voters as well as some stinging negative ads run against Marshall. One was so offensive, Reno television stations pulled it off the air over unsubstantiated claims that Marshall once supported at $500 million tax hike.
Marshall's candidacy is also likely hampered by President Obama's 59 percent disapproval rate in the district.
There is an independent candidate in the race, Helmuth Lehmann, who could siphon off enough votes to draw notice to state and national political leaders for races in 2012.
"If he registers double digits, I think both parties need to look at where he drew those votes from," Herzik said, suggesting that a strong showing by an independent candidate with minimal financial backing could be telling in advance of next year's cycle.