Giuliani says FBI agents interviewed him on behalf of DOJ watchdog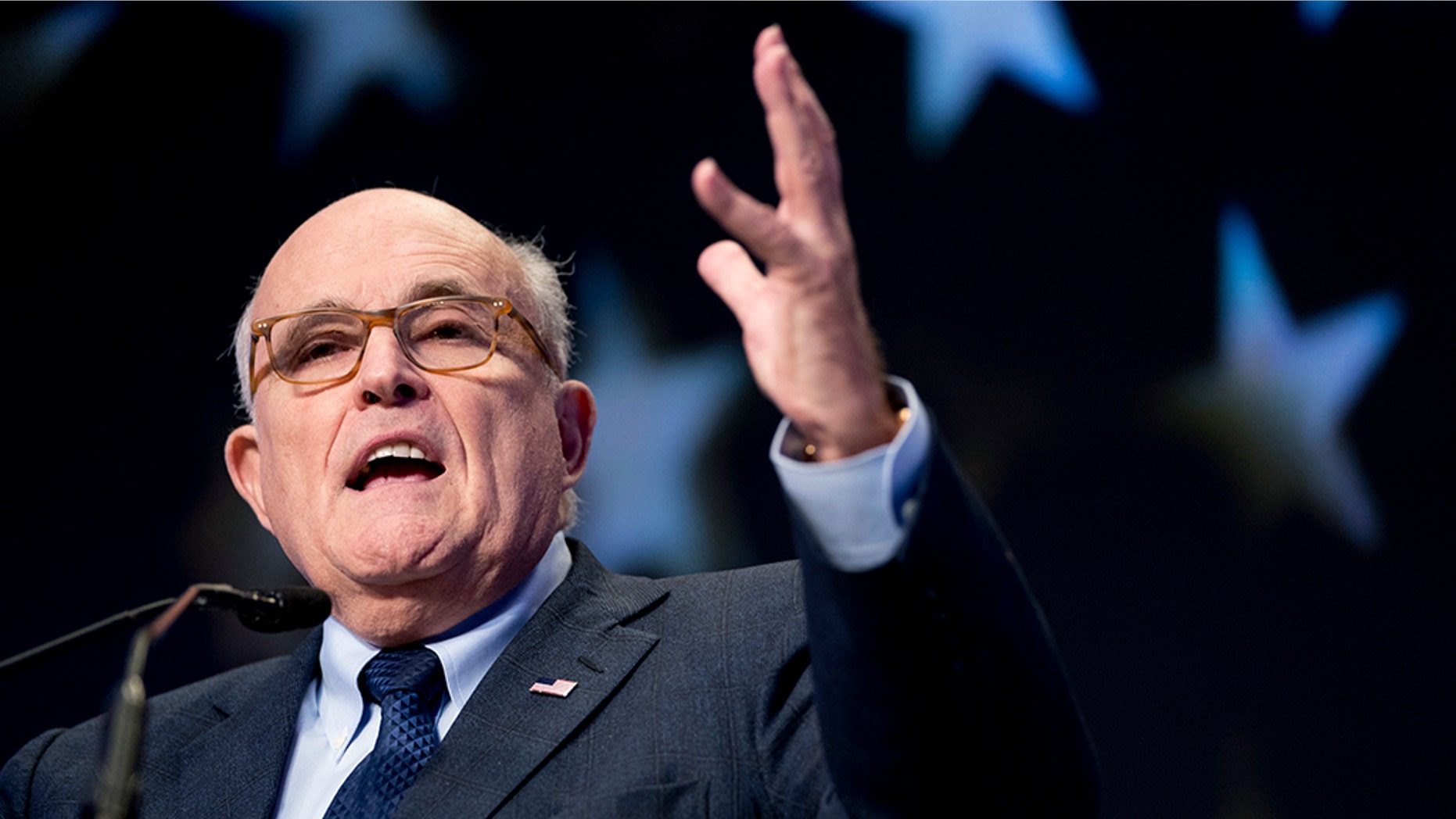 Rudy Giuliani told Fox News on Tuesday that he was interviewed earlier this year by FBI agents working with Justice Department Inspector General Michael Horowitz.
Those agents were reportedly seeking information about a comment the former NYC mayor made prior to the end of the 2016 presidential campaign, hinting that "a surprise" was coming.
The interview took place in Giuliani's law office on Feb. 28 and Giuliani said he told the officials that his comments were about a draft speech he had written for then-candidate Donald Trump – described as a "Reagan-esque" style document – that he proposed Trump make the Friday before Election Day.
The speech was never delivered, however, and was instead made into four commercials that aired in some battleground states, he said.
Giuliani said he shared a copy of the drafted speech, as well as an email exchange he'd had with Jared Kushner regarding it, with the FBI agents. Kushner is married to Trump's daughter Ivanka and currently serves as an adviser to the president.
The interview took place prior to Giuliani joining President Trump's legal team in April 2018.
IG CONFIRMS HE IS REVIEWING WHETHER STRZOK'S ANTI-TRUMP BIAS IMPACTED LAUNCH OF RUSSIA PROBE
Word of Giuliani's interview came after Horowitz, who appeared on Capitol Hill on Monday, was questioned by Sen. Dianne Feinstein, D-Calif., who recalled Giuliani's comment about an impending "surprise" and noted that former FBI Director James Comey announced the reopening of the Hillary Clinton investigation days later.
Feinstein said that in early November 2016, when asked, Giuliani said he'd heard the news and expected it weeks earlier. She asked Horowitz whether his team found out how Giuliani "received this information." Horowitz said he could not comment but later added that he didn't think "disclosures of this sort are appropriate at any point in time in a criminal investigation."
Giuliani appeared on Fox Business' "Mornings with Maria" on Tuesday and confirmed he "was interviewed by the FBI, on behalf of Mr. Horowitz." He added that he "never got leaked information from any FBI agent."
"I haven't talked to an on-duty FBI agent, except for background checks, in a couple of years. That information he's talking about came from retired FBI agents who were speculating about what was going to go on. We knew it would blow up," Giuliani said. "What I was talking about in terms of surprise was a speech we were preparing for the president to give on the Friday before the election like Ronald Reagan did, we were going to probably buy it the day before, go on national television and we were going to hit Hillary on all of that stuff. I was as surprised as anyone. The FBI investigated it, closed it and I showed them documentary evidence of what I'm saying."
REPUBLICANS DEMAND NAMES OF ANTI-TRUMP FBI EMPLOYEES FROM BOMBSHELL IG REPORT
Giuliani made the "surprise" comments while appearing on "Fox & Friends" on Oct. 25, 2016, roughly two weeks prior to Election Day, when asked whether Trump was planning anything other than rallies before voters headed to the polls.
He replied "yes" before adding that they had "a couple of surprises left."
He said they were "surprises in the way that we're going to campaign to get our message out there. Maybe in a little bit of a different way. And you'll see and I think it'll be enormously effective."
He followed up the comments on Fox News' "America's Newsroom," saying that there was "a surprise or two that you're going to hear about in the next few days," adding that it was a "pretty big surprise."
Fox Business' Thomas Holmes contributed to this report.