Georgia Gov. Nathan Deal Says He Will Sign the Immigration Bill Just Passed by the State Legislature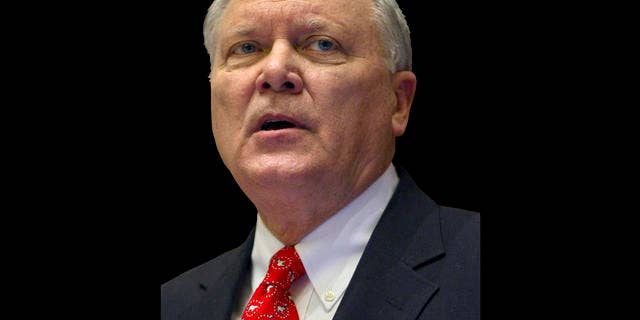 Georgia Gov. Nathan Deal says that he will sign the Arizona-style immigration measure that the state legislature passed late in the evening Thursday.
On Friday, Deal said the legislation "sends a signal that the citizens of our state believe the rule of law is important."
The bill passed just hours before the end of Georgia's 2011 legislative session.
Deal, a Republican who campaigned for governor vowing to tackle illegal immigration, said he did not think Georgia measure would lead to boycotts or harm businesses.
He says he hopes it will "send a message to members of Congress that it's time for them to get serious about the issue."
Among other provisions, it authorizes law enforcement officers to verify the immigration status of certain criminal suspects and allows them to detain those found to be in the country illegally.
Georgia is home to estimated 425,000 undocumented immigrants, according to the Pew Hispanic Research Center, which also found that the Peach State was one of several places around the country where the undocumented population had leveled off in recent years.
Last fall, Georgia education officials voted to ban undocumented students from the state's most competitive public colleges. South Carolina had already voted on a similar ban.
Proponents of strict immigration enforcement praised the passage of the bill. Opponents of the measure argued that it would lead to racial profiling and hurt industries that depend on migrant labor.
"Georgia has joined Arizona in passing the most extreme anti-immigrant legislation in the country," said Ali Noorani, Executive Director of the National Immigration Forum, a Washington D.C.-based immigration advocacy group. "This misguided and likely unconstitutional legislation is the wrong way to approach the broken immigration system."
"This bill will likely do enormous damage to the state's agriculture and tourist industries, and will probably trigger a slew of costly lawsuits the state will have to defend in court."
This story contains material from The Associated Press.
Follow reporter Elizabeth Llorente on Twitter: @LlorenteLatino
Elizabeth.Llorente@FoxNewsLatino.com
Follow us on twitter.com/foxnewslatino
Like us at facebook.com/foxnewslatino