Georgetown University Hid Religious Symbols at White House Request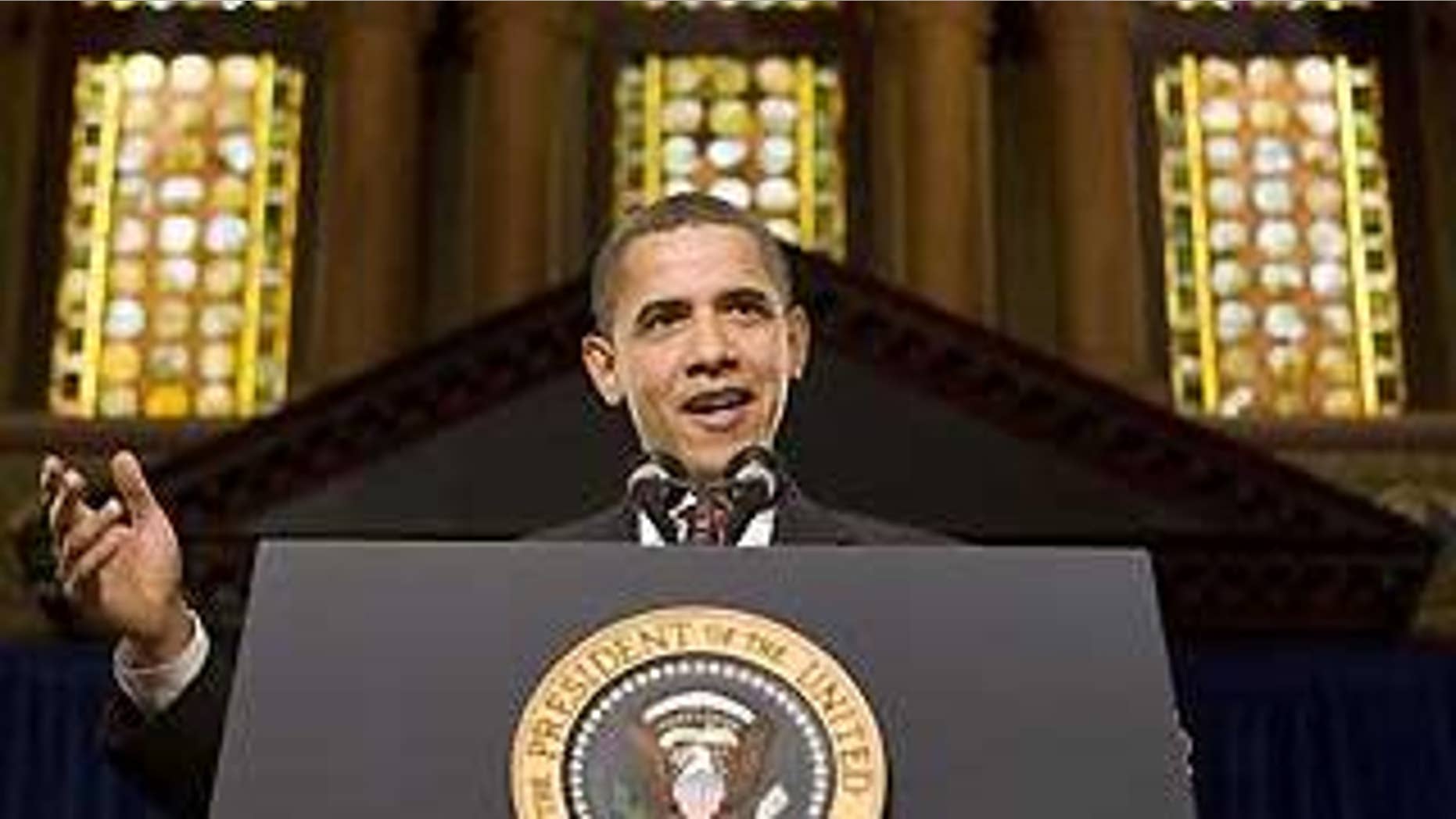 Georgetown University hid a religious inscription representing the name of Jesus during President Obama's address there Tuesday, FOXNews.com has confirmed, because White House staff asked the school to cover up all religious symbols and signs while the president was on stage.
The monogram IHS, whose letters spell out the name of Jesus, and which normally perches above the stage in Gaston Hall where the president spoke, was covered over with what appeared to be black wood during the address.
"In coordinating the logistical arrangements for the event, Georgetown honored the White House staff's request to cover all of the Georgetown University signage and symbols behind the Gaston Hall stage," university spokesman Andy Pino told FOXNews.com.
The White House said that the backdrop, which included blue drapes and a host of American flags, was standard during policy speeches and other events.
"Decisions made about the backdrop for the speech were made to have a consistent background of American flags, which is standard for many presidential events," said White House spokesman Shin Inouye in a statement released Thursday.
Georgetown is a private Catholic institution founded by Jesuits in 1789. The auditorium where the president spoke Tuesday is adorned with religious imagery, but only the symbols directly on the stage -- those likely to be picked up by a television camera -- were obscured.
Bill Donohue, president of the Catholic League, accused the university of "cowardice" for acceding to the White House, and criticized Obama's team for asking a religious school to "neuter itself" before the president made his address.
"No bishop who might speak at the White House would ever request that a crucifix be displayed behind him," he said.
The White House insisted that the move was made only to provide a proper setting for the speech -- and said that "any suggestions to the contrary are simply false."
Though his advance team asked that the religious signs be veiled, the president himself took up religious discourse and discussed a passage from Jesus' Sermon on the Mount as he outlined his plans for an economic recovery.
"We cannot rebuild this economy on the same pile of sand," he said during his remarks, which came two days after Easter. "We must build our house upon a rock."
It was Obama's first visit to Georgetown since being elected president, but he also spoke at the school on Sept. 20, 2006 about the need for energy independence. A photograph of the event does not seem to indicate that parts of the stage were hidden during that address, which Obama made while still a U.S. senator.
Another Catholic university, Notre Dame, came under fire in late March for inviting the president to speak at its May 17 commencement. Obama supports abortion rights, which are considered anathema by the Catholic Church.