Geithner Meets with Fierce GOP Critics, Ducks the Cameras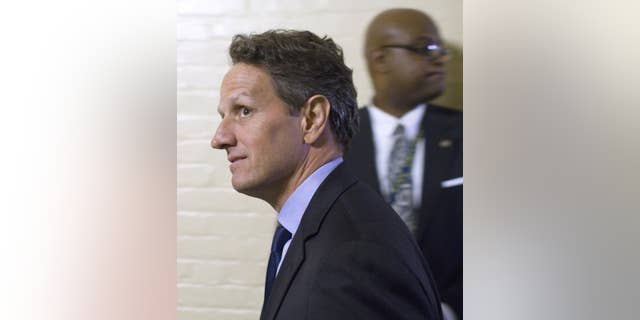 NEWYou can now listen to Fox News articles!
As a general rule, Cabinet secretaries don't often speak to reporters on camera at stakeouts, so imagine the glee when a group waiting outside Treasury Sec. Tim Geithner's hour-long, closed-door meeting with House GOP freshmen were told the administration's top money guy would be appearing before us to give remarks.
That glee was, of course, soon extinguished as Geithner blasted out a back door, bolting from the proverbial lion's den. Not much love lost there and no "same pages" to be found.
Four GOP freshmen emerged to hammer that sentiment home.
"You can't compare plans if the president doesn't give us one," said Kristi Noem of South Dakota, a rising GOP star. She called it a "failure of leadership."
Tennessee's Diane Black said she plans to send a letter from the freshmen to President Obama asking for his plan and asking what Plan B. is if a deal is not struck by August 2, the date Geithner has said the U.S. can no longer pay some of its debts.
"We asked specifically for a plan, a specific plan scored by CBO," Black said, referring to the nonpartisan, number-crunchers at the Congressional Budget Office. "It's awfully difficult to talk and have a conversation" without a White House plan, she said.
And what was Geithner's reaction to this demand, which some say is a strategy to deflect criticism of the House GOP budget with its unpopular plan to overhaul Medicare?
"They don't intend to have one. Not a public one. Negotiations behind closed doors," Noem told Fox News.