Gates: Afghanistan Progress a 'Tough Pull'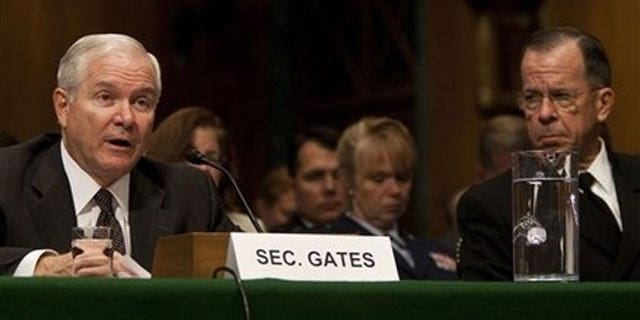 The Afghan army will be ready to assume primary responsibility for security only in parts of Afghanistan so a big drawdown of U.S. troops may not take place in July 2011, Defense Secretary Robert Gates said Sunday.
Gates said progress in Afghanistan is being made, but not as rapidly as defense officials planned. The secretary attributed that to the U.S. military taking longer on "shaping of the environment" before engaging troops.
He added that the U.S. military is facing "significant casualties, but not more than expected."
"It is a tough pull," Gates told "Fox News Sunday." "We warned everybody that would be the case last winter, that as we went into areas that the Taliban had controlled for two or three years, that our casualties would grow, especially this summer."
So far, only two-thirds of the 30,000 additional troops that President Obama last year ordered deployed to Afghanistan have arrived in the country, he said.
The defense secretary said all the chatter in Washington that the war in Afghanistan is not going well is part of a "sense of frustration" that mirrored sentiment toward the war in Iraq before the 2007 surge.
"The narrative is perhaps overly negative, in part, because it's incomplete," Gates said, noting that the surge in Afghanistan is only four or five months old.
"People are losing context. ... I think there's a rush to judgment, frankly, that -- that loses sight of the fact we are still in the middle of getting all of the right components in -- into place and giving us a little time to have this -- have this work," Gates said.
Like in Iraq, the Afghan national army is "meeting expectations" in terms of recruitment and retention as well as attrition, he said. Though there is some corruption -- including leaders stealing the salaries of soldiers and Afghan nationals not returning to duty after their first leave -- the percentage of operations using both Afghan and U.S. forces has increased to about 75 or 80 percent now.
Gates disputed a statement that he would not attribute to Vice President Joe Biden, who was quoted as saying in a new book that in July 2011, "you're going to see a whole lot of people moving out. Bet on it."
"That absolutely has not been decided," Gates said. "I don't recall ever hearing the vice president say that. And whether he said it or not, we -- we clearly understand that in July of 2011, we begin to draw down our forces. The pace with which we draw down and how many we draw down is going to be conditions based. And there is general agreement that those conditions will be determined by General McChrystal, the NATO senior civilian representative, Ambassador Sedwill, and the Afghan government together."
In a separate appearance, White House Chief of Staff Rahm Emanuel said the scale and scope of the U.S. military's reduction was envisioned when the administration developed the strategy last year for a July 2011 reduction in troops.
Emanuel said all parties agreed that establishing a July 2011 deadline "was creating a window of opportunity for Afghanistan."
"The July 11th (sic) date as stated by the president is not moving, that's not changing. ... The goal is to take this opportunity to focus to begin the reduction of our troops," he told ABC's "This Week," adding that when the date arrives, "that's when we'll evaluate based on conditions on the ground."
Gates would not say whether he will be the defense secretary when that July 2011 date arrives. He had previously indicated that he planned on staying until December 2010. But now he is taking on a new fight over the budget, which Gates has said he wants to trim to make the Pentagon leaner and meaner.
Asked whether he would depart by year's end, Gates said, "Well, we'll just see."
But the budget fight has already taken on a challenging tone. Gates has requested that Congress pass an emergency supplemental by July 4, a delay of his original Memorial Day goal. Fighting over additional unpaid spending attached to the emergency bill has delayed a vote in the House.
"We will have to start doing stupid things after the Fourth of July recess in terms of planning for major disruptions if we don't have the supplemental by the Fourth of July recess," Gates warned. "We actually begin to have to take really serious negative actions that impact our troops, as well as our civilians, in mid to -- in early to mid-August."
As for the longer term, Gates said he believes the president would veto a bill passed by Congress that includes continued funding for the C17 cargo plane or an alternative engine for the Joint Strike Fighter even if that legislation also included repeal of "don't ask, don't tell."
Those two non-combat spending items are on the defense secretary's chopping block but could survive cuts if attached to a repeal of the military's policy on gays serving in the military, a priority for President Obama.
"Well, as I told the Senate Appropriations Committee and the defense subcommittee this week, it would be a very serious mistake to believe that the president would not veto a bill that has the C17 or the alternative engine in it just because it had other provisions that the president and the administration want," Gates said.