Future of California's multi-billion dollar 'bullet train' becomes election issue for Dems with reelection challenge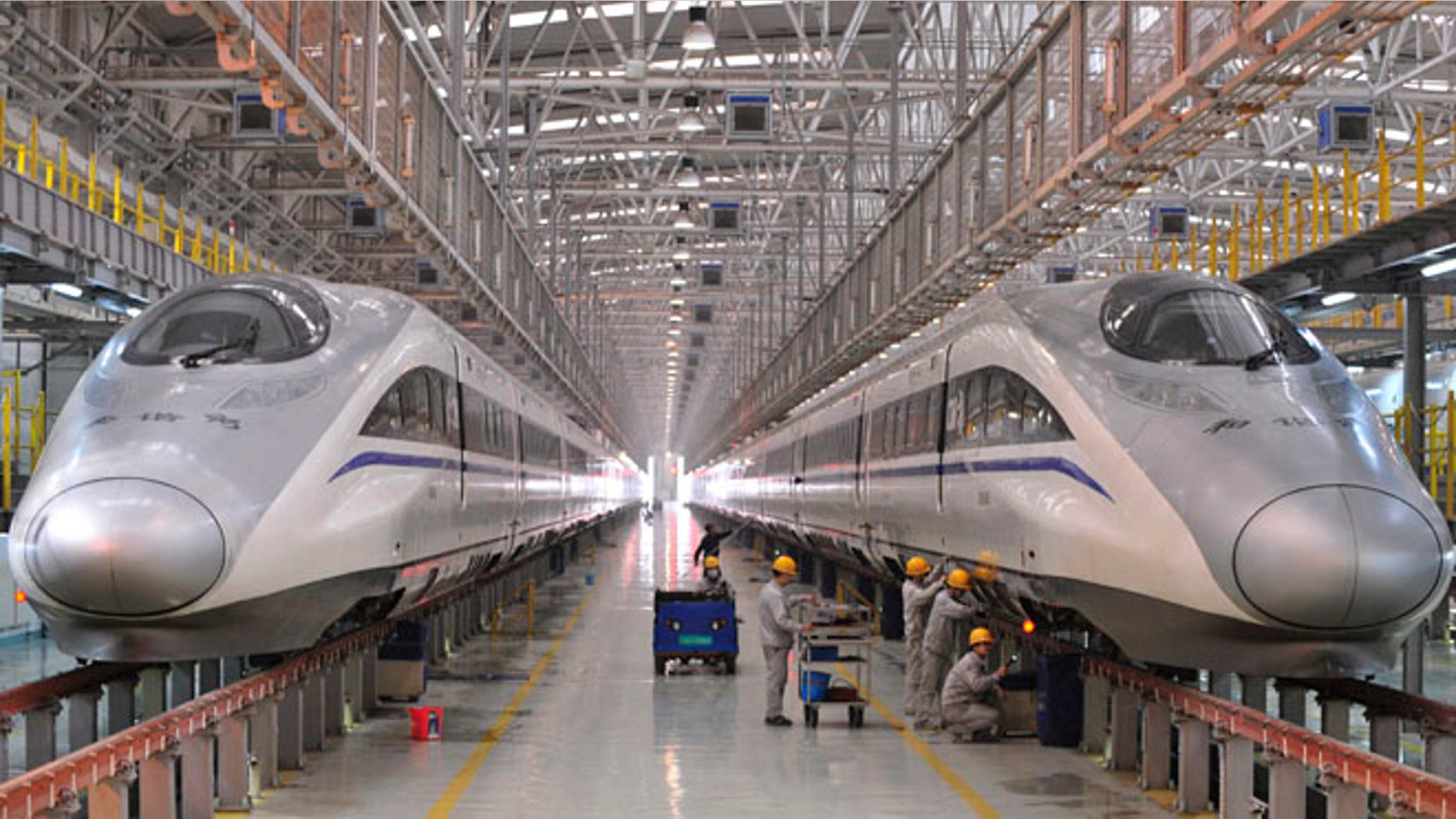 California's effort to build the country's first taxpayer-funded, high-speed rail system is facing a midterm derailment -- as Republicans make it an election-year issue and lawmakers with re-election challengers appear reluctant to continue to support the most expensive project of its kind.
The $68 billion project has the backing of some of the country's most powerful Democrats including President Obama and California Gov. Jerry Brown, who in announcing his reelection bid last week restated his goal of building the county's only high speed-rail system.
However, other California Democrats are less supportive, including Lt. Gov. Gavin Newsom, who pulled his support amid a Republican challenge in November, and Rep. Grace Napolitano, who is seeking a ninth term.
"It's an important issue without this being an election season," says Douglas Lorenz, a staffer for state GOP Assemblyman Jeff Gorell, who is challenging Democratic Rep. Julia Brownley for her seat representing the Thousand Oaks area.
Gorell is trying to gather enough signatures to get an initiative on the November ballot to stop the future sale of state bonds, estimate at $8.6 billion, to pay for the project.
California voters approved the project and bond measure in 2008 through a state-wide initiative known as Proposition 1A.
"We're in a period in politics of temporary insanity that precedes every election," Rod Diridon Sr., executive director of the Mineta Transportation Institute at San Jose State University and former chairman of the California High Speed Rail Authority board, told the Sacramento Bee.
Napolitano is a strong supporter of railroad-safety laws but says she's "less committed"  to the proposed San Francisco-to-Los Angeles line, which has already received about $1.8 billion from Obama's 2009 economic stimulus package.
"I don't oppose high-speed rail," she has said. "I just don't propose that they take away from current transportation projects that affect my community or my area."
Her office declined this week to comment for the story.
In Washington, California GOP Rep. Jeff Denham, chairman of a House railroad subcommittee, is trying to block federal funding for the 520-mile-long project, while fellow Republicans across the county show a growing interest in proposals in Florida and Texas that would also connect major cities, but with private money.
The privately-funded, $10 billion Texas Central High-Speed Railway project would connect Houston to the Dallas-Fort Worth corridor with a 200-mph train. The project has the backing of Transportation Secretary Anthony Foxx and could be complete by 2022, with eventual connections to Austin and San Antonio.
Supporters of the California project say the big price tag is in large part the result of needing to carve out mountains passages for the train and getting it into crowed cities, with San Diego as a longer-term goal.
The project was once projected at $98 billion until organizers decided to use existing tracks. But even that idea has sparked criticism because the older tracks can handle a maximum speed of only about 125 mph.
Lorenz thinks the project could hit $100 billion and argues ridership numbers are lower than originally projected, which is alienated voters and keeping investors on the sidelines.
He points to a Sept. 2013 poll that found 52 percent of voters want the so-called "bullet train" project stopped and consider it a waste of money. And 70 percent want another chance to vote on whether the project should continue, according to the University of Southern California/ Los Angeles Times poll.
The privately backed All Aboard Florida, which has support from GOP Gov. Rick Scott, would cost $1 billion and run from Orlando and Miami. However, it faces a problem similar to the one in California -- using existing freight rails, which would slow the train and make the 240-mile trip in about three hours, or just 30 to 60 minutes shorter than by car.
Meanwhile, at least 33 similar projects are in various stages of development across the country, including one in Illinois that would connect Chicago with St. Louis, Mo., according to the Congressional Research Service.
Since 2009, the Federal Railroad Administration has awarded $3.8 billion, on top of state-appropriated funds, to advance high-speed rail projects in those states and the District of Columbia, not including $4.2 billion for California and $1.9 billion for the Illinois project.