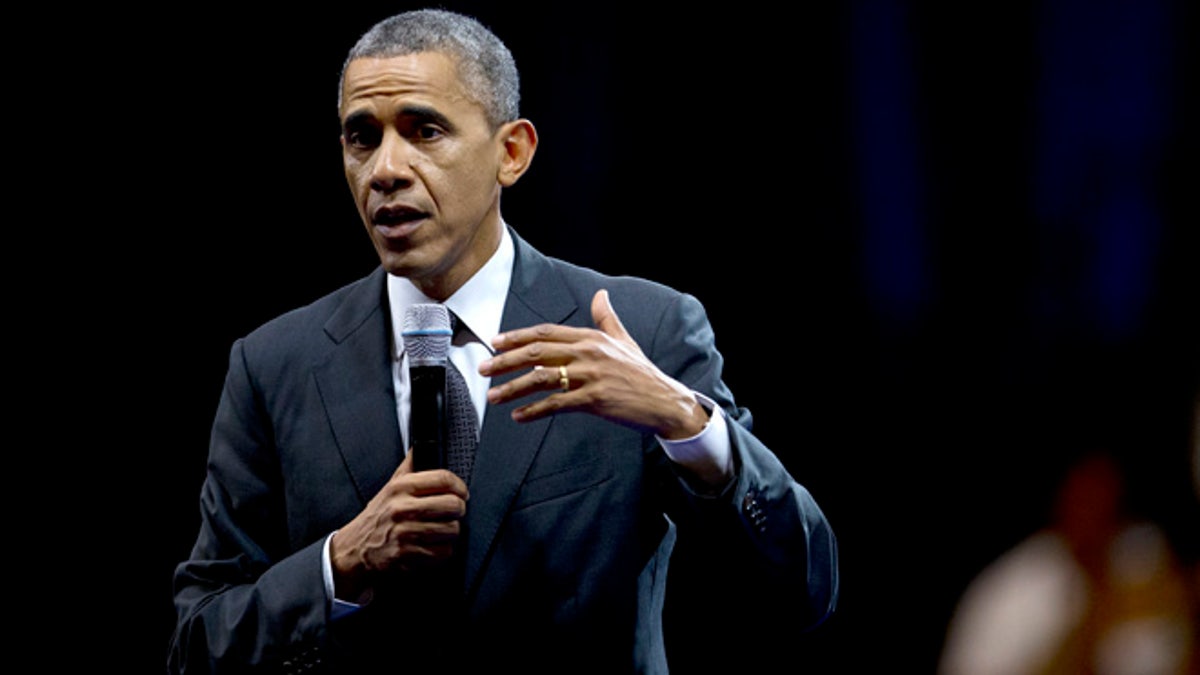 We're about four months out from the 2014 midterm elections. Yet, if they were held today -- which is how the question is posed to registered voters in the Fox News national poll -- 43 percent would support the Democratic candidate in their House district and 41 percent the Republican.
A month ago the vote was tied at 42 percent apiece. In early June, Republicans had a four-point edge, while Democrats were up by three points in May.
CLICK HERE TO READ THE POLL RESULTS
You get the picture: there's lots of uncertainty and bouncing around. It's just too soon to tell if there's going to be a wave election, even though some political junkies can't help from speculating about it.
One thing that has been consistent for the last several months is the greater level interest in the upcoming elections among Republicans -- and that holds true again in the new poll. By a 14-point margin, more Republicans (70 percent) than Democrats (56 percent) are extremely or very interested in the election. Last month Republicans were more interested by 12 points.
Among just those interested voters, this month's generic ballot results show the Republican candidate with a seven-point edge over the Democrat (47-40 percent). A month ago it was an 11-point advantage for the GOP among interested voters (June 21-23).
At this point in the cycle four years ago, the Republican candidate had an 11-point advantage over the Democratic candidate on the generic ballot among all registered voters and President Obama's job rating stood at 43 approve vs. 50 disapprove (July 27-28, 2010).
The Republican candidate was up by seven points among registered voters on the final Fox News poll before the 2010 midterms (46-39 percent). The Republicans went on to gain 63 seats in the U.S. House. At that time Obama's job rating was 41 percent approve and 50 percent disapprove (Oct. 26-28, 2010).
"The Republicans have the upper hand at this point, although it's a little weaker than in 2010," says Republican pollster Daron Shaw, who jointly conducts the poll with Democratic pollster Chris Anderson. "Their main problem is that there are far fewer vulnerable Democratic seats to pick off this time around."
The president's current job rating is 42 approve - 52 disapprove.
The new poll re-asked a question from 2010 to test the president's influence: if you were running for office as a Democratic candidate this year, would you want President Obama to campaign for you? While 41 percent of voters say yes, over half -- 57 percent -- say no, they wouldn't want Obama on the campaign trail with them.
In 2010 the results were much more balanced: 48 percent wanted the president to campaign for them, while 50 percent wanted him to stay home.
Among Democrats, four years ago fully 82 percent wanted Obama to campaign on their behalf. That's down to 69 percent in the new poll, a drop of 13 points.
Among independents, 38 percent wanted Obama's help in 2010 and 32 percent would take it today.
Meanwhile, almost everyone remains unhappy with current lawmakers: just 13 percent of voters approve of the job Congress is doing, while 79 percent disapprove.
Hating on Congress is something large numbers of Democrats (74 percent disapprove), independents (82 percent) and Republicans (83 percent) are in agreement on.
Approval of Congress has been below 20 percent for the last three years.
The Fox News poll is based on landline and cell phone interviews with 1,057 randomly chosen registered voters nationwide and was conducted under the joint direction of Anderson Robbins Research (D) and Shaw & Company Research (R) from July 20-22, 2014. The full poll has a margin of sampling error of plus or minus three percentage points.