Fox News Poll: Ebola czar? Pshaw! Voters say it's a PR move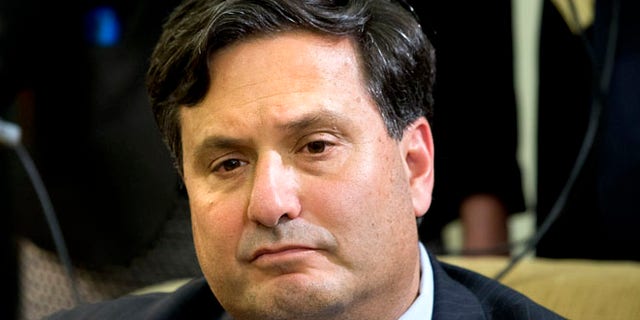 NEWYou can now listen to Fox News articles!
Most American voters dismiss President Barack Obama's appointment of an "Ebola czar" as a public relations move, according to a new Fox News poll.
The poll, released Tuesday, also finds that:
- Concern the Ebola virus will spread throughout the United States is declining.
- About half think the federal government is hiding information about the virus from them.
- Views of the federal government's response are mixed.
Click here for the poll results.
President Obama announced October 17 that long-time Democratic operative Ron Klain would coordinate the administration's efforts to deal with Ebola. Since then the White House has fended off criticism that Klain is unqualified or has been missing in action.
Two-thirds of voters say the appointment of an Ebola czar is mostly a public relations move (67 percent). That includes a 53-percent majority of Democrats. Eighty percent of Republicans and 76 percent of independents also see the move as window dressing.
Overall, just 23 percent see the designation of a czar as a serious attempt to help the problem.
Dissatisfaction with the czar could be what's driving the president's job rating on Ebola, as more voters disapprove (50 percent) than approve (41 percent) of how Obama's handling the issue.
Views are more positive on the overall federal government's response to the Ebola virus: 48 percent approve vs. 47 percent disapprove. There's a huge partisan divide, as 71 percent of Democrats approve, while majorities of Republicans (64 percent) and independents (61 percent) disapprove.
Forty-nine percent of voters think the government is hiding info about Ebola that it should be sharing with the public. That's up a bit from 46 percent two weeks ago. Almost as many voters -- 47 percent -- do not believe information is being withheld.
There have been four confirmed cases of Ebola in the U.S. and one death. Worry about the virus spreading in the U.S. has dropped nine percentage points since earlier this month. The poll finds 59 percent of voters are at least somewhat concerned, down from 68 percent two weeks ago. In addition, just 25 percent are "very" concerned today, down from 37 percent earlier this month.
The decline is across the board, as fewer men, women, whites, blacks, Democrats and Republicans feel concerned now.
Meanwhile, by a 52-43 percent margin, more voters see the Centers for Disease Control as "competent" than not.
That puts the CDC well ahead of the Department of Veterans Affairs (30 percent "competent"), somewhat ahead of the Internal Revenue Service (46 percent) and the National Security Agency (49 percent), and on par with the U.S. Supreme Court (52 percent).
Overall, 39 percent of voters think the Obama administration has been competent and effective in managing the federal government, while a 59-percent majority disagrees.
The Fox News poll is based on landline and cell phone interviews with 1,005 randomly chosen registered voters nationwide and was conducted under the joint direction of Anderson Robbins Research (D) and Shaw & Company Research (R) from October 25-27, 2014. The full poll has a margin of sampling error of plus or minus three percentage points.