Fixing Detroit: America's comeback city?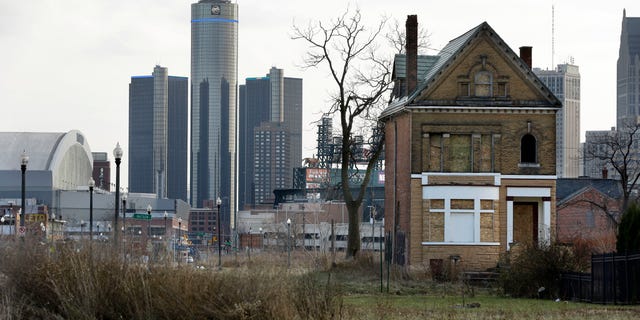 NEWYou can now listen to Fox News articles!
WASHINGTON – America loves a good comeback story. Just maybe, Detroit could be one for the ages.
As the city, once a symbol of American grit and ingenuity, goes through the largest municipal bankruptcy in U.S. history, some have questioned whether Detroit can regain its former glory.
Many have been quick to dismiss Detroit, painting it as an American relic – a once-thriving hub of the Rust Belt, now broke and barely able to function. At last count, there were 30,000 buildings in the city that had been gutted. More than half of its public parks have closed and currently, 40 percent of its streetlights aren't working.
Detroit's dirty details can't be sugarcoated. The city's revenue, in inflation-adjusted dollars, has fallen 40 percent in the past six decades. It has $5.7 billion in unfunded health care liabilities and its homicide rate has hit its highest level in 40 years. Detroit's also been given the dismal distinction of being named one of the country's most dangerous cities for the past 20 years.
And yet, the city refuses to give up.
"You can say Detroit's down, but don't count it out yet," Rhonda MacDonald told FoxNews.com. MacDonald grew up in Detroit but moved to Washington, D.C. in her early 20s. She says her family is planning to move back in 2014. "It's home. We need to support it."
MacDonald isn't alone.
Detroit's storyline may be changing and a growing group of people, including Michigan Gov. Rick Snyder, say the city is poised for a comeback. Recently, Snyder told a group of journalists in New York that they had the Detroit narrative all wrong.
"You say the headlines from Detroit are terrible," Snyder said. "Well, the problem is they don't necessarily follow the substance. Not to be critical, but as a fact of the matter, the headlines don't really represent the realities of what's going on and the underlying facts."
Strands of hope can be found in recent city and state stats. After years of people fleeing from the city, there seems to be a small uptick in population. It's not a lot – but it's better than it was. The state's unemployment rate has also dipped to 9 percent from its August 2009 high of 14.2 percent.
And investors are taking a shine to Detroit.
Quicken Loans founder Dan Gilbert recently green-lighted more than $1 billion in downtown Detroit renovations and programs. Respected investor and billionaire Warren Buffett added to the hype, saying Detroit had "huge potential."
Big investor boosts are helping the city pick up the pieces and re-brand itself rather than go down in history as an example of urban decay and fiscal mismanagement. The city is using anyone it can to push the message that Detroit is back from the brink and fighting its way back to economic stability.
"Detroit is on the rebound," Larry Alexander, president of Detroit Metro Convention and Visitors Bureau, told FoxNews.com. "The bankruptcy is really a sad story, but that's only one piece of the story."
The city's sales team has already booked businesses that will bring nearly $400 million in direct spending to the region. This includes high-profile events that will bring in more than $5 million to Detroit, Alexander said.
Not everyone is as bullish about a Detroit comeback.
Many, like Oakland County Executive L. Brooks Patterson , say the city shouldn't be rewarded for bad behavior.
"Pure incompetence and mismanagement and certainly corruption played a role (in Detroit's downfall)," Brooks said during an interview with a local media outlet this month.
And the bankruptcy proceedings promise to be rocky, and costly. Court papers have shown that Detroit has more than 100,000 creditors it needs to answer to.
In early December, Judge Steven Rhodes ruled Detroit can use bankruptcy to cut employee pensions and relieve itself of other debts. "This once proud and prosperous city can't pay its debts. It's insolvent," Rhodes said in formally granting Detroit the largest public bankruptcy in U.S. history.
He added: "At the same time, it also has an opportunity for a fresh start."
Earlier this month, Kentucky Sen. Rand Paul said the best way to confront poverty and unemployment in cities like Detroit was to lower taxes and encourage growth.
Speaking to the Detroit Economic Club, Paul unveiled his plan to create "economic freedom zones" in distressed cities like Detroit. His federal legislation would cut income taxes to a flat 5 percent in areas of the U.S. with unemployment more than 1.5 times higher than the national average. He would also cut payroll taxes, eliminate capital-gains taxes and give parents in the area more school choice and economic credits.
Paul's plan would also loosen visa rules to encourage foreign investors. What it won't do is throw federal dollars at the city, bailout-style, which Paul says hasn't worked in the past.
"The problem with a government stimulus is that you pick the winners and the losers," Paul told Fox News. "With this stimulus that I'm talking about -- a free market stimulus – you simply leave the money in the hands of the people who earned it."
One company thriving in Detroit is Shinola -- which sells made-in-the-USA luxury watches, leather goods and bicycles, and bears the name of an American shoe polish company that got its start at the turn of the 20th century, but went defunct in the 1960s.
CEO Steve Bock told FoxBusiness.com that the Motor City has been good to his company and has given it a second shot at success.
"We acquired the name, and over the last two years we've positioned the brand and introduced a whole plethora of categories, not only shoe polish," Bock said. "It's an incredibly iconic city … with an incredible heritage, based on music, automobiles, craftsmanship and innovation."
Since setting up shop two years ago, Bock's company has grown to 200 staffers. They started with six.
Economic success stories like Shinola's are what city planners are banking on, and say will put Detroit's days of gloom and doom behind it.
Other ways to attract visitors to the city are through arts and culture programs, Alexander says.
Detroit native Kid Rock, for example, has helped raise more than $1 million for the city and funded a music exhibit at the Detroit Historical Museum.
Surprisingly, another entertainer eager to tell Detroit's comeback story and redemption is singer Michael Bolton, though he's not a native.
"What I see in Detroit is this kind of love and loyalty – through the best times and the hardest times," Bolton said. "And I love seeing that, and I love a comeback story."
Bolton's production company is working on a documentary about "the comeback of Detroit" which is expected to be released in 2014.