First Lady Encourages Early Voting, Casts her Ballot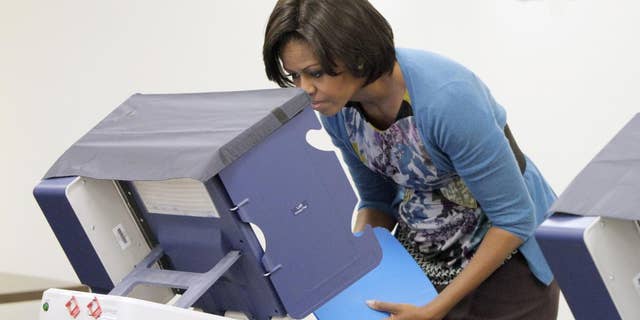 First lady Michelle Obama appeared Thursday morning at a Chicago polling place and cast her early ballot in the midterm election. She arrived at 9 a.m. and was the first voter of the day at the Martin Luther King Center. When she checked in, Election Judge Dorothy Yarbrough looked up her name and said, "I think that's you."A smiling first lady replied, "You think?"
Mrs. Obama got some brief instructions from a Board of Elections employee on how to work the voting machine. She then spent six minutes marking her choices on a long ballot that includes governor, senator and 78 judges either running for office or hoping to be retained on the bench. When she handed in her ballot, the first lady said, "Make sure everybody's voting early."
She posed for pictures with some other voters, including electrician Dennis Campbell. But now there are questions about whether the first lady may have violated Illinois law when she spoke to Campbell. The print pool reports that Campbell told the reporter, "She was telling me how important it was to vote to keep her husband's agenda going." However, a spokesman with the Chicago board of elections says that never happened. If it did there is a question about whether that breaks the law against campaigning in a polling place. Fox is awaiting clarification from the White House.
Last night at a fundraiser in Chicago, the first lady urged others to vote early, saying, "We need you to get folks to the polls so they can start casting their ballots this week." And she said Democrats need to vote in every election because, she said, "...In the end, our campaign was never about just putting one man in the White House. It was about building a movement for change millions of voices strong." Democratic leaders worry that a lack of enthusiasm among Democratic voters this year could contribute to major gains for Republicans.
The first lady campaigns in Colorado today, Ohio this weekend and New York and Connecticut next week.
The president also has a hectic campaign schedule. But he won't be casting his vote in Chicago as the first lady did this morning. White House spokesman Robert Gibbs says Obama will fill out an absentee ballot mailed to the White House from his home district in Illinois.