Fate of ObamaCare overhaul, again, in hands of 3 wavering senators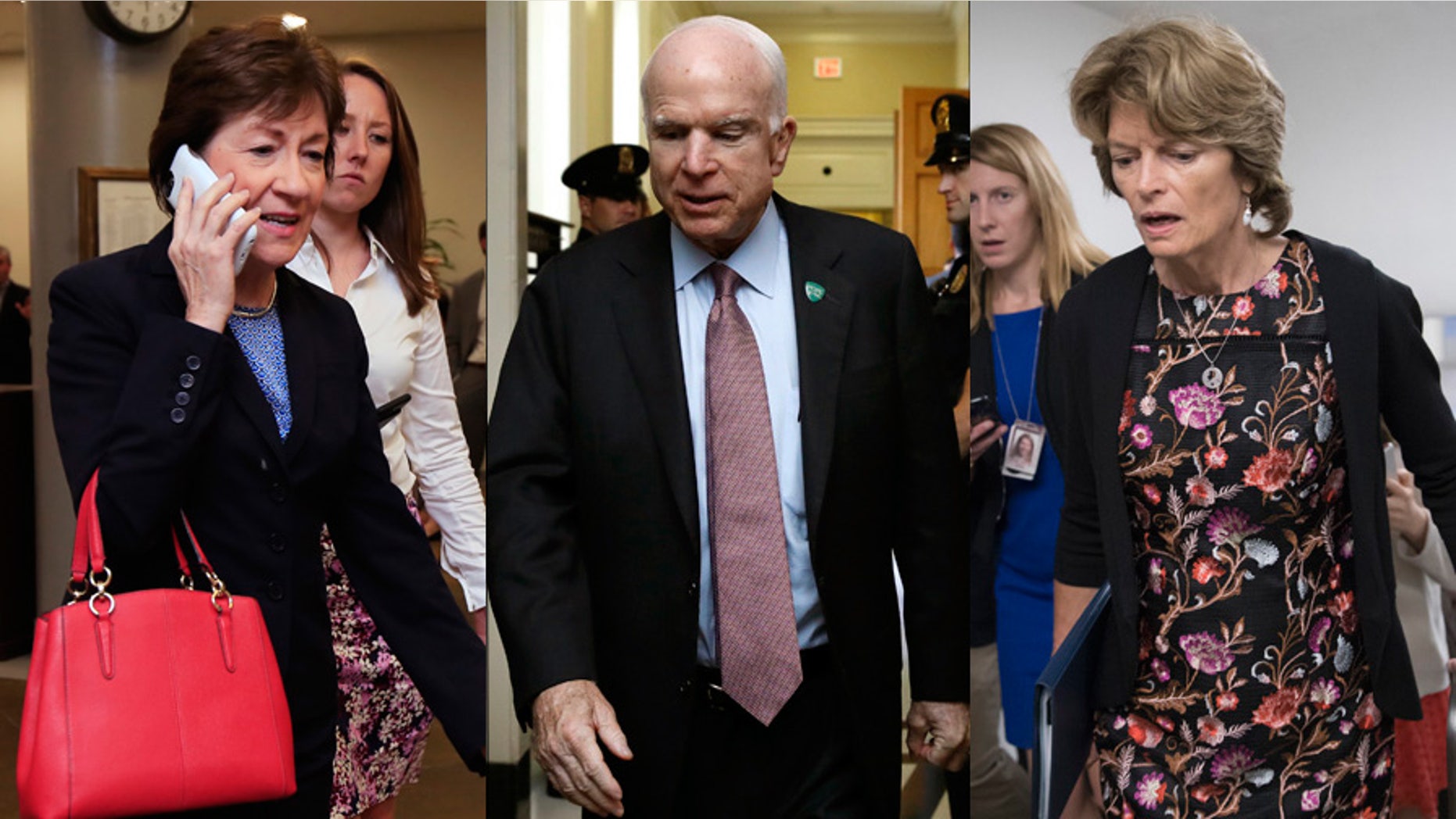 The fate of what could be the last viable ObamaCare overhaul bill – at least this year – once again has come down to three wavering Republican senators.
As the Trump White House works with allies on Capitol Hill to consolidate support behind the plan, all eyes are on Sens. Susan Collins, R-Maine; Lisa Murkowski, R-Alaska; and John McCain, R-Ariz.
They are the same three senators who helped kill the so-called "skinny repeal" back in July. Together, they could do the same to legislation being pushed hard by Republican Sens. Lindsey Graham of South Carolina and Bill Cassidy of Louisiana.
But the pressure already is mounting from the White House.
"I hope Republican Senators will vote for Graham-Cassidy and fulfill their promise to Repeal & Replace ObamaCare. Money direct to States!" President Trump tweeted Wednesday morning, while also taking a shot at Sen. Rand Paul, R-Ky., for opposing the plan.
Visiting Capitol Hill on Tuesday, Vice President Pence said he's "all in."
At its core, the bill would put ObamaCare's financing for subsidized private health insurance and Medicaid expansion into a giant pot and redistribute it among states according to new formulas. States could obtain federal waivers allowing them to modify insurance market safeguards for consumers. For example, states could let insurers charge higher premiums for older adults.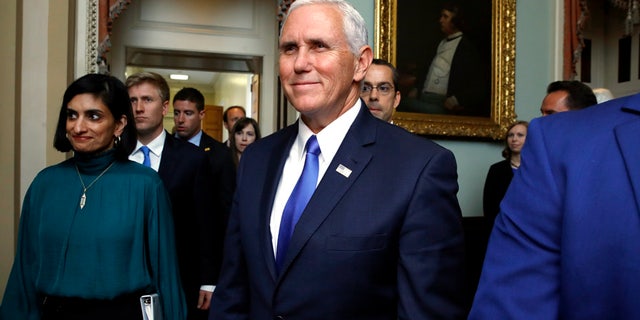 Following the framework of previous Republican bills, the new legislation would limit overall federal financing for Medicaid, which serves more than 70 million low-income people. It would change the current open-ended nature of Medicaid financing, a move that prompts deep concern from hospitals, doctors, nursing homes, consumer groups, and some state officials.
Asked Tuesday if supporters could court her vote, Collins said "it all depends now."
She said she's asked for additional information, but "what I've gotten so far gives me great concern."
Right now, the only Republican absolutely opposed to the bill is Sen. Paul. If Collins were to join him in opposition, it would take just one more "nay" to kill the bill in the Senate.
'All roads lead to Murkowski.'
That puts the focus on McCain and Murkowski – and especially the latter.
"All roads lead to Murkowski," a senior congressional GOP source told Fox News.
Graham, speaking Wednesday with "Fox & Friends," voiced hope that his friend McCain would come around.
He pitched the bill as the conservative answer – and death blow – to the single-payer, government-run health care bill being pushed by Democrats.
SINGLE-PAYER HEALTH CARE: WHAT IS IT?
"This is a choice between socialism and federalism, our last best chance," Graham said. Asked about McCain's position, he said, "Nobody believes in federalism more than John McCain."
For his part, Paul opposes the bill because it doesn't go far enough to unravel the Affordable Care Act.
"This does not repeal ... it's barely ObamaCare lite. It keeps ObamaCare," Paul told "Fox & Friends," adding that he will offer a "real repeal" next week.
"I do think that there's a number of people who are wary of this," he said.
But Graham said the bill cuts out the "heart and soul of ObamaCare" – the employer and individual mandates.
And Trump tweeted Wednesday: "Rand Paul is a friend of mine but he is such a negative force when it comes to fixing healthcare. Graham-Cassidy Bill is GREAT! Ends Ocare!"
Democrats, meanwhile, are organizing against the legislation as the chamber gears up for a possible vote.
"Nothing is more important than saving the Affordable Care Act from another cruel effort to take health care away from millions of people," 2016 Democratic presidential nominee Hillary Clinton tweeted Wednesday.
Fox News' Chad Pergram and Judson Berger and The Associated Press contributed to this report.