Ex-Playboy model's notes on alleged Trump affair written a decade later
NEWYou can now listen to Fox News articles!
EXCLUSIVE: The centerpiece of a New Yorker story on Karen McDougal, who says she had an affair with Donald Trump, is scribbled notes kept by the former Playboy playmate.
These notes, obtained by journalist Ronan Farrow, are presented as her personal reflections on the relationship –"later memorialized in an eight-page, handwritten document provided to the New Yorker."
Readers could easily get the impression, as many journalists have, that McDougal wrote these notes during what she describes as a consensual relationship that began in 2006. But that is not the case.
A telltale marking on the entries, reproduced by the magazine, shows that McDougal wrote these pages either during or since the 2016 campaign—relying on memories that were at least a decade old.
The New Yorker does not dispute that McDougal's notes were written many years after the alleged relationship. Instead, the magazine attempted to tie them to McDougal's eventual deal with the National Enquirer's parent company, American Media Inc.
"The article does not present Karen McDougal's written account as being made simultaneously with the events themselves," a New Yorker spokesperson told me. "Rather, the article makes clear that the idea to sell her story to American Media Inc. first occurred in 2016. Furthermore, her written account is supported by additional sourcing and documentation referenced in the article."
"The article does not present Karen McDougal's written account as being made simultaneously with the events themselves."
If that was suggested by the story, as the magazine maintains, the implication was rather subtle.
The more recent creation of the notes doesn't mean that McDougal isn't telling the truth. The magazine's view is that the timing has no material impact on her credibility.
But the timing of the notes is revealing about how McDougal came to go public, as well as about the role of the National Enquirer.
The McDougal passages were written on a notebook marketed by fashion designer Izak Zenou, whose name appears at the bottom of one of the pages. He got into the business of creating office supplies in 2016, and the notebook was not available for sale on Amazon until March 2016.
The timing is significant.
Farrow writes that "the interactions that McDougal outlines in the document share striking similarities with the stories of other women who claim to have had sexual relationships with Trump, or who have accused him of propositioning them for sex or sexually harassing them."
But in writing the notes in 2016 or 2017, the onetime Playmate of the Year did not foreshadow, by a decade, similar accusations by other women.
The notes say such things as: "I was into his intelligence + charm. Such a polite man. We talked for a couple of hours—then, it was 'ON'! We got naked + had sex."
After the New Yorker story was published last week, a White House spokesperson said: "This is an old story that is just more fake news. The president says he never had a relationship with McDougal."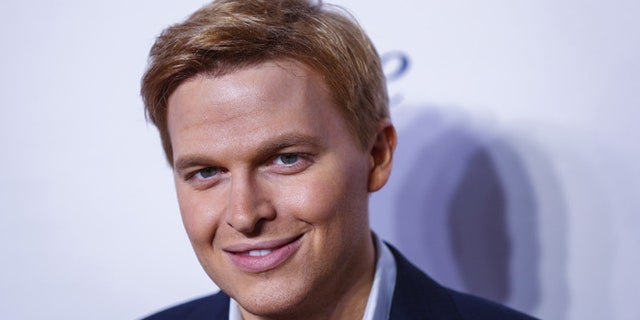 The New Yorker expanded on what the Wall Street Journal had reported days before Trump's election: that the Enquirer's parent company had paid McDougal $150,000 for limited life rights to her story about any romantic or physical relationship with a married man, and never published it. The practice, in the tabloid world, is known as "catch and kill"—buying a story for the purpose of burying it.
American Media's CEO, David Pecker, has acknowledged his friendship with Trump. The New Yorker quotes former two former AMI executives on the record as saying that buying and killing stories was a common practice under Pecker.
McDougal and her lawyer met with Dylan Howard, American Media's chief content officer, to discuss a deal. McDougal told AMI that she had been offered more than $1 million for her story, and also that she was in discussions with ABC News.
The Enquirer maintains that it didn't publish McDougal's allegations about Trump in 2016 because it couldn't confirm them, and that she offered no documentation, texts, receipts or corroborating witnesses. She was even told to search her storage for old phones or other evidence.
The supermarket tabloid also says she did not offer any handwritten notes, which suggests they hadn't been written at the time.
During the discussions McDougal appeared to change her view about going public with the alleged affair, saying, "I don't want to be viewed as the next Monica Lewinsky."
That makes the timing of the Enquirer's $150,000 deal with McDougal, in August 2016, all the more suspicious, especially given the paper's pro-Trump coverage under Pecker. The contract, in addition to the limited life rights, called for her to appear on two AMI magazine covers and write a fitness column, but some of those goals have not been met.
So the company paid her big bucks even after concluding she couldn't substantiate the affair, while making sure she couldn't tell the story elsewhere.
McDougal's contract with American Media included a non-disclosure agreement, and that may explain the vital role of the handwritten notes.
The ex-Playmate spoke on the record to Farrow, but the piece says she declined to discuss details of her relationship with Trump "for fear of violating the agreement."
That obstacle, intentionally or not, was neatly circumvented by the handwritten notes.
Farrow writes that he obtained the document from John Crawford, a friend of McDougal, and "she expressed surprise" that he had it but confirmed that the notes were in her handwriting.
Yet later in the piece, it became apparent that they are more than just friends.
Crawford told Farrow "that selling McDougal's story was his idea, and that he first raised it when she was living with him, in 2016." As they watched the presidential candidate on television, Crawford said he told McDougal that her past relationship with Trump "could be worth something about now."
In an interview with CNN, Farrow called McDougal's notes "written testimony" and said they exist because "in the course of selling the story, a friend of hers who coaxed her into selling it said sit down and write every detail."
(Two months after McDougal signed the contract with American Media, Trump's personal lawyer Michael Cohen paid $130,000 to Stormy Daniels, a former porn star who had claimed in an interview years earlier that she had an affair with Trump in 2006. Since that transaction was accompanied by a non-disclosure agreement, the payment has been widely viewed as hush money. Cohen recently told the New York Times that he paid Daniels out of his pocket and was not reimbursed by Trump or his campaign.)
American Media told the New Yorker in a letter last week that a post-election amendment to McDougal's contract allows her to respond to legitimate press inquiries about Trump.
An AMI executive has now asked New Yorker Editor David Remnick for a correction, saying he had an obligation to tell readers that McDougal's notes were written at least 10 years after the alleged affair. The executive said the omission was intentionally misleading.
Remnick, a widely respected journalist and Pulitzer Prize-winning author who is also an ardent critic of Trump, responded that his magazine stands by its story. He said the story made clear the long time lapse between the alleged affair and the effort to sell the story. Remnick also said the New Yorker had disclosed Crawford's role and included AMI's responses.
Farrow has gained enormous journalistic credibility for his meticulous New Yorker exposes of sexual misconduct allegations against Harvey Weinstein by numerous actresses and the movie mogul's attempts to intimidate the press. His detailed reporting on McDougal and Trump fits that pattern.
Still, some journalists reached the understandable conclusion that McDougal's notes were composed back in 2006. Washington Post columnist Richard Cohen wrote this week that McDougal "handwrote a contemporaneous account of her alleged affair."
Time, in a common formulation, said that "a former Playboy model kept handwritten notes about an alleged nine-month affair with President Donald Trump that began in 2006."
The Week said that "McDougal's friend John Crawford supplied Farrow with McDougal's handwritten notes from the time, which detail the affair."
The reality is that at least a decade had passed before Karen McDougal wrote those notes, after her friend and roommate urged her to peddle her story for money.